I made a blog post a couple months back about earndit.com (
click here
), the website that offers various giftcards as incentive to be more active. I wasn't sure what I wanted as my first 'prize' but when earndit.com starting offering the BodyRockSport giftcards I was so excited! It was great motivation to push myself a little harder... 5 more minutes of running... Walking just a little farther...
As soon as I had the 1000 points I needed I traded them in for the $100 giftcard. The giftcard was good on an order totalling $150+, so for $50 you get a bonus $100 worth of product, just for being active! They also offer a $50 giftcard and a $25 giftcard which I am aiming for next!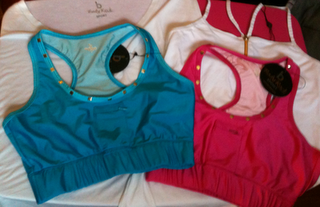 BodyRockSport is a company that sells fashionable workout gear, and boy are there ever some hot pieces! After looking over the site I started with sports bras, mostly because I needed some but also because they were so pretty and there was lots to choose from. I picked out 2; The "Cammi" bra which is a vibrant turpuoise color and the "Jais" bra which is a great hot pink. Then I got two tops, the "Jill" tank in white and the "Morning After Top" in white. I figured they would look great layered over the bras.
My package arrived today, it only took 7 business days to get to me here in Canada, which is awesome in my opinion! Each item was packaged in it's own little dustbag with the BodyRockSport logo on it, which I thought was really cute and a great idea!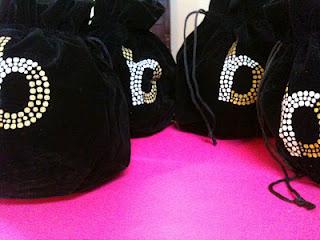 Cute right?!
The items were exactly as picture and the material feels lovely against your skin. The colors are very vibrant and everything feels so well made!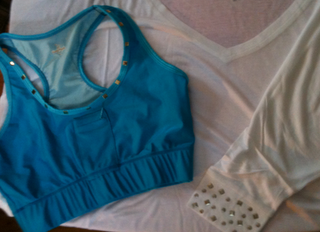 Cammi bra and The Morning After Top.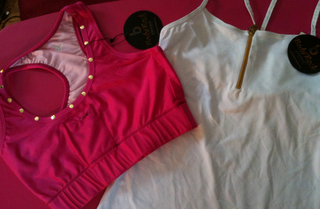 Jais bra and the Jill tank.
Both bras have studded detail around the neckline and ruche in the back. They also have a little pocket for your mp3 player, a key or money.
The Morning After Top is a slouchy, over-sized top that has studding around the ends of the sleeves. It looks really cute layered over one of the bras and off the shoulder.
The Jill tank has a shelf bra with removable pads. I loved the zipper detailing on the front. The shirt is nice and soft, has a Y strap back, and is moisture wicking material.