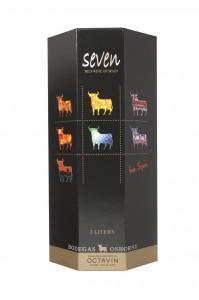 Seven.
The first thing that comes to mind is Seven of Nine from Star Trek: Voyager. However, this wine bears no resemblance whatsoever to the Borg.
Instead, this wine is a blend of seven different grapes (hence the name) from Spain. It comes in a 3L wine cask, commonly known as a "box" or "bag in box." It is part of the Octavin Home Wine Bar collection. This is the first "box wine" I've reviewed, although I have reviewed wines that are available in wine casks. I never know what to expect from red blends, especially when they have more than two or three grape varieties, which is one of the reasons I like blends. Each new blend is a new experience.
Opening this is fairly easy. There are perforations in the cardboard to allow you to easily remove a circle for the spout. A section of the box above that comes loose to allow easy retrieval and placement of the spout. (You should never use a sharp blade to remove the circle, as you might accidentally puncture the bag inside.)
The spout works easily, and I quickly have a glass of wine.
There's some fruit of the nose, but there's also some oak influences. On the palate, I'm getting dark fruits, some spice, and some oak. Good tannins hold up the wine, and the acidity balances very well. There's a lot of flavor here. It isn't a heavy red like a Cabernet Sauvignon. It's more like a Chianti or a Rioja Crianza. It's very flavorful and very well balanced. I recommend letting this sit for a bit in the glass, maybe 10 minutes. It lets the wine open up and brings out more complex flavors. You could also dispense some of the wine into a decanter and serve from there.
I'm very impressed with this wine. This wine definitely gets a "Excellent" rating. I really wasn't expecting this! I thought a box wine would be in the "Good" or "Very Good" range, but this really surprised me.
At the suggested retail of $21.99 for a 3L Octavin wine cask (equivalent to four 750 ml bottles), this is an excellent value. The equivalent cost per bottle is just under $5.50.
I received this wine as a review sample courtesy of The Wine Group.
Wine Details
Producer: Bodegas Osborne
Bottled and Distributed by: Octavin Home Wine Bar
Vintage: Non-vintage
Appellation: Spain
Varieties: 25% Cabernet Sauvignon, 25% Merlot, 18% Syrah, 8% Petit Verdot, 8% Tempranillo, 8% Grenache, 8% Graciano
Alcohol: 13.6% ABV
Suggested Retail Price: $21.99 for 3 liters (5.50 per 750 ml)
My Rating: Excellent