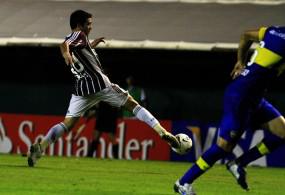 There are matches that establish a crossroads for a team. For both Boca and Fluminense the one they played at La Bombonera was one for both. For both teams it was a test that would confirm how good they truly were.  Many times they handled their opponents in with relative ease.  They did it in different ways.
While Fluminense convinced with flashes of good football, Boca would put the choke hold on and slowly take the oxygen away from their opponents.  Two different styles that have set the tone in their respective leagues during their respective runs of form.
Boca did dominate but they were deflated a great deal when Deco scored, which gave the visitors the possibility to regain the lead soon after Boca equalized and showed signs of taking over the match.  The problem for Boca was that Fluminense were able to play against Boca's nerves and their lapses in concentration.  That plus the pressure that was generated in the Argentines' first home match at the international level in over two years was the perfect recipe for complication.
The Xeneize had a shaky bit of confidence that was built in 36 previous matches, it took 90 minutes to knock that house of cards down. The last time Boca lost at La Bombonera it was on March 20th against Olimpo. Since then, they were the most solid team in Argentine football.
A Team Like No Other
On the same token, Fluminense was the toughest team that they have faced since then. Is it a reason to panic? For Boca fans and media, oh yeah. In reality, there is no need to. It is just a warning shot for the team to know that they will have to play differently.
There have been very few players that Boca have played that have the skills of Deco and Fred.  There are few players that Boca have faced that have the extra gear and dynamic that Thiago Neves offers.  Fred offered the problems that very few in Argentina offered the Boca backline.  His goal proved it.
Wellington Silva Sanches Aguiar is a mouthful for announcers and a handful for teams the past year or so. His loan spell last year over at Figueirense helped him to break out domestically. Now he is beginning to be mentioned by members of the media in South America. Wellington was unlike any other player that Boca had faced on the wing in Argentine football.  His assist for Deco was the proof in the pudding.   Many in Brazil already knew about him from last season as he helped Figueirense earn a spot in the Copa Sudamericana.
It was also Thiago Neves, who was one of the best players in last year's Brasileirão when he played for Flamengo, who complicated Boca on the breaks.
It is possible that this version of Boca does not have the mystique that some of its most recent predecessors had.  Boca's record-breaking squad back in 1997-98 was one that dominated and had the safety bubble of being able to establish a 40-match unbeaten streak but always at home.  Still the reality of international play exposes many things and Boca have to be aware that being exposed means that they just have to work harder in order to become more effective.  Boca was not disastrous, they just know that facing the competition that they are right now, they came up short and allowed Diego Cavallieri to be the big star of the encounter.
 I know I will be looked at as being in the super minority; but there are still many points to be played. Yet this is the moment where Julio César Falcioni can reflect and see where the team can come back and understand that.
Fluminense knew that they were a quality side that had the potential to win titles at home, but this was the moment where they began to believe that they can obtain their first-ever Copa Libertadores title.
They stayed back and waited for the Boca mistake and on a few occasions the home side could have taken the lead.
About this time two weeks ago, the talk of Copa Lib was Atlético Nacional after they destroyed Peñarol.  There is still lots of tournament to go.  Boca has been in complicated situations and they will have to find that intestinal fortitude that will help them overcome this obstacle on the road. They now have a must-win match where they will have to head to Sarandí to get two wins if they want to advance.
Flu in the meantime, have to realize that they are as good as their last match and very few fans will remember this match (at least for the short term).
Follow @juang_arango