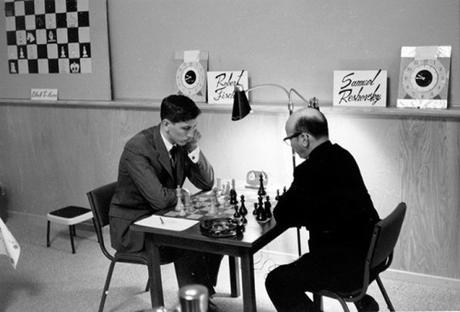 Among the other things that made me a hit with the ladies growing up, I was an avid chess player from about the age of 10 to 25. I competed in local tournaments and participated in a city-wide chess club. For my first job, I actually worked as a chess instructor. One of my co-workers at the time gave such as scary lesson once that one of the kids literally crapped his pants (and by literally, I do mean literally). But I'll save that story for another day. 
If non-chess players are fascinated with Bobby Fischer, you can be sure that chess players are even more so. Along with being one of the best players to have ever lived, Fischer was a watershed for ideas. His book, My 60 Memorable Games, is perhaps one of the few must-reads for anyone who wishes to be good. Then, of course, there was his personality. A raging bigot, shy recluse, and paranoid egotist, he's just as famous for his remarks as he is for his chess moves. 
Which is odd, because for a man who liked to comment on society, religion, and politics, Bobby Fischer only really had two interests: chess and clothes. In fact, if you have an eye for it, you can see Fischer wore some really nice suits from the 1960s through the early '70s (before his descent into madness). Having moved on from flannel shirts, jeans, and sneakers as a teen, he decided to "dress up" in order to make other players take him seriously. Not that he needed to. His skills were enough, and chess players – back then and now – are notorious for keeping poor appearances.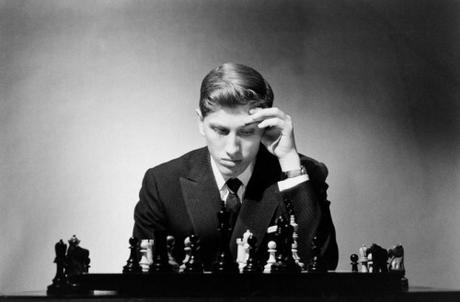 Still, check out the photos here. Fischer's jackets were slightly padded across the shoulders and cut comfortably across his chest in order to fill out his thin frame. To keep his silhouette from looking baggy, he wore tightly pegged trousers and shapely shoes. And at least through the '60s, he seemed to favor conservative suits, solid shirts, and lightly patterned ties. Although his style was quiet, you could tell he dressed with intention. 
In a 1962 issue of Harper's Magazine, Fischer revealed that all his clothes were actually bespoke. This was, interestingly, despite the fact that he earned a miserable income at the time and lived in a crummy apartment left to him in one of the worst neighborhoods in Brooklyn (where the crime and murder rate was quite high). Still, despite not having much money, he apparently spent all his earnings traveling to chess tournaments and commissioning custom clothes. He rotated between seventeen suits, which were hand-tailored for him in Germany, New York, California, and England. He also had five pairs of handmade shoes, which were commissioned from an uptown NYC Hungarian shoemaker, and a rack of bespoke shirts from Sy Devore, one of President Kennedy's tailors. In his usual, arrogant way, he once said: "I hate ready-made suits, button-down collars, and sports shirts. I don't want to look like a bum. I get up in the morning, I put on a suit." 
Unfortunately, Fischer's interest in clothes didn't last past the 1970s. After his famous Cold War match against Boris Spassky, where he won the world title, Fischer became a paranoid recluse – and with that, slowly began to look like one too. Maybe like in chess, he foresaw his own ending. In his Harper's interview, he said: "You know they say you can tell the decline of a nation when the people begin to lose interest in their clothes. Nowadays if you're dressed up people think you're a dandy. In the olden days the most virile men were the men who dressed the best."