Guitarist and singer Bob Welch, whose work in the early 1970s for Fleetwood Mac set the stage for the band's multi-platinum success later in the decade, died on Thursday at his home in Nashville. He was 66.
Welch joined Fleetwood Mac in 1971 as a 24-year-old living in Paris, just as the group was making the transition away from being a British blues rock band and into the 1970s commercial powerhouse that it became.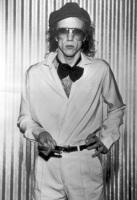 The musician was with the band in the early 1970s when it was making the transition from British blues rock band to commercial powerhouse. 'My era was the bridge era,' he said.
According to a spokesman for the Nashville Police Department, Welch was found dead of an apparent self-inflicted gunshot wound to the chest. The spokesman said Welch's wife, Wendy, told police he had been suffering from health issues.
As a singer and guitarist for the group, Welch was lesser known than the pair who replaced him — lead vocalist Stevie Nicks and guitarist Lindsey Buckingham.
Welch left the band in 1974, and it was his departure that set the stage for Fleetwood Mac's hit-making line-up when Nicks and Buckingham were hired to take on his two duties. That would become the group's most successful lineup, releasing the 1975 album "Fleetwood Mac" and "Rumors," the band's acclaimed 1977 hit album.
He was excluded from the Fleetwood Mac line-up inducted into the Rock and Roll Hall of Fame.
"It was a transition. But it was an important period in the history of the band. Mick Fleetwood dedicated a whole chapter of his biography to my era of the band and credited me with 'saving Fleetwood Mac.' Now they want to write me out of the history of the group."
Welch went solo and scored a top 20 hit in 1977 with "Ebony Eyes." The album from which it was