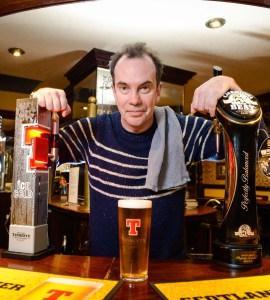 Picture Nick Ponty
Still Game star Gavin Mitchell promotes Tennents pub quiz.
Boaby helps with Tennent's Pub Quiz
Tennent Caledonian calls for pubs and punters to get quizzical in attempt to break the world record for the largest pub quiz.
On the 7th of February 2016, Tennent Caledonian will host a pub quiz at the Wellpark Brewery's Molendinar bar, with Boaby the Barman, Still Game's Gavin Mitchell, as quiz master. The event is one of over 1,300 being staged across the UK in an attempt to break the Guinness World Record for the largest multi-venue quiz. This campaign is organised by PubAid, who promote the charitable work carried out by Britain's pub and bar industry that raises over £100m annually for a variety of causes. The brewer is also encouraging other pubs to sign up for the world record attempt by visiting www.pubaid.com/quiz.
On the night, quizzers at the Molendinar can enter a charity raffle to win prizes including T in the Park tickets, merchandise from the Scottish Rugby and Scotland National football teams and packs of Tennent's Lager. Drinks will be available on the night from the Tennent Caledonian portfolio of beer and cider. All monies raised will be donated to the Beatson Cancer Charity.
To take part in the quiz, a team member should email [email protected]. Tennent's are looking to recruit 15 teams of 6 people and with places limited teams are advised to sign up early to secure a place.
Managing Director at Tennent Caledonian, Alastair Campbell said:
"Pubs and Bars across the UK do amazing work every year to raise money for a host of charities and PubAid do a great job of letting people know about these efforts. We are looking forward to playing our part in PubAid's UK wide world record attempt. We're delighted to be making a contribution and look forward to raising money for the Beatson Cancer Charity. "
"Pubs can register to take part in the world record attempt and to raise money for their own good causes up until Thursday 4th Feb and we'd encourage pubs across the country to sign up to participate in this truly worthwhile campaign."
Co-founder of PubAid, Keith Knowles, said:
"I'm sure we'll manage to break the world record for the largest multi venue quiz, but the night will also be another great chance for pubs to in the UK to raise money for charity. The quiz will help to showcase all the great work that the pubs in the UK do every year."