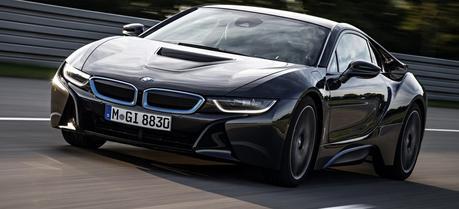 BMW i8 (Credit: BMW Group)
The BMW i8 plug-in hybrid was revealed at the Frankfurt motor show last week. This is the first plug-in hybrid vehicle from the BMW Group and the second car in the BMW i series.
The BMW i8 is a 2+2-seater with an intelligent lightweight construction, which opens the door to both emission-free driving on city roads and sports performance on country roads and motorways. Its plug-in hybrid system consists of a highly turbocharged three-cylinder BMW TwinPower Turbo petrol engine and BMW eDrive technology in the form of an electric drive system, that interact via intelligent energy management.
The i8 has a plug-in hybrid system consisting of a 1.5-liter three-cylinder twin-turbocharged gasoline engine developing 228 hp (170 kW) and 320 N·m (236 lb-ft) of torque that drives the rear wheels via a six-speed automatic gearbox and a synchronous electric motor developing 131 hp (96 kW) and a maximum torque of 250 N·m (184 lb-ft) that turn the front wheels via a two-stage automatic transmission. The electric motor draws its energy from a lithium-ion battery, which can be charged from a conventional 110 volt power outlet as well as a 220 volt electric vehicle charger.
The BMW i8 plug-in hybrid can run up to 35 kilometers (22 miles) on electric power alone, and up to 500 kilometers (310 miles) in hybrid mode. The driver can choose from five different driving modes, including a "comfort" mode that offers an optimal balance between dynamics and efficiency, a "sport" mode which features an ultra-intense boost function provided by the electric motor and an "eco pro" mode.
The BMW i8 plug-in hybrid accelerates from 0 to 100 km/h (62 mph) in 4.4 seconds, yet it delivers an impressive fuel economy of 94 mpg (113 UK mpg or 2.5 liters per 100 km).
Earlier we reported that Volvo has released all the images, videos and details on its new plug-in hybrid called Volvo Concept Coupé.