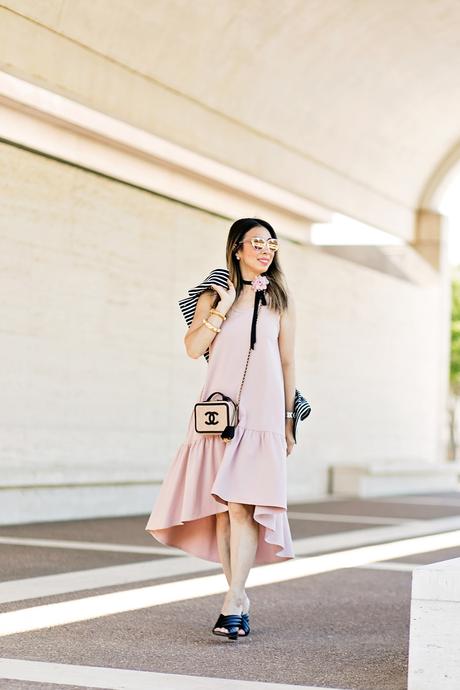 Everyone loves pink and stripes! So, put them together and BAM! You get a winning combination especially with a striped trench coat and pink drop waist dress! BTW, Happy National Pink Day! LOL! You have to laugh at all of the "National ____ Days" going on! What did we do before National Donut Day?!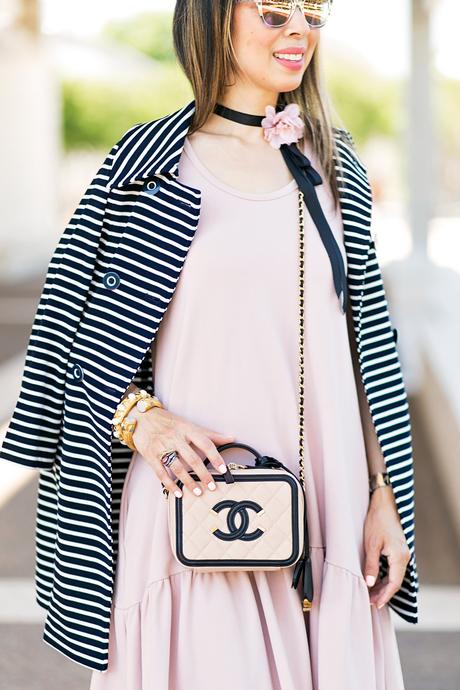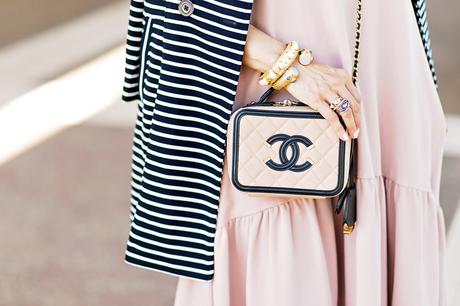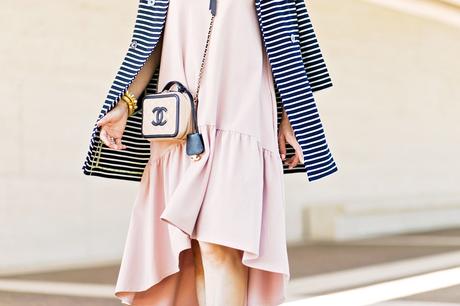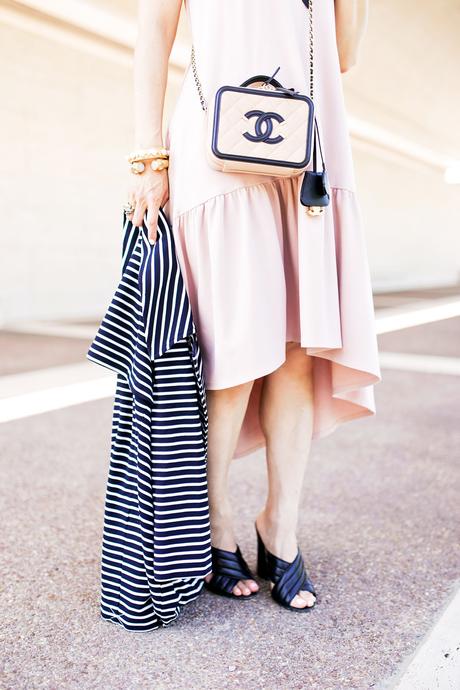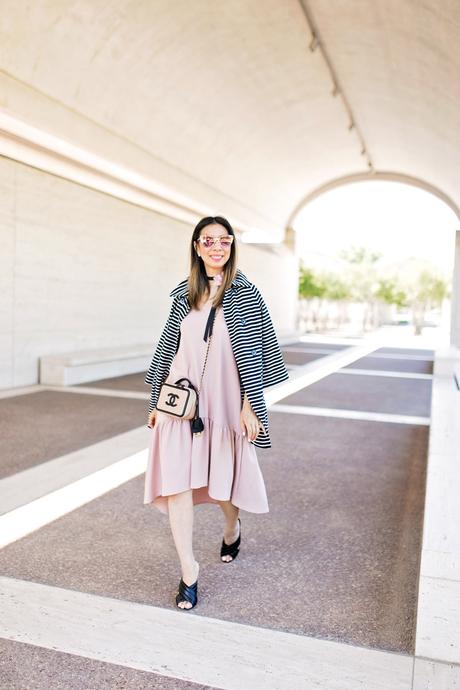 // Photography by Angie Garcia //
This gorgeous striped trench coat is definitely a must-have classic with a twist! It's a soft knit jacket that's unlined, and there is a fun contrasting green piping on the underside (as seen above). It's a perfect topper to any outfit. Although it's actually navy, it matched my black accessories wonderfully. I chose to wear it with this blush pink drop waist dress for church.
THE STYLE Rx: Consider stripes a neutral. Adding a striped trench coat to your wardrobe arsenal will elevate your jacket game! Throw it on over a simple tee and jeans, and you'll be channelling Audrey Hepburn.
No outfit is done with a dress and a jacket. You must add accessories! I added this fun flower choker for a whimsical look, but a simple pendant necklace or choker would be fabulous too!
This would also be a great work outfit. You could wear the trench coat belt over a slip dress for a striped dress look as another outfit idea!
Are you a stripes gal? What's your favorite piece? (This is now mine!)
Happy Friday Y'all! What going this weekend? We have a friend's birthday at the park tomorrow. I love a good excuse to see our friends. And Mr. S is headed out of town for a week on Sunday. We are going to miss him, and I hope that I can stay sane!

// other sassy stripes //

BTW, there are some major sales going on today INCLUDING major designer pieces! I told y'all how to shop it in this post! I wasn't able to resist the Net-a-Porter sale THIS time... I got these gold Michael Kors mules as a replacement for my Jeffrey Campbell sandals which are dying because I've worn them so much. (This is an example where it would have been beneficial to spend more and get the actual gold Gucci Webby leather sandals since these synthetic sandals didn't last. I can't bring them to a shoe repair to be fixed but I wear them so much!) Also, it was a major splurge and I got the Caroline Constas Carmen top in toile! I wear this BEEHIVE yellow gingham top so much that I figured it would be worth the cost-per-wear!
Also, Neiman Marcus has 25% off sunglasses using code SUNNY (until 6/26 at 5pm). Now is the to nab those Prada or Miu Miu sunglasses that you've been eyeing. I wanted the Gucci pink and gold square oversized sunglasses but they are already sold out! However, I found this AMAZING Gucci crystal pink sunglasses instead, but they are $1000!!! #OMG I need to find some #lookforless for crazy pink sunglasses! LOL!