[Let's pretend I haven't been MIA for months and get right back into it, shall we?]
I blame Holly. My gorgeous, farie-esque partner in crime has the most incredible fashion sense. She can combine a thousand and one elements into a single outfit and it's awesome. But. Her taste in shoes often leaves me bewildered (is Frankenstein-chic a thing?). At this point, we've agreed to disagree about what goes on south of our ankles and consider it a pleasant surprise when we find a pair of shoes we both like. I suspect I've been spending too much time with my dear friend, because the line has been blurred. The line is shoes, by the way, not the summer smash hit that borrows a bit too much from Marvin Gaye.
I used to be sure. Now I look at a lug sole, a leather bootie with cutouts and chains, and I think…maybe? Yes. No! maybe. Point #1 on the blurred line: Ugly Good. As in "They are so ugly. I WANT THEM ON MY FEET RIGHT NOW!"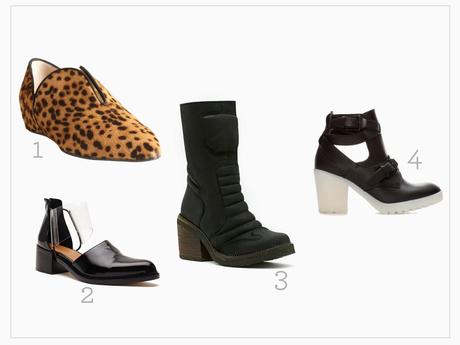 1) Walter Steiger, 2) Shoe Cult by Nasty Gal, 3) Jeffrey Campbell, 4) Zara
I can so imagine strutting around in those Jeffrey Campbell boots with leather leggings and a cape, pretending I'm an action hero in a post-apocalyptic America when in reality, I'm just grocery shopping.
Share/Bookmark