So… wine.
Call me a philistine, but I really can't stand wine. It all tastes like cough syrup to me.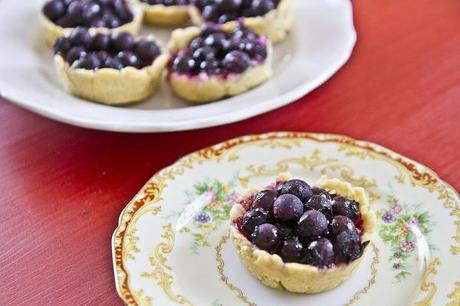 You may be asking yourself, then, what I'm doing defiling these perfectly good blueberry tartlets with a bottle of moscato. Well, something magical happens to wine when you cook out the alcohol — i.e., the cough syrup flavor. This is especially true when blueberries are involved.
Plus I may or may not have impulse purchased a bottle last week and needed a way to use it up.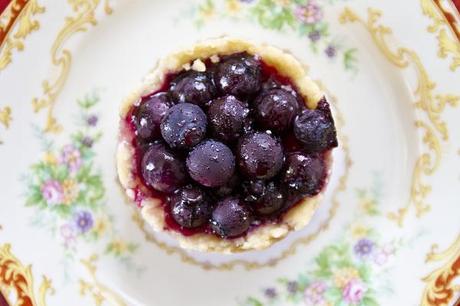 There's something about tartlets that make any occasion instantly classy. Plain old tarts seem common by comparison to their miniaturized brethren. High tea, anyone?
Herbal tea, of course.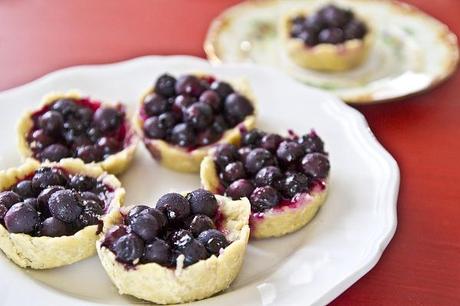 The pastry crust is made with olive oil, but don't be alarmed! I swear on my bottle of cheap moscato that you can't taste it. And even if you can, just tell yourself it's part of the exotic highbrow experience.
You've got tartlets to make. I've got tartlets to inhale. Let's not draw this out any longer, shall we?
ingredients
for the crust
1 1/4 c flour
1/3 c olive oil, frozen
1/4 tsp salt
1 1/2 tsp apple cider vinegar
2-4 tbsp ice water
for the filling
1 pt fresh or frozen blueberries
2 tbsp moscato or other white wine
1/4 c sugar
2 tbsp cornstarch
directions
1. Freeze your olive oil in a plastic container for about 1-2 hours before making the crust — it should be pretty solid but still pliable. In a medium mixing bowl, whisk together flour and salt. Use a fork or your fingers to cut the olive oil into the flour until crumbly.
2. Pour apple cider vinegar into a small bowl and add 2 tbsp of ice water. Add this mixture to the crumbly olive oil/flour mess you just created and mix until a shaggy dough forms. Add more ice water, 1 tbsp at a time, as needed until you achieve the right consistency.
3. With a rolling pin, roll your dough out on a nonstick surface until it's about 1/4″ thick. Use a biscuit cutter or drinking glass to cut out circles. Press the circles into the wells of an ungreased muffin pan or mini tart pan, pressing them around the sides to form little cups (I got 9 cups out of my dough — you may get more or less depending on how thin you roll it)
4. In a medium mixing bowl, mix together blueberries, moscato, sugar, and cornstarch. Toss to make sure the berries are evenly coated in the syrup. Drop a spoonful of berries into each little dough cup, making sure each gets the same amount of syrup.
5. Bake at 350° for 15 minutes. Let cool completely before removing from pan (I used a knife to go around the edges before using it as a lever to pry out each individual tartlet). These are great warm or chilled, plain or topped with powdered sugar, whipped cream, or some delicious coconut cream!