This Blueberry Galette is a delicious dessert that's easier to make than a pie, with the same fruity filling and super flaky crust. This healthier dessert is gluten free, Paleo-friendly, and refined sugar free.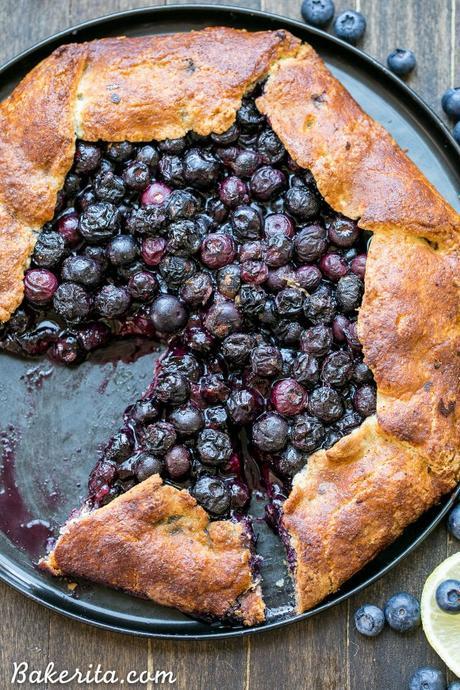 We're officially into September. How'd we already get this far into 2016? It feels like a few weeks ago we were ringing in the new year, wondering how 2015 passed so quickly. And now, a new school year is beginning (without me), I'm about to turn 23, and I've been graduated from college for over a year. Blah. Things are weird.
Also, what is UP with grocery stores already having Halloween candy out? I refuse to go there when it's still two month away. Let's stay stuck in summer for just a teeeensy bit longer. Agreed?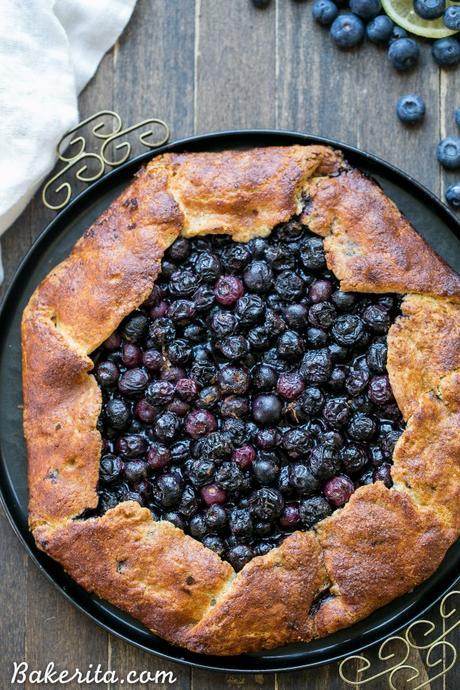 So, in true revolting-against-Fall-fashion, I'm still baking with berries. They're still plentiful around here, with grocery store shelves packed to the brim with rather cheap blueberries, raspberries, and strawberries. The strawberries have been quickly disappearing into my mouth and there's a delicious raspberry recipe coming your way soon…so today, we're focused on blueberries!
I've been going a little crazy for galettes, and after two savory versions (this mozzarella heirloom tomato one and the spinach + artichoke mediterranean galette), it was time for another sweet one. The strawberry chocolate galette is ROCKING, but it needed a fruity friend. Enter: the blueberry galette!
Blueberries are a pie and galette classic, for good reason. Average blueberries can become outstanding when they're paired with the right flavors and baked until juicy and bursting in a super flaky crust. It's a little bit of baking magic, and it's not even too hard.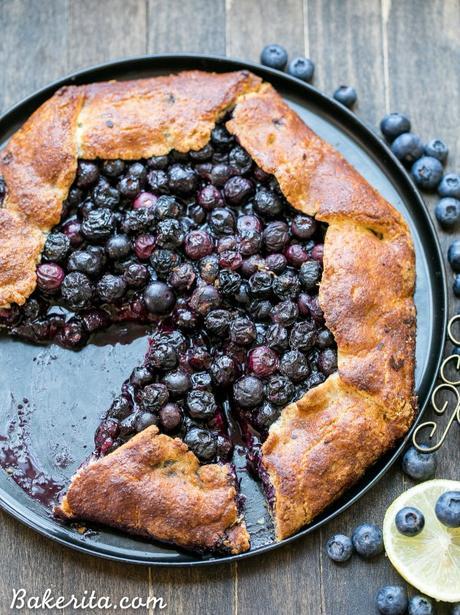 Galettes are like the easier, less intimidating little sister to a pie. No annoying crimping of the crust or making sure everything looks perfect – the whole point of a galette is that it's 
rustic. 
So when you're rolling out the crust, you're definitely 
aiming 
for a circle, but if it ends up more oval shaped, no one's judging you. The galette will still be rocking, even in a oval shape or with scraggly crust or whatever it is.
Thankfully, this crust is pretty dreamy to work with, especially considering it's gluten-free and grain-free, with blanched almond flour and tapioca flour as the flours of choice. They create a light and nutty crust, made super flaky with the cut-in butter. Don't work the butter in too much though – we want to see bits of butter when you're rolling out the dough, because that's where the wonderfully flaky texture comes from.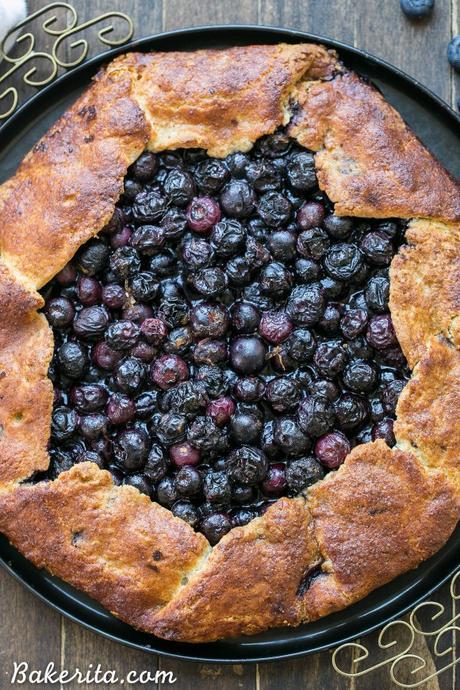 Piles of fresh blueberries are lightly sweetened with maple syrup, brightened up with a bit of lemon juice and zest, and a sprinkle of cinnamon adds a touch of warmth. Once the berries are arranged and tucked into the crust, the crust is sprinkled with a cinnamon-coconut sugar mixture that gets all crispy, browned and caramelized in the oven, while the berries get super juicy and jammy.
Topped with a little scoop of ice cream or whipped cream for dessert, or make it do double duty as breakfast and serve with some Greek yogurt. Enjoy!
Remember to #bakerita if you try the recipe!
Blueberry Galette (Gluten Free)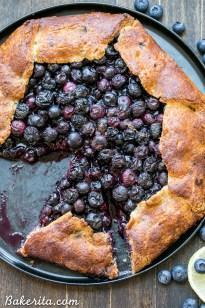 Save
Print
Prep time 30 mins Cook time 30 mins Total time 1 hour   Author:
Rachel Conners
Serves:
8 slices
Ingredients For the crust
1½ cups almond flour
½ cup tapioca flour
1 tablespoon coconut sugar
¼ teaspoon kosher salt
6 tablespoons cold grass-fed butter, cubed
1 egg, cold
For the filling
16 oz. fresh blueberries
1 tablespoon lemon juice (from ½ a lemon)
Zest of 1 lemon
2 tablespoons maple syrup (can substitute honey)
1 teaspoon vanilla extract
2 teaspoons tapioca flour
¼ teaspoon cinnamon
Before baking
1 egg
¼ teaspoon cinnamon
1 tablespoon coconut sugar
Directions
Combine the almond flour, tapioca flour, salt and butter in a food processor, or use a pastry blender in a bowl. Pulse or blend until the texture of coarse meal.
Add 1 egg and pulse/mix again until dough comes together. Turn out the dough onto a piece of plastic wrap and refrigerate for at least 1 hour or up to overnight.
When ready to bake, preheat oven to 375°F.
In a medium bowl, stir together the blueberries, lemon zest and juice, maple syrup, vanilla extract, tapioca flour, and cinnamon. Toss until coated and all the dry ingredients are moistened.
Roll the dough out between two pieces of parchment paper into a circle, about 10" across. You want it thick enough to be able to hold the filling and fold up the sides.
Place the filling in the middle of the circle leaving about 2 inches around the edge empty.
Gently fold the sides up, creasing the dough together with your fingers as you go. I use the parchment to help support and fold the dough so it doesn't break.
Beat the remaining egg with a splash of water in a small bowl. Brush the outside edges of the galette with the egg wash. Stir together the cinnamon and coconut sugar and sprinkle on the egg-washed crust.
Transfer the parchment with the galette to the baking sheet and bake for 30-35 minutes, until the blueberries are burst and bubbling and the crust is golden brown. Check the galette around 20 minutes and tent with foil if the crust is browning too quickly.
Remove from the oven and let cool for 10 minutes before slicing and serving. Store leftovers in the refrigerator for up to 3 days.
3.5.3208
Want more galettes?! Go sweet or savory:
Mozzarella Heirloom Tomato Galette with Parmesan Crust (Gluten Free)
Peach Galette from Kristine's Kitchen
Chocolate Strawberry Galette (Paleo + Gluten Free)
Spinach & Artichoke Mediterranean Galette (Gluten Free)
Heirloom Tomato and Hazelnut Galette from Floating Kitchen
There's more where that came from!
Mozzarella Heirloom Tomato Galette with Parmesan Crust…

Spinach + Artichoke Mediterranean Galette (Gluten Free +…

Chocolate Strawberry Galette (Gluten Free + Paleo)

Blueberry Nectarine Pie with Almond Crumble (Gluten Free +…

Blackberry + Blueberry Cobbler (Gluten Free, Paleo + Vegan)

Blueberry Crisp Tart with Oatmeal Crust (GF, Vegan)