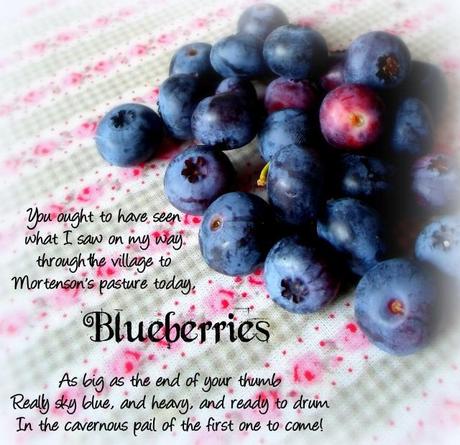 So the blueberries are beginning to ripen in our garden now.  Half of our bushes are an early variety which produces really big berries.  They are about the size of grapes.   On a side note, don't you just love this poem by Robert Frost???   I thought it was great!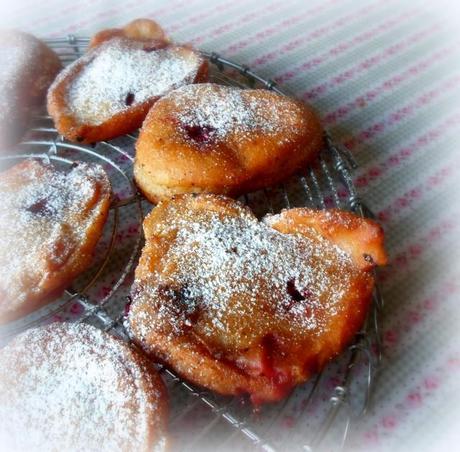 I had about half a cup of nice ripe ones today.  It wasn't enough to make much with . . . but I did need to pick them today.  I suppose I could have frozen them, but the temptation to use them right now was too great and so I decided to make blueberry fritters.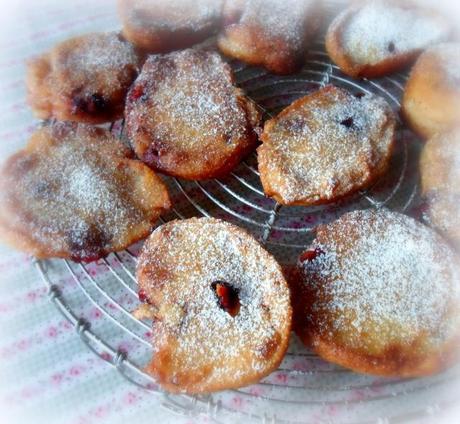 Fruit fritters are really easy to make.  You can do them with just about any type of fruit.  In the local coffee shop back home you can buy apple ones, which are filled with cinnamon and big chunks of apple and sultana raisins.  If you are using a really wet fruit, you will want to dry it well and dip it in some flour before you dip it into the batter, or the batter won't stick.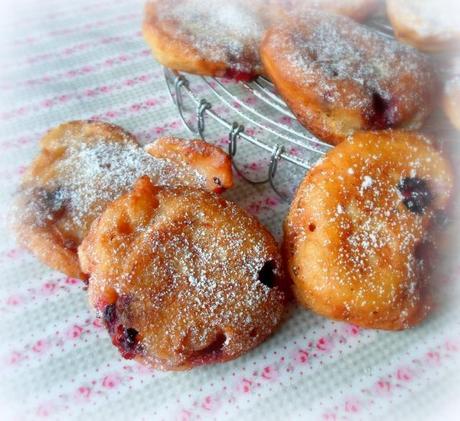 Some of the berries will probably pop out when you cook these, but that's ok . . . it just makes these little craggy holes which get all crisp on the edges . . . my favorite part and the fried berries are rather scrummy too.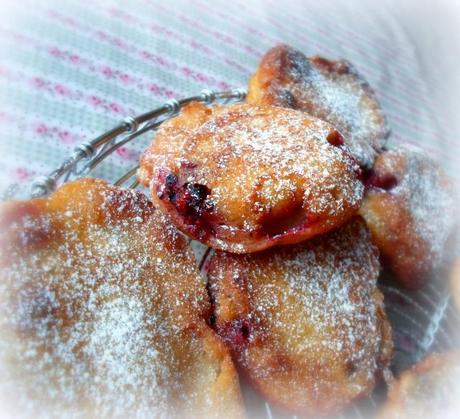 You could glaze them with an icing sugar glaze, but I just dust mine with icing sugar.   They look like they've been snowed on, and I rather like the look of it myself . . . besides glazes can sometimes turn things soggy . . . and we don't want that do we?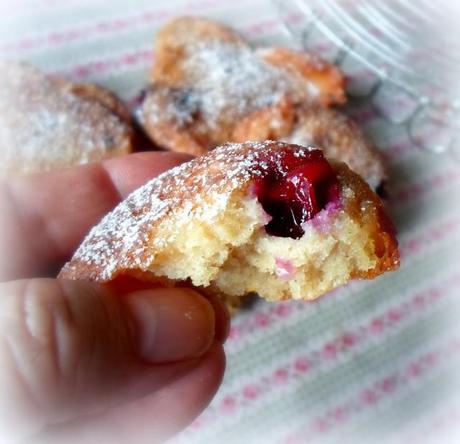 We want nice crisp fritters . . . with golden brown edges and just enough sweet to go with the tartness of the berries.   I like mine to be really golden brown, but if you like yours lighter just take them out sooner.   The important thing is to make sure your oil is hot enough before you begin frying.   That's the secret to a crisp fritter!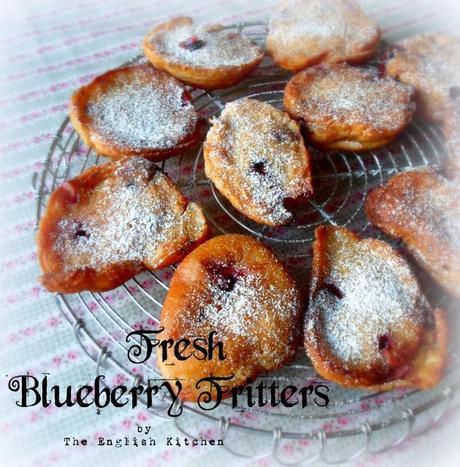 *Blueberry Fritters*Makes about 12
These are easy to make and delicious.  I am rather lazy you know, so easy works best for me.  Do make sure your oil is at the right temperature so that you end up with crisp fritters instead of soggy greasy ones.  Ideally it should be 180 to 190*C/360- 375*F.  If you have a deep fat  thermometer, use it.  If not, the oil is ready if when a drop of batter dropped into it the drop sizzles immediately and rises to the top.  Under no circumstances should you walk away from the stove when deep fat frying.  Also keep a pot lid handy to clap onto the top of the pan in case of fire.
1 cup plain flour (140g)1/4 cup caster sugar (50g)1 heaped tsp baking powder1/2 tsp salt1/2 tsp ground cinnamon1/4 tsp ground cardamomthe finely grated zest of one lemon1 large free range egg, beaten1/3 cup whole milk1 tsp vanilla extract1 1/2 TBS butter, melted1/2 cup fresh blueberries (small punnet)canola oil for fryingicing sugar for dusting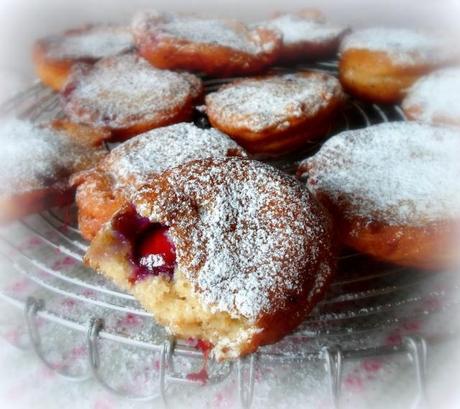 Sift the flour into a bowl along with the sugar, baking powder, salt, cinnamon and cardamom.  Whisk in the lemon zest.   Beat together the egg, milk, vanilla and melted butter.  Make a well in the dry ingredients and add the wet all at once.  Stir just to combine.  It's ok if it's lumpy, that's a good sign.   Fold in the fruit.
Heat 3 to 4 inches of canola oil in a deep skillet.  Once the oil is hot enough (see above) drop in heaped TBS of the batter, using two spoons to roll scoops of the batter into the hot oil.  Don't over crowd the pan or your oil will cool down too much.  I only do two to three at a time.  Cook until crisp and brown on one side, 2 1/2 to 3 minutes, then carefully flip them over and brown on the other side for approximately the same amount of time.  Scoop out onto a rack lined with paper kitchen toweling to drain.   Allow to cool somewhat.   Dust generously with sifted icing sugar and serve.  These aren't keepers so eat on the day!  (They get soggy if left longer, although you can refresh them somewhat in a hot oven.)