This post may contain affiliate links. Please read my disclosure.
This blueberry bread is moist, tender, and easy to make! It's healthier than traditional versions made with ripe bananas for sweetness, fresh blueberries, rolled oats and cinnamon.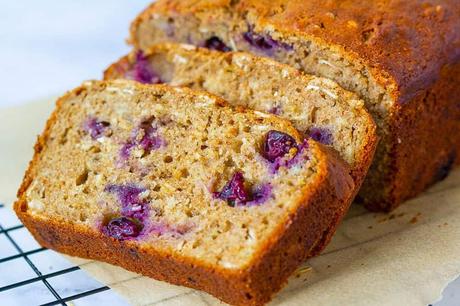 Traditional quick breads (banana bread, blueberry bread, zucchini bread, etc.) are like comfort food for me. It's a complete weakness of mine. It's so hard to resist eating a slice when I see it at a breakfast bar or brunch buffet.
But why would I want to resist eating a slice of banana oat bread for breakfast? The thing is, traditional quick breads, like banana and blueberry bread, might as well be called banana cake! They're usually loaded with fat and sugar, and are much closer to dessert than a viable breakfast option.
If it weren't so delicious, it would bother me that "banana bread" sounds like a healthy breakfast dish, when in fact it's not.
I'm always looking for recipes that turn this traditional quick bread into a healthy recipe while maintaining the moistness that traditional versions achieve with tons of butter.
This version of blueberry bread is a combination of blueberry and banana bread. The bananas are used to give the bread a natural sweetness, while the blueberries add great flavor and antioxidants! With rolled oats and whole wheat flour, this version is high in fiber and amazingly delicious, while still being lower in sugar and fat!
Tools and Equipment You'll Need
Recipe Ingredients & Notes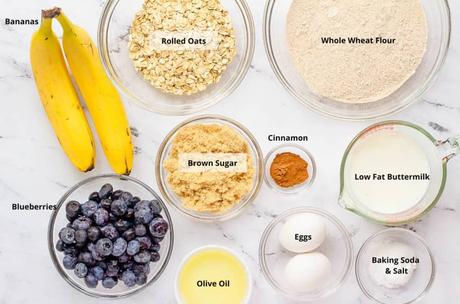 Flour: A combination of whole wheat pastry flour and rolled oats gives this bread a fluffy but still hearty texture. Feel free to substitute the flour with Bob's Red Mill Gluten Free 1:1 Flour and use gluten-free certified oats to make this gluten free.
Sugar: A little bit goes a long way in this recipe thanks to the bananas already being sweet! Feel free to adjust to be more or less depending on your tastes.
Bananas: You want overripe bananas (as brown as possible!) The more ripe, the sweeter your bread will naturally be.
Eggs: This recipe will work with flax eggs to make this an egg-free dish.
Olive Oil: To reduce the fat even more, replace half the oil with an equal amount of unsweetened applesauce.
How to Make Blueberry Bread - Step by Step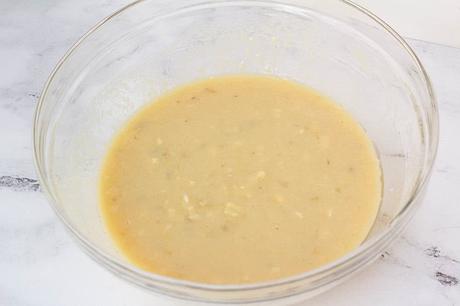 Step 1: Preheat oven to 375 F. Coat a 9 x 5 inch loaf pan with cooking spray and dust lightly with flour. Whisk buttermilk, eggs, banana, sugar and oil in a large bowl until well blended.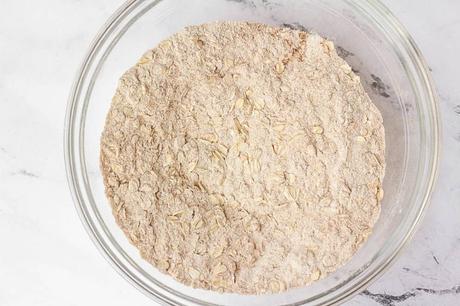 Step 2: Combine flour, oats, baking powder, cinnamon, salt and baking soda in a separate bowl.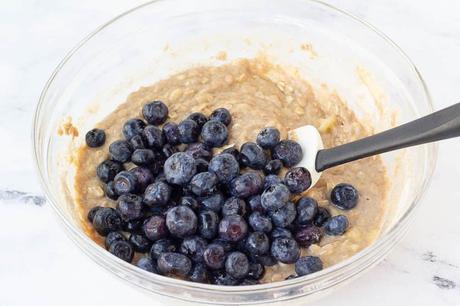 Step 3: Stir flour mixture into buttermilk mixture, mixing just until combined. Gently fold in blueberries.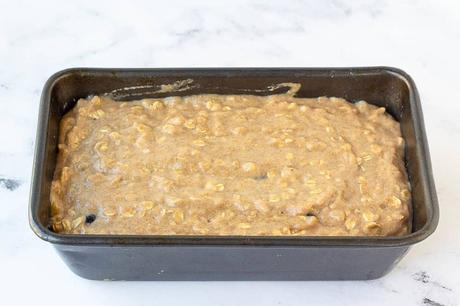 Step 4: Pour batter into prepared loaf pan.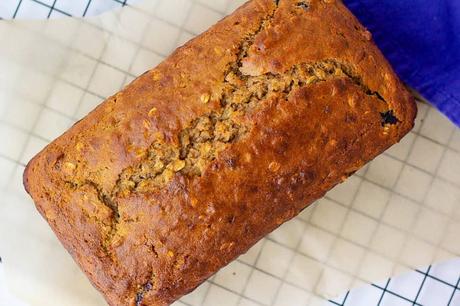 Step 5: Bake for 1 hour or until browned and a toothpick inserted in center comes out clean. Cool in the pan for at least 15 minutes. Remove from pan, and cool on a wire rack completely before slicing and serving.
Lower in Calories: One thing I love about this bread is it's under 250 calories per slice. The slices are massive too! This is way fewer calories than traditional banana oat breads that can be up to 450 calories per slice!
High in Protein and Fiber: This blueberry bread has almost 5 grams of protein and 4 grams of fiber, so you can feel good about filling up on a snack that's going to satiate you!
High in Nutrients: In addition to fiber and protein, this blueberry bread is high in vitamin C, vitamin K, manganese, zinc, iron, and more.
What Makes This Banana Oat Bread with Blueberries Healthy?
Will Kids Enjoy Blueberry Bread?
Oh yes! If you place a big old piece of this blueberry bread in front of your kids, they are going to eat every last crumb. I recommend cutting a slice in half for your kids, since the slices are so big. It's very filling and satisfying, so most kids won't feel like they need an entire piece to feel full.
Can I replace the buttermilk in this recipe?
Recipe FAQs
Can you make this recipe into muffins?
Yes, you can totally replace the regular buttermilk with a homemade version. I recommend combining ¾ cup of plain yogurt with ¼ cup milk. Mix well with a whisk, and you will have 1 cup of homemade buttermilk. I have used this method, and it works well.
Can I use frozen blueberries?
Absolutely! Here's what you'll need to do! Use a large cookie scoop to add batter to a lined muffin tin. Because the muffins are so much smaller than the loaf, they will bake much more quickly. I recommend 15-20 minutes or until golden brown on the top and a toothpick inserted in the center comes out clean.

How to Store and Keep Blueberry Oatmeal Bread
Yes! Nutritionally, there is no difference between fresh and frozen blueberries. If you choose to go with frozen blueberries, don't let them thaw before use. I also recommend tossing them in some flour before adding them to the batter. This will keep the blueberries from sinking to the bottom of the loaf and will absorb up the extra moisture. Note: For frozen blueberries, you will need around ¾ cup.
To Store In the Fridge: Let the bread cool completely, and then put it in an airtight container in the fridge. It should last up to a week in the fridge. You can also store this bread at room temperature, it will last 3-4 days at room temperature.
To Freeze: Cut the bread into slices and wrap each slice with aluminum foil. Put the wrapped slices in a ziptop freezer bag or airtight container. It will keep for up to 3-4 months in the freezer.
To Defrost: Let the slices thaw in the fridge and then come to room temperature. To serve warm, reheat in the oven or microwave.
Using some cooking spray and giving the pan a light coat of flour will keep the bread from sticking to the pan. Carefully remove the loaf from the pan by running a butter knife along the edges, and gently turn the pan over to release.
Don't overmix the batter. The blueberry bread will end up very dense and possibly even dried out.
Measure the flour by using a spoon to fill the cups, rather than scooping the flour out of the flour bag. This will keep the flour from packing down, and will ensure that the bread is light and fluffy.
Gently fold the blueberries into the batter, so the blueberry bread doesn't turn out purple.
To keep the blueberries from sinking to the bottom of the bread, spoon some of the batter (without blueberries mixed in) into the prepared pan. Then add the blueberries to the rest of the batter, and then add the rest of the batter to the prepared pan.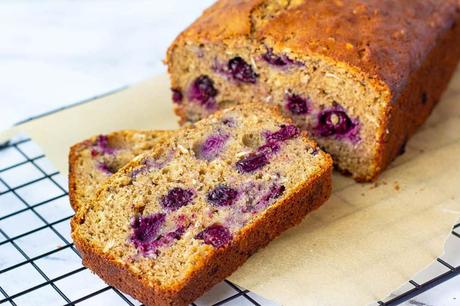 If you have tried this Blueberry Bread Recipe or any other recipe on my blog, then please rate it and let me know how it turned out in the comments below! You can also FOLLOW ME on
FACEBOOK
,
TWITTER
, INSTAGRAM, and
PINTEREST
to see more delicious, healthy, family friendly food!
Top Tips For Making Homemade Blueberry Bread
Check Out These Other Quick Bread Recipes!
Blueberry Bread with Bananas and Oats