It is nothing new that the palate appreciates savoury things and sweet things, just as happily as the combination of the two. I started this recipe, not with a concrete goal of where to use it, but for the sake of unifying some flavours, hoping the result would be poetry. In which setting to recite the poem, I had not considered. First of all I tried sweet with sweet.
The sauce is quite intense. You might say it is condensed, being that for a liter of wine I would usually include only half the amount of blueberries I used this time around. The intensity comes from the spices as well. It is this intensity – perhaps – what gives the flexibility of using this sauce with ice cream, or with game.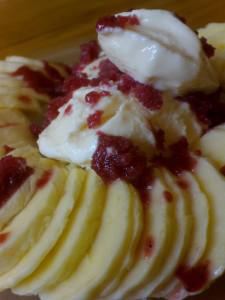 Blueberries apple sauce (frozen)
one liter red wine
500 g blueberries
tree Bramley apples
two capsules of green cardamom
5 clove heads
5 g coffee seeds (ground)
one rosemary twig
150 g sugar
Retrospectively I am glad I did not use vanilla this time around. It would go perfectly with the other ingredients, but it would take away the neutrality for the pairing with meats. If you wish, do add a vanilla pod. Simply bring all ingredients to a boil before lowering the heat. Let the wine reduce – about 2 hours – and after it has cooled down, make a puree to be sieved.
Enjoy on a banana and vanilla ice cream - for the sweet side combination. For this I took a small amount and froze it to be sprinkled over the ice cream.