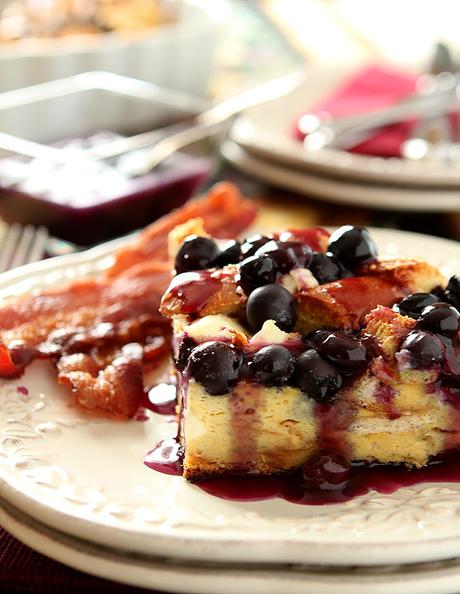 This recipe is from a cookbook called ' Colorado Collage' which is one of a series of cookbooks put out by the Junior League of Denver. I bought their first cookbook, ' Colorado Cache ' which was spiral bound, when I moved to Denver 25 years ago. I had to replace it years ago as that spiral bound edition could not tolerate much use and the one I now have indicates that over a million copies have been sold if that's any measure of how popular these cookbooks are. All of the series following 'Colorado Cache' have been hardbound, include beautiful photographs and are filled with recipes that never disappoint. I know...I have every one of them! I never doubt the success of a dish from one of their books and this Blueberry and Cream Cheese Stuffed French Toast is no exception.
I first served this dish a couple of years ago when a group of self proclaimed 'Martha's' got together for brunch. We all loved to cook and had self titled our group after you know who and it stuck; we still do the occasional Martha brunch. I posted the recipe after that get together and it's been on this blog now for 6 years, languishing in the archives and stuck with one horrible, no good, VERY bad photograph. It was time to fix that; it's too good to languish so I decided it was high time to offer it to my readers again; it's one of our favorites!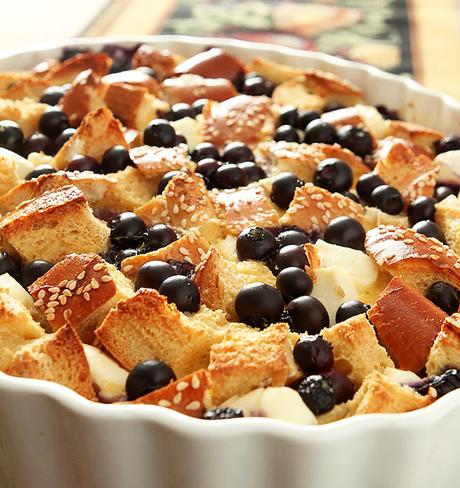 I hadn't made this blueberry and cream cheese stuffed French toast again after that brunch until a couple of years ago when I was reminded of it and served it at an event I hosted for other local Denver area food bloggers. What I love about it in addition to the fabulous taste? It's made the night before so it's a great time saver the morning of an event; just pop it in the oven and it bakes while coffee is made and last minute details are managed. For that reason it has become our standard for Christmas morning since then; five minutes to pop it into the oven and we can sip some coffee and open gifts while it's baking. The only change I've made over the years is to add a bit of maple syrup to the section of the recipe for blueberry sauce and I think that was a good call. This is not just for holidays but it sure is a nice treat from Thanksgiving through New Year's and even into Easter morning!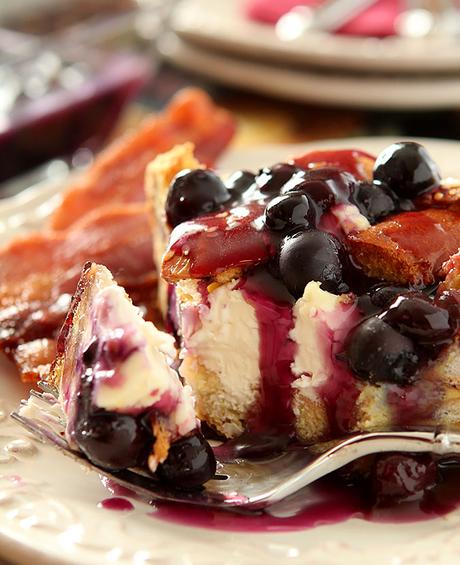 It's easy, luscious and really so perfect with a simple side of bacon. Want another version? I've also made it with blackberries and raspberries and added a bit of goat cheese; it's a bit different but so very good too. Try it; you'll like it. :)