I am still working with water color paper blocks, and chose blue for the central image in this new abstract painting. The blues I used included ultramarine blue, prussian blue, brilliant blue, and light blue violet.  The blues are highlighted with aqua, black, and a touch of magenta.
For the background I started with parchment but added white highlights and shadings of black with touches of the other colors. Then I emphasized the central shape with black lines. The contrast with a light background helps the dark blues to stand out.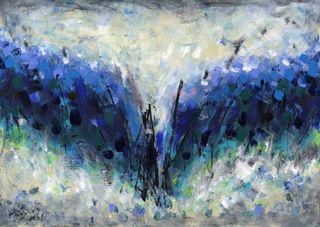 Paper Block #11, 20" x 14" acrylic on paper.