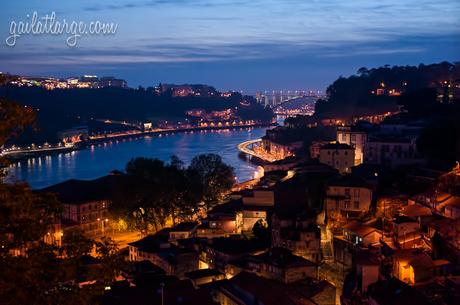 There are very few photos of the day due to the fact I have a hard time tour guiding AND photographing (I can only seem to do one or the other properly, but not both), but I did catch a few blue hour photos at Passeio das Virtudes.
The sightseeing around Porto continued today where it left off on Monday, our movements somewhat dictated by this major sporting event that shuts down part of the city center every year. I'd had an extended leisurely lunch at a new-to-me leitão spot in Gaia near the train station and I'd completely lost track of time, which left us scrambling to get me back to Jardim do Morro to catch the metro over the bridge to meet the visitors at São Bento Railway Station. I wasn't expecting the streets to be fenced off so soon, but we managed to maneuver through the people soup and the gates with the luggage to reach their hotel.
The rest of the day was much simpler, thankfully!
Thinking back on it now, we did a lot more in the afternoon/evening than I'd expected, considering the only plan was to decompress in a nearby tea garden. But in addition to Rota do Chá, we also made a refreshment stop at Quintal Bioshop (also nearby), wandered the parish of Vitória looking at street art, squeezed into small-and-busy Taberna Santo António (mostly to indulge my curiosity for why so many people I knew raved about this place), and rolled our stuffed selves back on to the streets for one last bout of wandering and people-watching and window-shopping before I caught my bus home.
I also have a few photos of our meals at Taberna Santo António, but I'm saving those for a separate post. When it comes to food, I always have more to say!
May 20, 2016
Album: Portugal [Spring 2016]