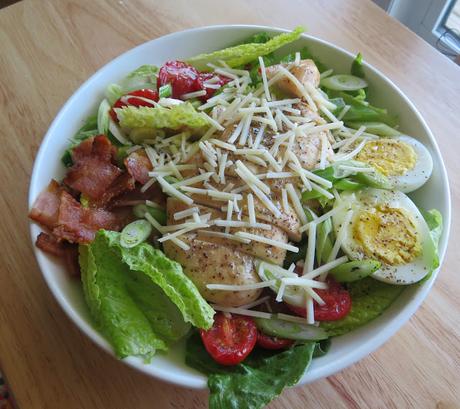 BLT Chicken Salad.  We have had some really nice and warm days lately.  I know it will only get warmer, but these have been really pleasant days, salad days as mom always called them.
The kind of days when you don't really want to mess about a lot with cooking and heating up the kitchen.  Days when you don't really have much of an appetite for a full or hearty meal. Days when all you really want to eat is a salad!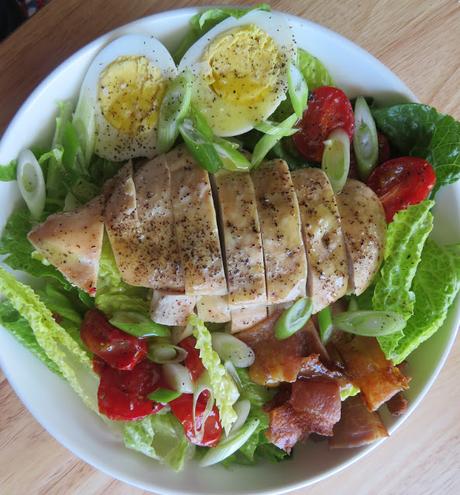 Warm summer days are perfect days to enjoy preparing main dish chicken salad recipes.  I adore chicken salads of any kinds.  I also adore BLT sandwiches.  
This delicious salad is a way of enjoying both of those loves at the same time.  I have small-batched the recipe to feed only two people, although you can certainly double it to feed more.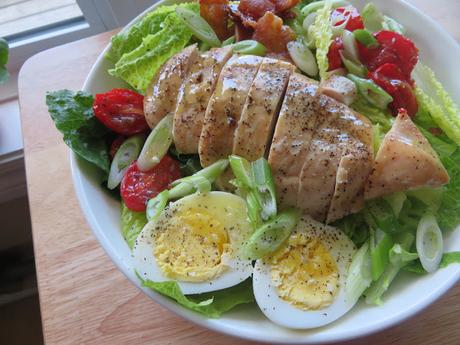 Everything in the salad is perfectly cooked without going over the top.  You have perfectly crisp and salty pieces of streaky bacon, not too crisp, not limp.
Perfectly cooked, juicy tender boneless, skinless chicken breasts.  Perfectly cooked hard boiled egg.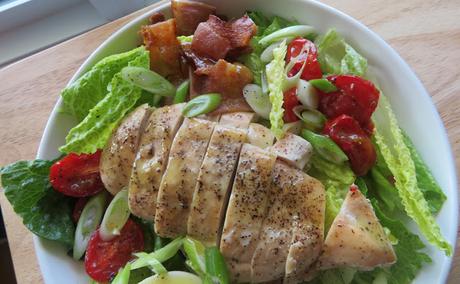 If you follow my instructions you cannot go wrong.  The timings are spot on for all of those things. I have also included instructions so that everything is ready at the same time as well. 
You could certainly cook each element ahead of time and put them together at the last minute.  But there is something really delicious about warm chicken on top of crisp lettuce, not to mention freshly cooked bacon that hasn't been refrigerated!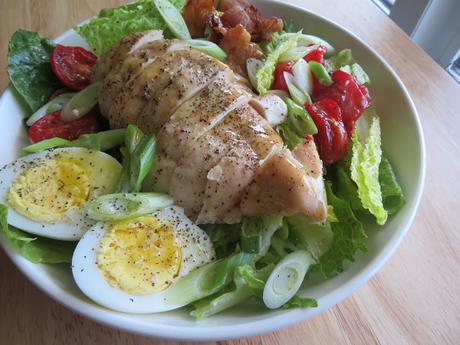 You begin by roasting the chicken breasts in a hot oven. They are simply seasoned with salt and pepper.  A rack is placed over top of them and onto the rack goes the bacon.
Both roast at the same time.  The fat and juices from the bacon drip down onto the chicken giving it a truly delicious flavor.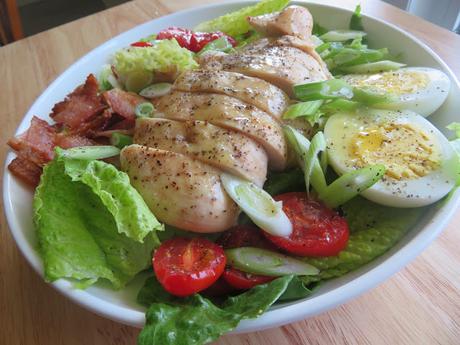 I know its a tad bit naughty, but really with no skin on the chicken you can afford to be a tiny bit indulgent.
Obviously the bacon will not take as long to cook as the chicken does.  Once its crisp you take it out and off the rack, remove the rack and continue to cook the chicken until its perfectly done.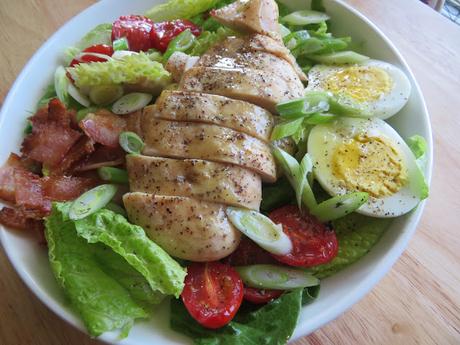 Not before adding some halved plum tomatoes to the pan however.  Turn them about in the bacon fat/chicken juices and they roast along with the chicken for the remaining cook time.
Just long enough for you to hard boil some free-range eggs. I only use free-range eggs. Most of you reading my page will know that, but for those who don't. It is a choice I make, but I certainly do not impose it on you.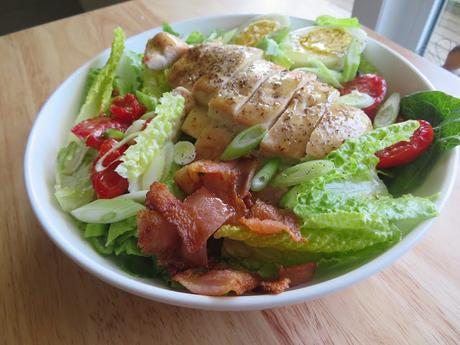 My conscience will not allow me to support an industry ripe with animal cruelty.  I have worked in a hen house grading eggs when I was a much younger woman, and yes they were battery hens.
Its bad enough these animals have such short lives, let alone that they be lived in cruel circumstances. I only want to eat happy eggs.  Eggs that have been produced by chickens that have been allowed to roam reasonably free.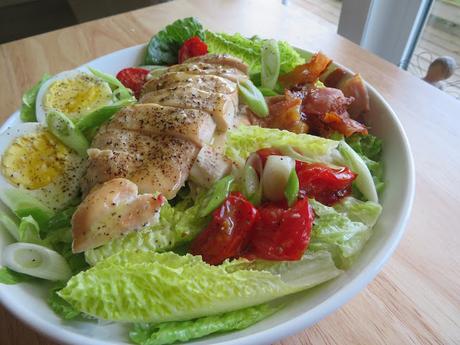 We need to pick our battles and this is the one I choose to pick.  Its even better if you can get rspca approved eggs, or if you know the egg producer and are sure that they are free-range.
Free-range does mean different things to different people. Sad but true.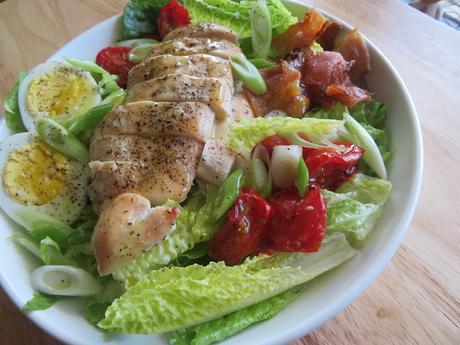 I also try to buy free range meat and poultry and wild caught fish, not farmed.  I  do know that this is not an option for everyone, but it is an option I happily live with. 
I also try to buy organic veggies, etc. when I can and I absolutely abhor GMO products, and avoid them wherever possible. I do know its not always possible.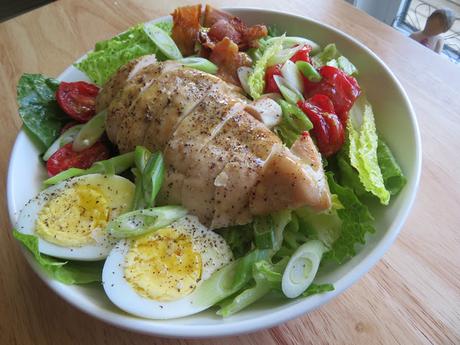 Anyways, back to the salad. As you can see my eggs are perfectly cooked. There is no ring of Sulphur around the yolks. 
This is all down to the timings and I have perfected them. I do like the yolks in my eggs to be solid instead of a bit runny.  If you prefer then to have a bit of a wobble, I have given timings for that as well.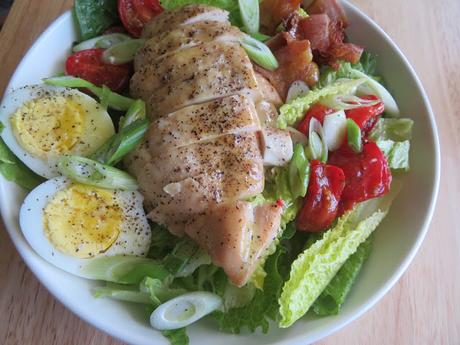 You could use chopped iceberg lettuce for this, but I like to use the darker romaine. It is slightly more nutritious and I could not get pea shoots.
If you can get pea shoots by all means use them. They add even more nutrition, especially if you are using iceberg lettuce. I really love pea shoots and micro-greens.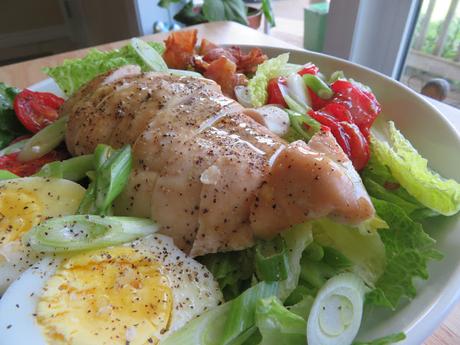 Baby arugula/rocket is also very nice in this salad.  Being in lockdown means that I only have access to ingredients that I can procure locally.  
My local shops basically only carry pretty basic ingredients.  Once things open up again, I will be able to go a bit further afield where there is more choice.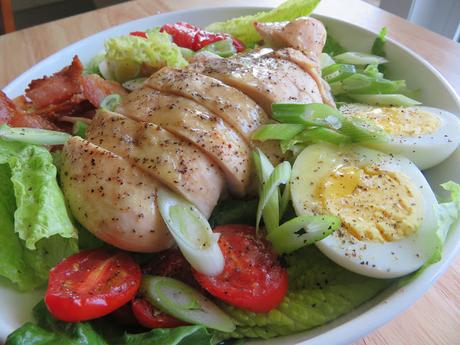 Another few weeks and the local farm markets will also be opening things up a bit and having more fresh locally grown vegetables and fruit to choose from.  I can't wait. There is a farmer's market right behind my wee house. 
They sell all kinds of fresh local produce.  Eggs. Meats.  Cheese's, etc.  And Ice cream!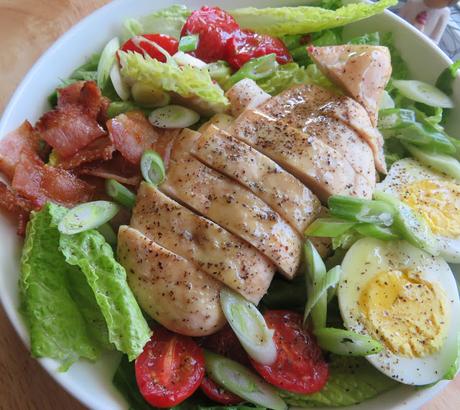 I can't wait until things really open up and my grandsons can come over.  I am going to be treating them to ice cream cones from the farm market for sure!  I have waited years to be able to do this! 
The tomatoes in this salad, the T in BLT are roasted along side the chicken.  Roasting really helps to enhance the flavors of tomatoes, especially when its not tomato season!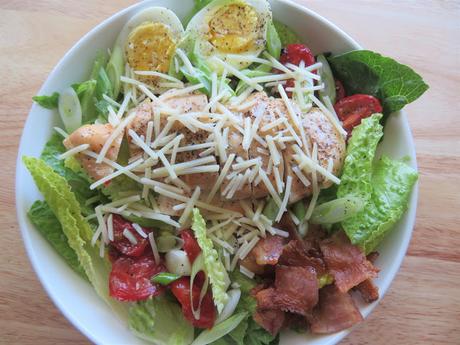 Normally I like to grate my own Parmesan cheese, but I have been unable to find un-grated Parmesan cheese locally so I have to make do with what I have available to use.
Grating your own cheese is always better. You get a lot more bang for your buck!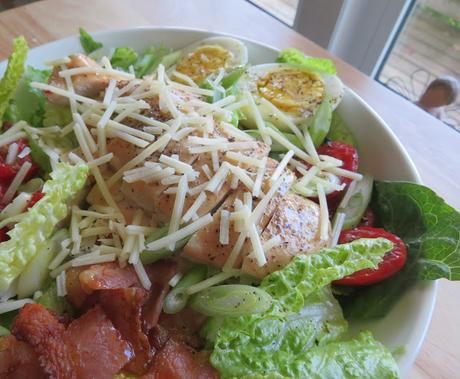 In any case, I do hope you will be inspired to want to make this delicious salad!  It is hearty and filling and filled with pure goodness! 
You are sure to fall in love with the punchy honey mustard dressing. All natural ingredients and oh so delicious!  Enjoy!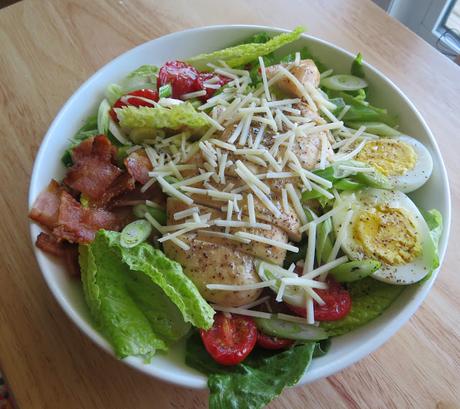 BLT Chicken Salad
Yield:
Serves 2
Author:
Marie Rayner
Prep time: 10 Min
Cook time: 35 Min
Total time: 45 Min
This is a fabulous salad with crisp bacon, tender moist chicken, boiled egg and a punchy honey mustard vinaigrette for two. Multiply to feed more.
Ingredients
For the Salad:
2 small chicken breast fillets, boneless, skinless
1/2 TBS olive oil
salt and black pepper to taste
4 rashers of streaky bacon
6 baby plum tomatoes, halved
2 large free range eggs
1 head of hearts of romaine lettuce, washed and broken
1/2 cup (10g) pea shoots (optional)
2 spring onions, trimmed, washed and thinly sliced
2 TBS shredded Parmesan Cheese
For the dressing:
1/8 cup (30ml)  olive oil
1 tsp white wine vinegar
1 1/2 TBS liquid honey
1 tsp Dijon mustard
salt and black pepper to taste
Instructions
Begin by preheating your oven to 400*F/200*C/ gas mark 6.  Line a medium sized rimmed baking sheet with aluminum foil.
Season the chicken breasts and place in a single layer on the baking sheet.  Place a rack over top and lay the bacon strips out over top of the chicken in a single layer.  This is so that the fat from the bacon drips down on the chicken, flavouring it.  Naughty but nice.
Roast in the preheated oven for 15 minutes, until the bacon is crisp. Remove the bacon and drain on paper towels. Remove the wire rack.
Add the baby plum tomatoes to the pan and season.  Baste them and the chicken with some of the pan juices.
Return to the oven and roast for a further 10 to 15 minutes, until the chicken is cooked through and the juices run clear. 
While the chicken is cooking  boil your eggs. Place them into a saucepan of cold water that just covers the eggs.  Bring to the boil and simmer for 9 minutes for a hard center, 6 minutes for a slightly runny center. Remove from the heat and plunge into ice water. 
Leave to cool for five minutes, then peel and cut in half lengthwise.
Whisk together all of the dressing ingredients to amalgamate and season to taste.
Slice your chicken breasts into  easy to eat slices, and cut the bacon into 1-inch pieces.
Place the lettuce and pea shoots in each of two shallow pasta bowls.  Arrange the chicken on top along with the roasted tomatoes, boiled egg and bacon.   Scatter the spring onions over top and the cheese.  
Drizzle with the dressing and serve.
Did you make this recipe?
Tag @marierayner5530 on instagram and hashtag it #marierayner5530Created using
The Recipes Generator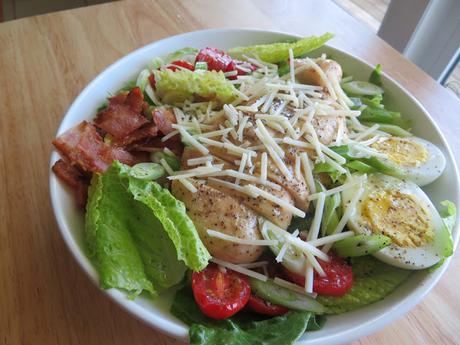 This content (written and photography) is the sole property of The English Kitchen. Any reposting or misuse is not permitted. If you are reading this elsewhere, please know that it is stolen content and you may report it to me at:
[email protected]
Follow my blog with Bloglovin