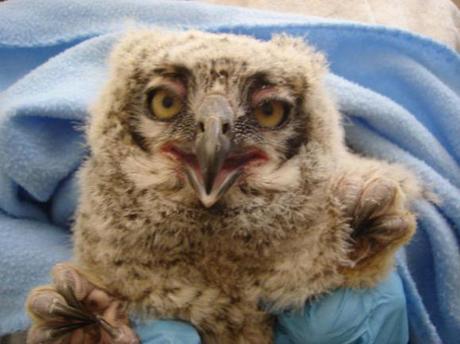 "Nice pair of hooters ya got there," said the Toronto Wildlife Centre staffer to the Great Horned Owl parents atop a 21-metre (nearly 70 ft) tall pine tree. OK, staff worker Alex Rios didn't really say that to the owls – that would be dumb and dumber – but he COULD have, since he was the one who personally delivered the fluffy, 4-week-old owlet back to its nest.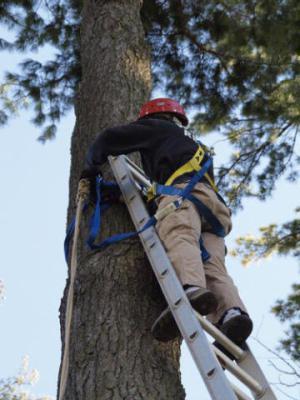 It was a happy ending that had a very scary beginning, however. Sometime last Monday, April 12th, blustery winds gusting up to 56 kmh (35 mph) blew the 840 gram (1.85 lb) baby owl right out of its nest. It landed on a Mississauga golf course where an employee found and thoughtfully brought it to the Toronto Wildlife Centre's facility at Downsview Park, little the worse for wear. According to TWC executive director Nathalie Karvonen, the baby was "very, very fuzzy, it almost wafted to the ground."
Once the animal experts at TWS determined the young Great Horned Owl hadn't suffered any injuries, the next step was getting it back to where it belonged: 70 feet up a swaying conifer in a nest guarded by two sharp-beaked parents. Performing the task would not be a simple matter.
The first hurdle Centre staffers had to leap was the wind, still a force to be reckoned with. Finally on Wednesday, 48 hours after the owlet took its impromptu trip, TWS staffer and "great tree climber" Alex Rios (left) was given the go-ahead to make the ascent. Rios' ladder only extended 9 metres (29.5 ft) skyward but he managed to reach the nest the old-fashioned way: branch by branch.
Upon reaching the nest, Rios then utilized a jury-rigged pulley and a bucket to hoist the wayward owlet to treetop level. From there it was a relatively simple matter to place the owlet in its nest, next to its stay-at-home sibling... all done under the watchful eyes and swooping wings of the nervous but un-spooked parents.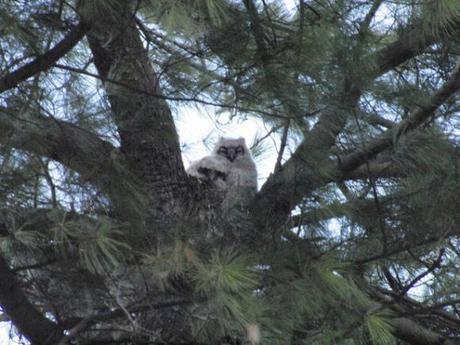 This may have been quite the adventure for the baby owl – we'll resist stating it was "blown away" by the experience (oops!) but for the Toronto Wildlife Centre it was just the latest in a long line of successful animal interventions numbering in the thousands and dating back to 1993.
What's more, the TWS is a registered charity supported primarily by donations. If you'd like to help support the Toronto Wildlife Centre through financial assistance or through volunteer work, visit their website at TorontoWildlifeCentre.com. (via Toronto Star and Canoe)