.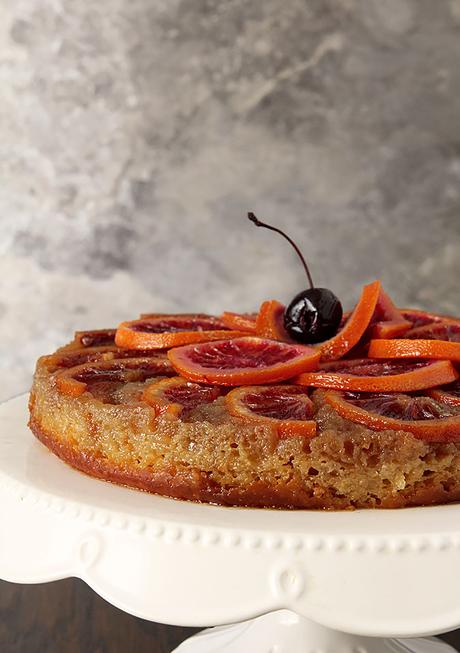 I always get somewhat melancholy as fall arrives across the landscape; the bounty of fresh fruits, veggies and herbs are coming to the end of their cycle and I know they will be missed. I wonder how I'll make it even as the season progresses and we meander through pumpkins and squash and pomegranate. Then every year, I come alive again with the renewal of citrus. Especially the gorgeous blood oranges I used for this Blood Orange Upside Down Cake.
Blood Oranges are a relatively 'new to me' form of citrus but all it took was just one look. They are so incredibly beautiful with their ruby red flesh more reminiscent of a grapefruit, and their beautiful speckled rind with a rainbow of colors from yellow to orange to the appropriately named blood red.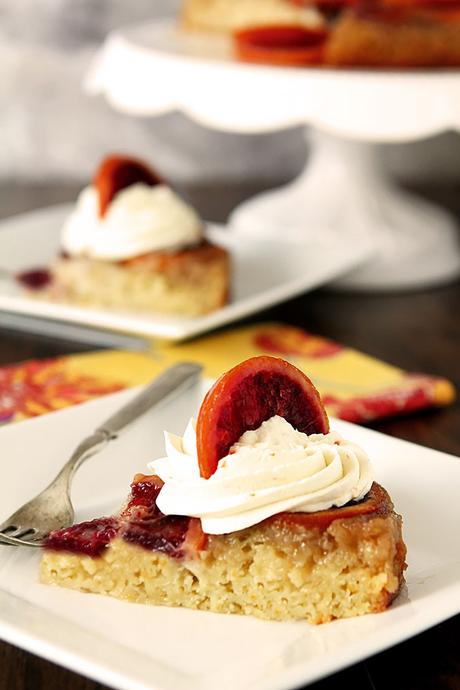 It's Progressive Eats time again and this month our lovely host decided that a menu consisting of all things citrus might brighten our spirits and yours too. I originally had something else in mind but I'm glad I punted and made it all about this cake. I've grown very fond of using citrus that is candied in a sugary syrup and left to caramelize a bit. The rind softens and is edible and the result is both beautiful to see and a real treat for the taste buds.
While the pith associated with the rinds of oranges is usually very bitter if using whole fruit pieces in a recipe; baking it into this cake changes everything. It reminds me of onions a bit how the flavor and composition changes so dramatically once they are cooked. The rind on the oranges on the top of the cake and the ones I candied for garnish have softened from the heat allowing the peel to add a more intense flavor to the finished dessert. I'm sort of addicted and trying to make sure everyone around me is too!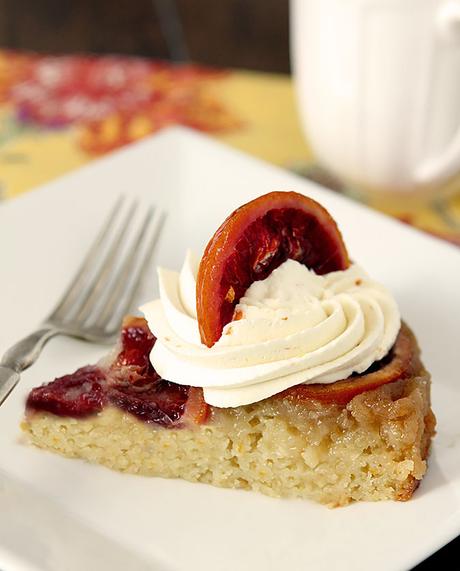 While one of my most favorite desserts of all time is Pineapple Upside Down Cake, this one is a new favorite that will be made again. The caramelized topping combined with the gorgeous citrus and a dollop of whipped cream flavored with more orange zest made for a welcome treat after another long winter day. I guarantee you it will make it's presence known again with coffee for breakfast; it's perfect for either and lucky me...I get it for both!
Take a peek at the wonderful assortment of dishes we've put together for you with a variety of fresh citrus from this season. I know you'll find something you'll love; I know I want it ALL!!
Serves 8 - 10 Servings
15 minPrep Time
45 minCook Time
1 hrTotal Time

Save Recipe
Ingredients
Instructions
Progressive Eats Citrus Menu
Drinks
Appetizers
Bread
Main Course
Veggies/Side Dishes
Desserts
Welcome to Progressive Eats, our virtual version of a Progressive Dinner Party. This month we're sharing dishes featuring citrus fruits! Our event is hosted by Coleen who blogs at The Redhead Baker. Citrus fruits are in season this time of year, and the flavors will brighten up even the dreariest winter day. You'll certainly find a delicious recipe to add to your repertoire!
If you're unfamiliar with the concept, a progressive dinner involves going from house to house, enjoying a different course at each location. With Progressive Eats, a theme is chosen each month, members share recipes suitable for a delicious meal or party, and you can hop from blog to blog to check them out.