Blood oranges are so stunning and make the most amazing Blood Orange Margarita cocktail. Grab some quick before their short season is over!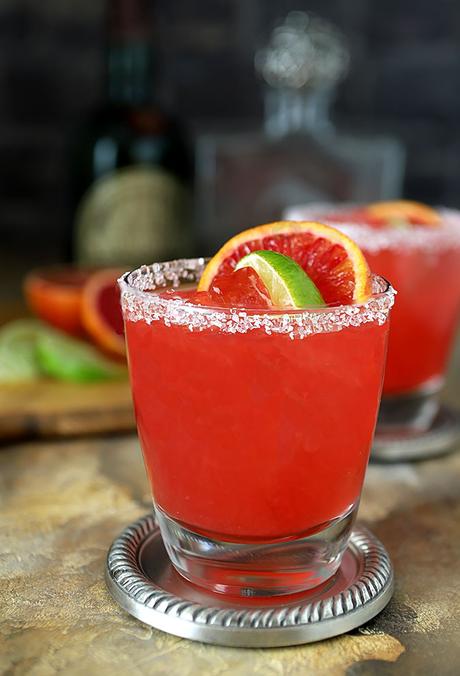 As I've done often in the past couple of months, I'm offering up a really old post as new again. This was originally published six years ago and the images were ready for a redo. I have a new camera and it's a huge learning curve and I spent all morning on photos trying to figure some things out. I'm not quite comfortable with it yet but I'm on my way and these Blood Orange Margaritas were the perfect still life to practice on!
Beyond that? This cocktail is so perfect I wanted to share again. I used to be so stuck on my favorite margarita recipe that I seldom ventured far from it. One day I decided to try changing it up with some summer fruit and the rest is history; I'll try to make a margarita out of any seasonal fruit and right now blood oranges are in season.
While there is something about that cold and icy drink that's just perfect for having friends over during warmer months along with guacamole, chips and either fajitas or barbecue ribs, the fact that I'm making country style pork ribs in a pressure cooker today might have something to do with this update. I'll serve this margarita and the fresh, seasonal citrus will be great with pork and a fresh slaw. Besides that? It's SIXTY degrees outside in January; we'll just pretend that summer is around the corner!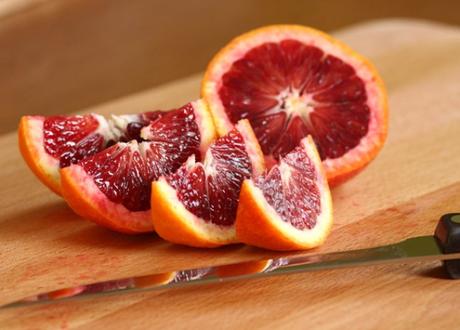 If you've never had a blood orange and are wondering why it's called that, well, now you see. Isn't that color beautiful? The flavor is different too; they have less of a citrus bite to them and are also a bit sweeter. They are gorgeous and finding these beauties is always a real bright spot in the middle of winter. I don't see them much at my regular grocery store but have good success at either Sprouts or Whole Foods so take a peek there if you run into the same dilemma; they are so worth it.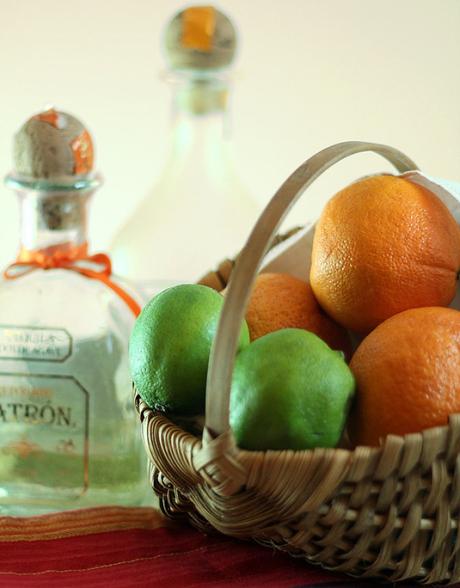 Beyond the oranges I do think a couple of things are imperative for making really good margaritas.
Use good tequila - I didn't have my standard on hand that I use for margaritas which is Cuervo 1800; a reposado tequila meaning that it's been aged a bit but less than one year. Not quite a high caliber sipping tequila but even a bit of aging makes for a much smoother tequila and that improvement is evident in a cocktail. All I had on hand to make this cocktail was a pricey sipping tequila. Not necessary but what a fine cocktail it made.
Please don't use cheap Triple Sec - Triple Sec is merely artificially flavored sugar water. Nuff said? I use Patron's Citronge or Grand Marnier or any other orange liqueur made from the actual essence of orange; all are good.
Fresh lime juice and obviously fresh orange juice - even if you can't locate blood oranges and want to try this with regular oranges I don't recommend using frozen or bottled OJ. Buy some oranges and give them a quick squeeze...besides you needs some slices for garnish right?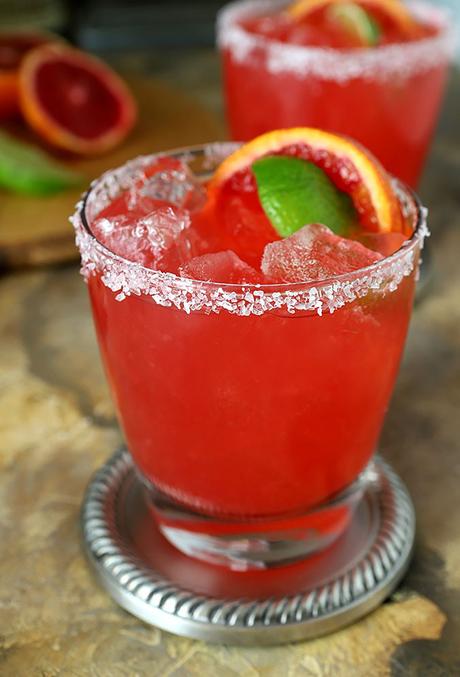 Go now and grab some blood oranges and try this cocktail...it is now officially my 'winter' margarita...make it yours too!

Blood Orange Margarita
A simply gorgeous cocktail best enjoyed seasonally with fresh blood oranges.
Ingredients
1/2 cup water
1/2 cup sugar
Kosher salt
Sugar
2 ounces Orange liqueur
2 ounces fresh lime juice
3 ounces blood orange juice (2-3 oranges)
3 ounces tequila, preferably reposado
salt for the rim, lime/orange wedges for garnish
Directions
Make a simple syrup by combining water and sugar over medium high heat. Heat until sugar is dissolved; remove from heat and let cool.
Combine equal parts of salt and sugar and spread on a saucer. Rub the rim of each glass with a lime wedge and then dip the edge into the salt/sugar combination.
Combine 3 oz of simple syrup with orange liqueur, lime juice, blood orange juice and tequila in a cocktail shaker. Fill with ice and shake for approximately 30 second until ice cold.
Fill glasses with ice and pour mixture into the glasses. Garnish with an orange slice and lime section.