BlogHer asked me to answer their Life Well Lived Looking Your Best question,
"What are your favorite resources for inspiration on style, fashion, beauty and living life well?"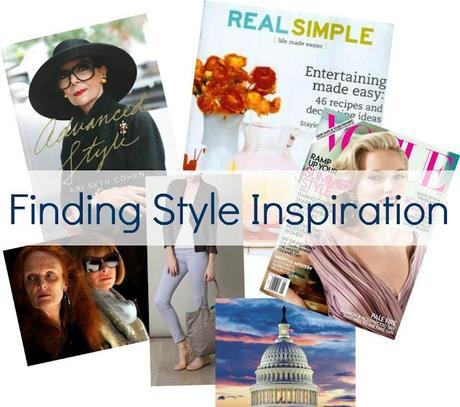 Books
I love reading books because they force me to create images in my head. While a novel may state that the protagonist is a brunette or wearing a navy dress, the rest of the description is truly up to me. I envision each character – how they dress, they walk, they talk and I think about why I chose that trait. It's a great exercise to see style beyond what is on the television, and also to see how I look at style. From this, I often get inspiration for my own wardrobe.
Along with novels, I also love style books. This past weekend I finally got around to reading Ari Seth Cohen's book Advanced Style and it was so inspiring. These fabulous women with fabulous personal style, making their own rules and looking gorgeous while doing so. The book has very little text, but each quote gave me such food for thought.

Magazines
If you read this blog regularly, you know I love Real Simple. They show wearable fashion at reasonable price points, and each issue ends up adding some new item to the shopping list for Target, Sephora, or Drugstore.com. Through Real Simple I have learned about life-changing night creams, skin-clearing gentle face washes, and lip glosses that make me actually like lip glosses. I also learn ways to simplify my life and daily routines, giving me time to actually life my life and not be a machine.
While I love Real Simple for showing great pieces that are buyable now, I do love falling into the fantasy that is in high-end fashion magazine spreads. I could look at a Vogue spread for an hour, creating characters, imagining situations, and also trying to see into the stylist's head as to why she put things together in the way she did. Letting my mind wander on a spread gives me a lot of inspiration for my own wardrobe – creative pairings and unexpected additions.

The Street
Yesterday I passed a woman on the street in lavender skinny jeans, a white v-neck tee, and a gray tweed blazer. The look was so simple, but so fresh and crisp it made me want a pair of lavender jeans in my life. Washington DC isn't necessarily known for its fashion, but every day I see women who push sartorial boundaries, or who take class and style up a notch.
For every woman in an ill-fitting polyester suit and pair of worn-down TOMS there is one in a perfectly tailored vintage blazer or one-of a kind frock. I also see women who give me ideas for my beauty routine – natural waves, fresh dewy skin, or a shock of color on the lips, eyes or even in the hair. These women give me inspiration, and regularly help me shop within my own closet for completely new ensembles.

We want to know, what are YOUR favorite resources for inspiration on style, fashion, beauty and living life well?  Visit BlogHer and let us know in the comments!  Also be sure to enter the Life Well Lived sweepstakes, where you could win an iPod Touch!