May 18th-24th is National Vegetarian Week here in the UK and the theme is 'share.' What better excuse is there then to share some of my favorite blogs with you all! Today I am sharing Wrapped in Newspaper, a UK-based blog run by sisters Veronica & Amy all about vegan food and living an ethical lifestyle.

Thanks Natalie for asking us to share a little about our blog Wrapped in Newspaper over here.
How would you describe your blog and what can people expect to find there?
Our blog has developed a bit over the past two and a half years. We mainly write a lot of recipes and these have developed from all kinds of vegan recipes to clean, whole vegan foods as we try to limit the amount of refined sugar in our diets for health benefits plus we are looking more at foraged foods. We also write about how we try to make more ethical decisions in our lives, whether that is through the food we eat or the clothes we wear. As consumers we feel we should question where everything has come from, what it has gone through and how this impacts our environment. You can also find Hayley talking about all things bees and the important role they have to our habitat.
What is it like running a blog together as sisters?
We get on pretty well so we can be pretty honest with each other, so if one of us doesn't like an idea we just say it how it is! We tend to post every other week and take it in turns. We would love to post more often, but our lives are quite busy with work, plus Amy loves to cycle and I love to run and life can get hectic! We tend to have a plan of what we are going write about, but life gets in the way somewhat and we can both panic about what we are going to write about. Two heads are definitely better than one when you are short of ideas!
Tell us a little about your vegetarian/vegan journey and where you are now.
We both became vegans in the same year (3 years this summer), it all started when we rescued some chickens and the realisation that once chickens have served their purpose they are surplus to use even though they are still laying eggs. Amy went vegan first then I started reading about it and it just made sense to me. We both went from meat eaters to vegan overnight rather than cutting down on meat or dairy first. It was definitely, the best decision we made. It has led us to change so many things in our lives and to question things. You can read more about our story here.
Apart from on your blog, what is one of your favorite ways to share plant-based food?
We are big fans of Instagram. We were lucky enough to be selected by Instagram as a suggested user and picked up a load new followers. We post what we are eating quite frequently, although Amy is much better at posting on there than I am. You can find us at @wrappedinnewspaper
I'm amazed at how much content we have created over the past few years, here are some of our faves!
Elderflower cheescake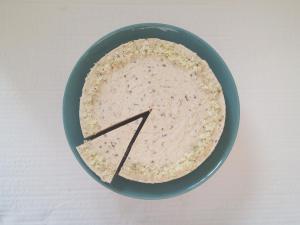 Chocolate brownies
Peashoots & micro veg salad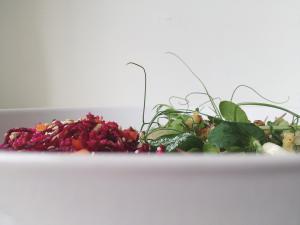 Super easy summer curry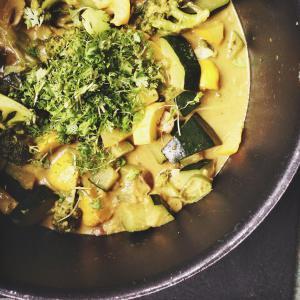 Cauliflower pizza base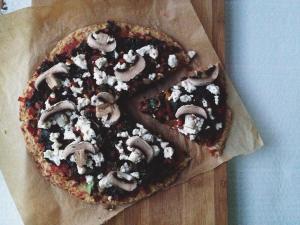 Come visit and say hi!
Thanks so much Veronica for sharing this with us today!