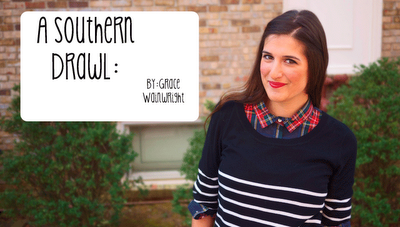 I had the privilege of being able to interview Grace Wainwright of A Southern Drawl a couple of weeks ago. This girl embodies my favorite qualities of a fellow southern girl: she's gorgeous, stylish in the best preppy way (she has an obsession with stripes), and most importantly hilariously witty. It is not uncommon for me to crack up aloud to myself while reading her blog. Check this gal out, she's the next big thing.
xo SideSmile,
Ashley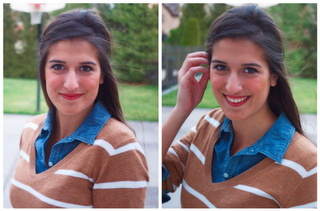 Age: 19
Hometown:  Louisville, KY
Started Blogging: Fall 2011
Why did you initially decide to start a blog? I started to blog because as an engineering major, I needed an outlet of creativity.  I am terrible at anything artistic, but I love fashion. So I chose to start a blog as a hobby and as a way to share something that I love: style.
If your blog had a mission statement, what would it be?  
It would be that any outfit that makes you feel good is good. Cliché? Maybe, but what are mission statements for, eh?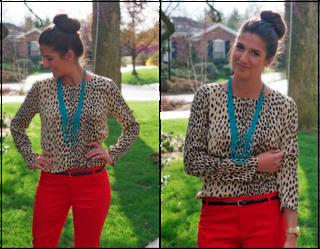 What is the story behind your blog's title? 
Well since I'm from and live in Kentucky, I pride myself in being slightly southern. Some people think I have a southern drawl, while others don't, but regardless, I thought it was a clever title. I guess, I let the word "y'all" slip every now and then.
How would you describe your style? I don't think I have one specific way to describe it.  Sometimes, I'm preppy, sometimes I try to pull the laidback comfy chic look, while other times I just wear whatever isn't dirty because I'm too lazy to do my laundry.  My style is constantly evolving, and I love trying new and different styles.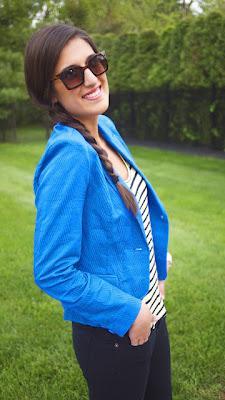 Who are your favorite designers? I love Michael Kors, Lilly Pulitzer, and David Yurman jewelry.  But, let's be real, I'm a college student…what's up Forever 21?
Who inspires your wardrobe and why? Seriously, everyone inspires my wardrobe, whether it is a celebrity like Rachel Bilson (I want to be her), or Pinterest (an obvious one…), the blogs I follow, or just people I come across every day.
What do you do when you're not blogging? Either drowning myself in my studies, reading leisurely, working out, enjoying my family and friends, and enduring one too many awkward moments in my daily life.
What are your personal favorite blogs? Why? It's so hard to choose my favorite blogs, because I enjoy reading all kinds.  As for large well-known blogs, I really enjoy reading Kendi Everyday (I enjoy her awkward comments and encounters), M Loves M (the perfect touch of vintage), and Atlantic-Pacific (her style is so chic). Regardless, I love looking at all blogs. They all inspire me.
What type of camera do you use? I use a Panasonic Lumix DMC-GF1 with either a 20 mm/F1.7 lens (it's itty bitty) or a 42 mm/F3.5 lens.  To be honest, I'm really terrible with camera language…so who knows if I even said that correctly.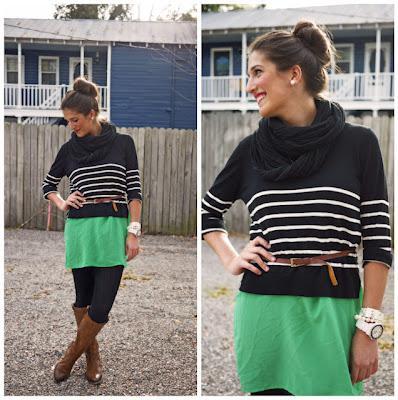 How do you capture your outfits each day? I usually have whoever is available and free to take my pictures.  Whether it is my friend or brother or my dog (he's pretty good at handling a camera).  I should probably get a tripod…but that makes me nervous. Plus it's not about the pictures, it's about the style!
Where are your favorite places to shop? This could potentially be a very long list, so I'll cut it down: Loft, Ann Taylor, JCrew (usually only for sale items), and Forever 21 (when you can find those rare gems…). 
Are there any trends you are particularly inspired by this season? 
I really love the whole neon shindig.  It's gutsy and great.  Neon clothes, neon nails, neon lips.  And the polka dots too! I'm personally a stripe person, with way too many striped sweaters and shirts in my closet, so, I really like doing something different and have been mesmerized by the polka dots.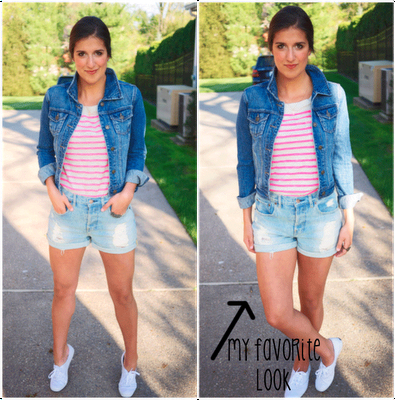 What trend from the past would you like to make a comeback? I thought this was a cool question, so I decided to ask my sister her opinion too.  She said she would want the flapper style to come back.  It made me chuckle.  On the other hand, I would want acid wash to come back.  I know it kind of already has, so I'm not sure if this counts.  I have acid wash leggings from American Apparel that I love.  I feel like you could make some crazy matches with acid wash and patterns.
What clothing item would you say is timeless? I think a blazer is a timeless clothing item.  You can dress it up or dress it down, match it with anything and everything, and it's very feminine with a bit of edge to it, giving a great balance.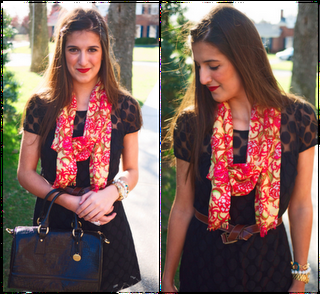 What beauty product can you not live without?  
So, I can only narrow this one down to two: mascara and chapstick/lip tint.  When I'm struggling to get up for class, I just go to these two.  Mascara to make it seem like I'm awake and tried to look decent, and the lip tint or chapstick to moisten my lips and give a nice color.
Today is your last day on earth. What are you wearing? 
Probably a striped sweater, since I have a weird obsession with those, (or chambray shirt: equal obsession), skinnies, and brown wedges that I've been dreaming about at night ever since I saw them in Charleston.