One of the most exciting things about being a blogger is being part of the blogging community. I sometimes feel like I sit across a few different communities, including Yorkshire bloggers, meat-free bloggers, food bloggers, travel bloggers…and have had the pleasure of attending blogging events across all of these. Getting to know other bloggers and even some of my readers who aren't bloggers has been an unexpected pleasure (unexpected since I fully expected to be blogging to myself when I started).
So what does this have to do with business cards? Well, what I'm getting at is that blogging is not only about the online! Blog business cards are a great networking and marketing tool to use when you're not sat in front of your computer.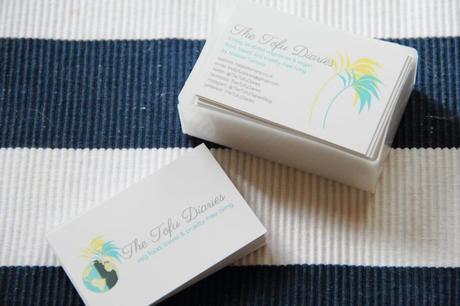 Here are three reasons you need blog business cards:
1. Blogger Events
This is by far the most important time to have your cards on you! I've been to blogger events on both sides (as a blogger and as a PR) and it's so much easier to remember someone and look them up afterwards if you have their business card.
Having a business card to hand is great for non-blogger specific events too – I've been asked who I'm photographing for when I've been at events like the Just V Show and Yorkshire Vegan Festival so it's been great to share a card with them.
2. Out and About
Whether it's on the road or somewhere local, it's easy for your blog to come up in conversation and having a card to hand is a great way to gain a new reader in everyone you meet (in moderation of course, you probably don't want to give one to everyone you meet!).
3. Marketing
I definitely don't think the 'if you build it they will come' mantra applies to blogging – you have to get the word out there for yourself! Business cards can be a great marketing tool if you leave them in the right place. Plenty of establishments have dedicated areas with flyers and other promotional materials so, if it's relevant, why not ask if you can leave a few?
Wondering what to include on your blog business cards? 
The essentials: blog logo, blog URL, your name, email address, tagline (to describe your blog) and main social media handles
Optional: a photo of you, your phone number.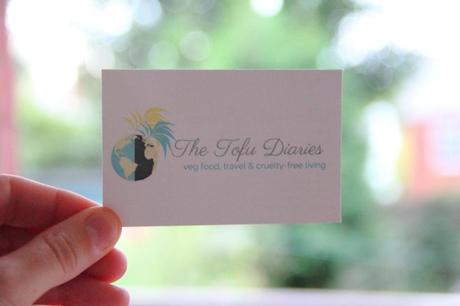 I recently refreshed my business cards with StressFreePrint who kindly sent me a set to match my new blog logo – cheesy as it sounds, they lived up to their name and made it all super simple to order. You can also get their input on design if you're not sure what you're doing. I love the clean look of my new ones and loved the fact I could order them on recycled paper too.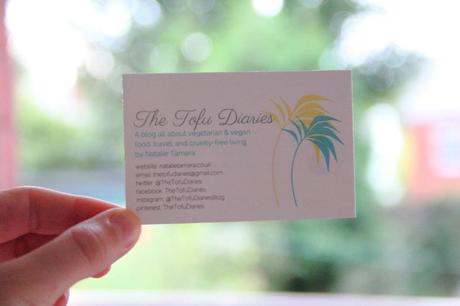 What do you think about blog business cards – are they an essential for you?