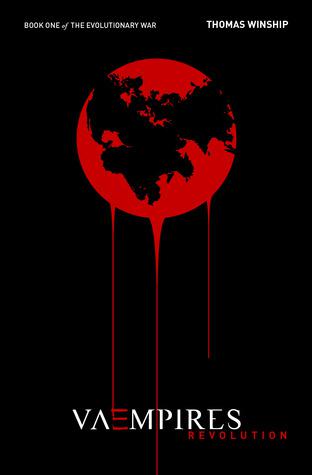 Publication Date: October 31, 2011
Publisher: Self Published
Series: The Evolutionary War #1
Young Adult
Pages: 216
Genre: Dystopian, Paranormal
It is the morning of Princess Cassandra's sixteenth birthday. Everyone's attention is focused on the heir to the vampire throne. World leaders, the rich and famous, and VIPs from every corner of the globe have gathered in the nation's capital to celebrate the momentous event.      Cassandra's boyfriend, Daniel, is late for the party. He's still outside the city when all hell breaks loose. What he believes is an act of terrorism proves to be a full-fledged revolution. Væmpires—former vampires who mutated into warm-blooded creatures with an insatiable hunger for cold blood—have launched coordinated attacks across the globe, with three goals: the eradication of humanity, the enslavement of vampires, and the ascension of væmpires as the dominant species on the planet.      The vampire and human leaders are killed. Cassandra is missing. Daniel is the acting king. Desperate to find the princess, Daniel and his friends fight their way across the besieged city. With the hopes of the free world resting on the shoulders of four vampire teenagers, væmpires unleash their secret weapons—væmpires with special powers.      What can four teens do against an enemy that can shape-shift, fly, or walk through walls?
With an individual intake on Vampires, Thomas Winship definitely blew me away with this unique and action packed novel.
Starting off in the heat of the moment we are introduced to the main protagonist Daniel, a fifteen-year-old vampire whose the boyfriend of Princess Cassandra and son to a leading military official, and the raging antagonists to the cause: Vaempires, genetic mutations that can no longer survive on the synthetic blood that proved a symbiotic counterpart to the human-vampire cause with enhanced powers.I loved the action, the pure nature of the vampire species. It had me shivering, made me excited, and brought hope that there are still people who know the very nature of a vampire and doesn't twist it into obscene imaginations. Even the depth of Daniel and Cassie was engaging to read, the strength of both the characters in such brutal times flushed under the sparks of the limelight. The only thing that would have made me enjoy this novel more is if there was more word building. The scenes would have moved much smoother with some enhanced wording. But for a self-published novel this was definitely enjoyable and with almost impeccable grammar and sentence structure.Definitely recommend to those who enjoy a satisfying vampire story and also those who love or need a serious dose of action-packed fighting because Vaempires is something you should get your hands on.
First Line: 
Daniel swung his arm in a vicious arc, cutting the head from the væmpire to his right while parrying a blow from another to his left.
Story:
S
Cover:
S
About the AuthorThomas Winship was born in Middletown, NY and still resides in Orange County. He holds an MBA in Management from St. Thomas Aquinas College, where he serves as an adjunct professor of courses in English Composition, Communications, and Business. He also spent fifteen years working for a global pharmaceutical company, specializing in organizational development, talent management, and training.Tom writes in his spare time. His first novel, a mystery/legal thriller entitled Temporary Insanity (a.k.a. Case Closed), was a 2008 finalist in a national contest but failed to garner industry attention. His second novel, Væmpires: Revolution, was published in October and a follow-up novella, Væmpires: White Christmas, was published in December. He is an avid collector of books, comic books, music, and movies. His interests are diverse: on any given day, Tom is likely to be found watching a horror movie, attending a hard rock concert, or enjoying a Broadway show.   He is currently working on the next installment of the "Væmpires" series, which is scheduled for an early 2012 release.