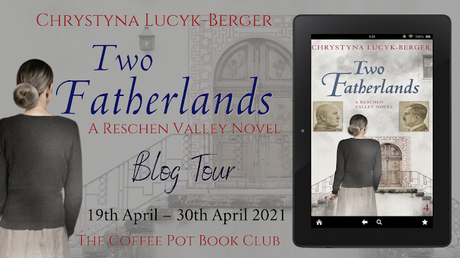 'Two Fatherlands' - Tour banner
The Book:
Two Fatherlands
(A Reschen Valley Novel Part 4)
By Chrystyna Lucyk-Berger

Publication Date: April 13, 2021
Publisher: Inktreks/Lucyk-Berger
Page Length: 636 Pages
Genre: Historical Fiction (WW2)
The Blurb:
It's a dangerous time to be a dissident...
1938. Northern Italy. Since saving Angelo Grimani's life 18 years earlier, Katharina is grappling with how their lives have since been entwined. Construction on the Reschen Lake reservoir begins and the Reschen Valley community is torn apart into two fronts - those who want to stay no matter what comes, and those who hold out hope that Hitler will bring Tyrol back into the fold.
Back in Bolzano, Angelo finds one fascist politician who may have the power to help Katharina and her community, but there is a group of corrupt players eager to have a piece of him. When they realize that Angelo and Katharina are joining forces, they turn to a strategy of conquering and dividing to weaken both the community and Angelo's efforts.
Meanwhile, the daughter Angelo shares with Katharina - Annamarie - has fled to Austria to pursue her acting career but the past she is running away from lands her directly into the arms of a new adversary: the Nazis. She goes as far as Berlin, and as far as Goebbels, to pursue her dreams, only to realize that Germany is darker than any place she's been before.
Angelo puts aside his prejudices and seeks alliances with old enemies; Katharina finds ingenious ways to preserve what is left of her community, and Annamarie wrests herself from the black forces of Nazism with plans to return home. But when Hitler and Mussolini present the Tyroleans with "The Option", the residents are forced to choose between Italian and German nationhood with no guarantee that they will be able to stay in Tyrol at all!
Out of the ruins of war, will they be able to find their way back to one another and pick up the pieces?
This blockbuster finale will keep readers glued to the pages. Early readers are calling it, "...engrossing", "...enlightening" and "...both a heartbreaking and uplifting end to this incredible series!"
Buy Links:
Universal Link ✔ Barnes and Noble ✔ Indigo  ✔ Kobo  ✔
iBooks ✔ Mondadori ✔ Angus & Robertson  ✔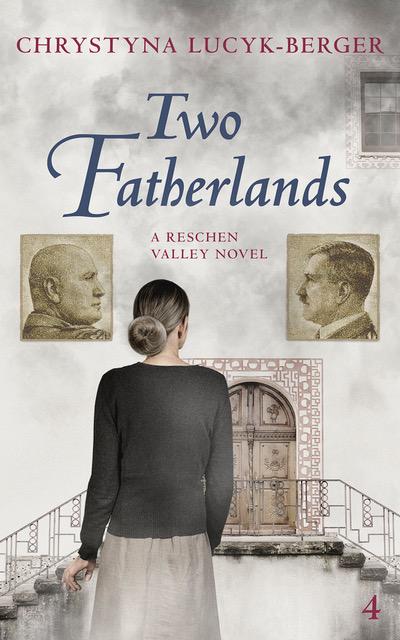 'Two Fatherlands' - Cover
'Two Fatherlands' - Excerpt:
Chapter 1
Graun, April 1938
Katharina was fixing the wiring on the chicken coop when she heard the gunfire. From below the ridge, surprised shrieks, like panicked birds startled from the brush. A second shot. Silence.
By the time she came around to the front of the house, Manuel appeared at the top of the road, furiously pushing the bicycle pedals. Even from a distance, she saw the way her youngest son's face was pulled tight with sorrow. Bernd and he had been racing up and down the farm road, cheering one another on as they took turns with the bicycle. It had been a scene of peace and unity, of a normalcy so distant these last months that it nearly made everything all right again. Surely, Katharina thought, that squealing had simply come from something Florian had not properly oiled. Manuel was probably distressed because he thought he might have broken the old contraption.
Before he reached the barnyard, Manuel jumped off and dropped the bicycle to the ground—exactly what his father had told him not to do—before throwing himself on Katharina.
"Mutti! They shot Hildi!"
"Who did?" But before Manuel could name the Italian police guards, Katharina was already running for the ridge.
Behind her, a tool clattered in the workshop, where Florian was mending the pushcart wheel, but she did not stop to see whether her husband was on her heels. She had to reach the carabinieri before they hurt anyone else.
At last sight, Katharina had seen Hildi's black-and-white tail swinging wildly in circles as she had chased after Bernd on the bicycle. Hildi—God knew how much Bernd loved that dog—had kept up with him, but not because she'd been on a lead. Bernd must have removed it.
When she reached the scene, a policeman was fastening handcuffs onto Bernd. Her son's head drooped over his heaving chest. Katharina rushed at the two policemen, intent on pulling her son out of their grips, but at the sight of the prostrate dog in the field, she pulled up short and covered her mouth.
"Sentite, è davvero necessario?" she demanded. Was this necessary?
Florian now pushed towards the carabinieri, hands up. "Vi prego, he's upset about the dog."
"Yes," Katharina reasoned with the smaller policeman, "you've shot his dog. Naturally he's upset."
With a crushed expression, Bernd looked down at Hildi, then up at Katharina. He wrenched himself from the policemen's hold. There were always two of them: one to read and one to write—that was the joke. By the way they gripped Katharina's son again and shook him into stillness, however, these two made it clear they were not joking.
"He came after us," the shorter one replied, indignant. "He's not allowed to strike at the police." To Bernd, he added, "You know that. This is not the first time you've crossed the line of the law."
Katharina started again, as did Florian, the two of them talking over each other.
"Don't you dare beg them," Bernd growled in German. Behind those eyes—so much like his great-grandfather's had been—anger flared dark blue.
The policemen swung Bernd to the road and marched him towards town.
Katharina rushed for her boy, but Florian pulled her back. She twisted out of her husband's grip, his interference making it all the more urgent that she fight harder. She grabbed the first policeman by the arm and pleaded again for Bernd's release.
"Please! Fine us. The dog should have been on a lead, I know. We'll pay whatever you want. Just don't take my son to Captain Basso."
The man's expression wavered. "Signora Steinhauser, my mother is a lioness too. I'll tell you what I tell her: you cannot fix everything for your children. Bernd is old enough to take responsibility for his actions, for his life."
Katharina glared at him.
"Take the dog," the presumptuous policeman said. "Bury it. Then come to the station and pick up your son. But only after he has learned his lesson."
Florian came to her side and muttered something, but she wasn't listening. She watched the two carabinieri stride off with her son still defiant between them. Florian then marched back up the road and to the farm.
Katharina followed her husband, Manuel, at her side. Only a few weeks ago, the authorities had fetched Florian in the middle of the night. He'd undergone questioning—questioning that had chilled Katharina. Captain Basso had made it clear that the authorities had information about the family, information that Katharina and Florian had carefully kept from the boys. Florian said Basso had seemed disappointed, angry even, that Florian had not reacted more surprised or vehement about Basso's knowledge. Katharina could easily imagine the police captain would break open the truth to Bernd.
By the time she reached the top of the road, Florian had disappeared into the workshop. He returned with his hat.
"I'll take care of this," he said.
"I'm coming with you."
He put a hand against her shoulder before she could move into the house. "Stay here." He indicated the ridge. "You and Manuel should bury Hildi. I'll come back with Bernd."
"I want to go with you."
"You offered to pay a fine. I'm going to need the emergency money."
It wasn't just Hildi running around without a lead. Accosting a carabinieri was a serious matter. Bernd could be sent to prison, as far as to Bolzano, unless they could pay. Katharina knew Vincenzo Basso well enough to know they could never pay enough to keep him quiet. He'd had his reasons for testing Florian. Divide et impera. Divide and conquer. That was Basso's tactic. His and the other Fascists'.
"I'll get the tin." Katharina went into the house.
Above the stove, tucked away in the alcove, was the container of matches and the extra lire they'd saved for a rainy day. Florian would also need Bernd's papers. She took the tin into the sitting room with her and pulled open the drawer of the writing credenza, removed the envelope with all their documents, and found Bernd's. Before she put the envelope back, she noticed the edge of a picture frame sticking out from between old letters and newspaper clippings. Puzzled, she reached for it and then remembered. She dropped her hand.
That frame was empty now. It had once held the photo of Annamarie dressed in her blue-gingham smock and a white blouse. Katharina recalled the beginning of her daughter's smile, the reason for it. Manuel and Bernd had dashed out, dressed up in capes and silly hats, swinging wooden swords and trying to get their older sister to laugh over made-up rhymes. Beyond that moment—beyond that photo—Katharina remembered her daughter's eyes yearning for something far away, remembered how that child loved to run, bounding through the fields, abandoning her chores. How many times had that girl scorched the milk? She remembered her daughter's crushed expression, the shame on Annamarie's face, the day she'd returned from Bolzano, hoping for forgiveness. Instead, it was Katharina who had begged to be forgiven, and denied it.
Annamarie. She was in Innsbruck, across the border now, leaving Katharina and Florian to wrestle with the past, with the lies that had compounded over the years and that Annamarie had learned about in the most heartbreaking revelation.
The frame was empty, the photo in Angelo Grimani's possession. Katharina had pleaded with him to search for their daughter, to be more than a politician and to finally take responsibility. He'd returned empty handed, remorseful, and far too late.
She stuffed the envelope into the drawer and slammed it shut, angry now. At the carabinieri. At Bernd. At the dog. At Florian for refurbishing the cursed bicycle. At herself, most of all, for all that she had managed to undo in the last year.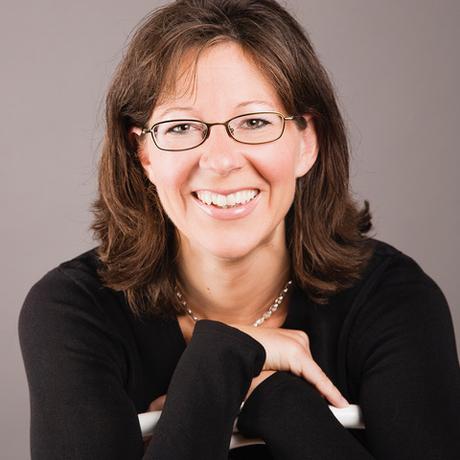 Chrystyna Lucyk-Berger
Author Bio:
Chrystyna Lucyk-Berger is an American author living in Austria. Her focus is on historical fiction. She has been a managing editor for a magazine publishing house, has worked as an editor, and has won several awards for her travel narrative, flash fiction and short stories. She lives with her husband in a "Grizzly Adams" hut in the Alps, just as she'd always dreamt she would when she was a child.

Connect with 

Chrystyna Lucyk-Berger:
Website • Facebook • Twitter • Instagram • LinkedIn • 
Goodreads • Amazon Author Page • BookBub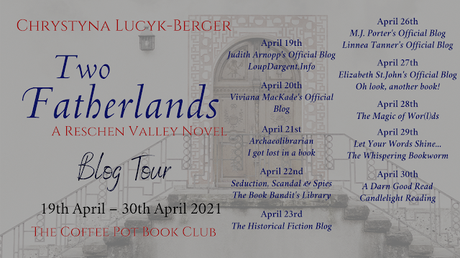 'Two Fatherlands' - Blog Tour Schedule Banner