*This post was written a month ago and it is scheduled, any typos or date mistakes are because of this.*

Welcome to the November 16th stop of the Touch Blog Tour, hosted by YA Bound! At this stop, there will be an awesome review of Touch.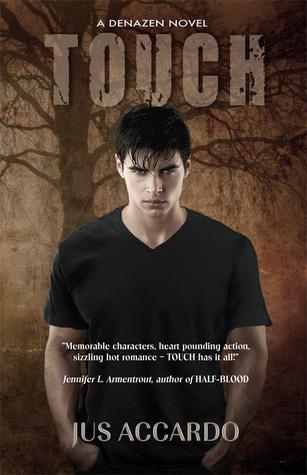 Book: Touch
Author: Jus Accardo
Published: Nov. 1st, 2011 by Entangled Publishing
Genre: YA Paranormal Action Romance
Length: 262 Pages
Source: Publisher Through Tour 
When a strange boy tumbles down a river embankment and lands at her feet, seventeen-year-old adrenaline junkie Deznee Cross snatches the opportunity to piss off her father by bringing the mysterious hottie with ice blue eyes home.
Except there's something off with Kale. He wears her shoes in the shower, is overly fascinated with things like DVDs and vases, and acts like she'll turn to dust if he touches her. It's not until Dez's father shows up, wielding a gun and knowing more about Kale than he should, that Dez realizes there's more to this boy—and her father's "law firm"—than she realized.
Kale has been a prisoner of Denazen Corporation—an organization devoted to collecting "special" kids known as Sixes and using them as weapons—his entire life. And, oh yeah, his touch? It kills. The two team up with a group of rogue Sixes hellbent on taking down Denazen before they're caught and her father discovers the biggest secret of all. A secret Dez has spent her life keeping safe.
A secret Kale will kill to protect.(Via Goodreads)
Review:
Woweeee...was that an awesome book. Sorry guys, I had to get that out of my system. Touch proved to be a fast read, but nonetheless, it was the fast read on the great end of the scale. Dez and Kale seemed to be the most kick-butt characters I've read. Jus Accardo, I got to hand it to you, you know how to write an incredible book.
The book had everything from action to a rebellious teenager to an evil dad. I loved the overall plotline though at a few times I skimmed through a few pages where the scene seemed too extended. Otherwise, the book had a great story and fun characters.
Sometimes funny, sometimes n and paranormal filled, Touch was the kind of book Maximum Ride and Cinder lovers would like. Des was the ultimate fighter, she did what she believed was right no matter the obstacles. This really created a lot of respect for her character from me. Kale was one of a kind!
What I expected from this novel was surpassed and it grew on me. Touch was an excellent read! I hope we get more from Jus really soon!
Cover Thoughts:
Wow...again...the design is way awesome. I love the color theme, it really goes well with the theme of the actual book itself.
About Jus Accardo:
About this author edit data
Jus Accardo is the author of YA paranormal romance and urban fantasy fiction.
A native New Yorker, she lives in the middle of nowhere with her husband, three dogs, and sometimes guard bear, Oswald.
Her first book, Touch, is due out in November 2011 from Entangled Publishing. She is represented by Kevan Lyon of Marsal Lyon Literary Agency. 
Connect with JusWebsite, Facebook, Twitter, and Goodreads