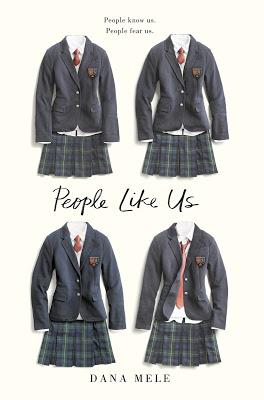 Book:
 People Like Us
Author:
 Dana Mele
Publisher:
 G.P. Putnam's Sons Books For Young Readers
Publication Date:
 February 27, 2018
Genre:
 YA Contemporary
Format
: Hardcover
Pages:
 384
Source:
 I received an ARC from the publisher in exchange for an honest review.
Purchase Links: Amazon | B&N | 
Book Depository | Goodreads |
ABOUT THE BOOK:
A sharp psychological thriller that's just right for fans of One of Us is Lying and Thirteen Reasons Why--this story will seduce, mislead, and finally, betray you.
Kay Donovan may have skeletons in her closet, but the past is past, and she's reinvented herself entirely. Now she's a star soccer player whose group of gorgeous friends run their private school with effortless popularity and acerbic wit. But when a girl's body is found in the lake, Kay's carefully constructed life begins to topple. The dead girl has left Kay a computer-coded scavenger hunt, which, as it unravels, begins to implicate suspect after suspect, until Kay herself is in the crosshairs of a murder investigation. But if Kay's finally backed into a corner, she'll do what it takes to survive. Because at Bates Academy, the truth is something you make...not something that happened.
ABOUT THE AUTHOR: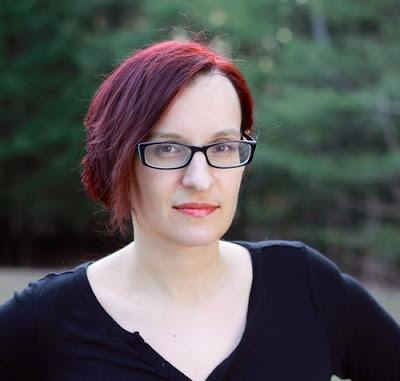 Dana Mele
is a Pushcart-nominated writer and a work at home mother. A graduate of Wellesley College, she is a former actor, lawyer, musician, and briefly, associate producer. She prefers tea to coffee, snow to sand, and stars to sunshine, and she lives in the Catskills with her husband and toddler. This is her first novel.
CONNECT WITH DANA MELE VIA SOCIAL MEDIA:WEBSITE | GOODREADS | TWITTER | FACEBOOK | INSTAGRAM
Also Check Out the People Like Us Tumblr

FOLLOW THE REST OF THE BLOG TOUR:

SCHEDULE for PEOPLE LIKE USWEEK ONEFebruary 19 – Lindseyybooks – ReviewFebruary 20 – Bibliobakes – ReviewFebruary 21 – Bookish Bug – Review + Creative Instagram PictureFebruary 22 – Twinning for Books – ReviewFebruary 23 – The Bookish Crypt – ReviewWEEK TWOFebruary 26 – Brooke Reports – ReviewFebruary 27 – Bookish Delights – ReviewFebruary 28 – Here's to Happy Endings – Review + StyleboardMarch 1 – Never Too Many To Read – Character/Suspect ProfileMarch 2 – Dauntless Books and Penguins – ReviewWEEK THREEMarch 6 – Touch My Spine Book Reviews – ReviewMarch 7 – The Night Owl Book Blog – ReviewMarch 8 – A Simple Taste of Reading – ReviewMarch 9 – Books.Tea.Quotes – Review + Instagram Picture

MY REVIEW:
What an incredible debut by Dana Mele! This is definitely a gripping, addictive thriller with all of the surprising twists and turns that make for a great read! I really enjoyed it. Full of delightfully disturbing drama from teens at a privileged boarding school called Bates Academy, this novel includes a murder mystery, bullying, lies, scandals, hidden secrets that are unveiled, and revenge. In addition, loss of friends and family and learning how to cope is also looked at. This debut was pitched as a mix between Thirteen Reasons Why and Pretty Little Liars, so I had to read it. This book lived up to my expectations and so much more. It has such a unique and creepy spin by including computer-coded riddles from a revenge blog that is written by a dead girl named Jessica that is found murdered near her school in the beginning of the story. These riddles need to be solved by Kay, a star soccer player who is the protagonist in the story, who also has a past that haunts her. Damning secrets from various students are revealed and revelations are made. A murder mystery at its heart, a thorough investigation leads to an array of suspects with the hope of the murderer eventually being implicated. 
This novel does have some bi-sexual and lesbian representation, which produces complicated love triangles that bewilder everyone's suspicion of who is guilty and who is not. Smartly done, this complex story containing so much intrigue and suspense, will leave you in awe. The plot is no holds barred and vicious and the pacing is on point. The dense length of the book favors the plot style, in terms of important gradual revelations. The who-done-it reveal at the end will shock you and will make you appreciate Mele's hard work in strategically formulating this novel that much more.This novel really speaks to the intensity of the damaging effects of bullying and the unfortunate results of it in the aftermath of a twisted coping method. Do two wrongs really make a right? Does revenge really constitute justice? How should one cope with bullying or depression or the death of one's family member or friends? Or how can bullying be avoided? Social issues in high school, while they make for juicy novels, are at its best, important and serious issues to be looked at and dealt with appropriately. While this novel takes a look at the extremely dark road that bullying can lead to, it is unfortunate that any student has to deal with these kinds of issues. We all need to take responsibility for our own actions and realize how much of a negative effect we can have on others based on the way we treat people. Ideally we should all treat people how we would like to be treated.  I highly recommend Dana Mele's debut mystery/thriller, People Like Us, which showcases a lingering problem in our society, bullying and its effects, especially in a school setting. The dynamic relationship between families, friends, and romantic partners is also featured. I loved it! This is a top YA debut for February that you won't want to miss out on!MY RATING: 5 STARS