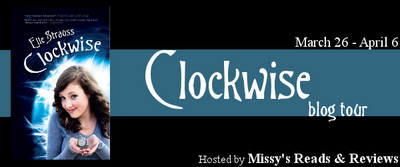 Publication: November 21, 2011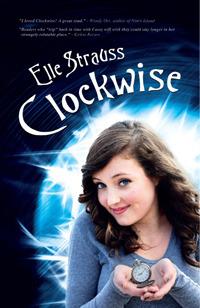 Publisher: ESB Publishing
Series: Clockwise #1
Young Adult
Pages: 290
Genre: Fantasy, Romance, Science Fiction
Facebook: Show Elle Some Love

C

asey Donovan has issues: hair, height and uncontrollable trips to the 19th century! And now this --she's accidentally taken Nate Mackenzie, the cutest boy in the school, back in time. Awkward. 


Protocol pressures her to tell their 1860 hosts that he is her brother and when Casey finds she has a handsome, wealthy (and unwanted) suitor, something changes in Nate. Are those romantic sparks or is it just "brotherly" protectiveness? 
When they return to the present, things go back to the way they were before: Casey parked on the bottom of the rung of the social ladder and Nate perched high on the very the top. Except this time her heart is broken. Plus, her best friend is mad, her parents are split up, and her younger brother gets escorted home by the police. The only thing that could make life worse is if, by some strange twist of fate, she took Nate back to the past again. 
Which of course, she does.
*An e-copy provided for the blog tour and an honest review*
Time travel seems to be a peek of interest for me because there are just so many individual ways to interpret it and I must say that I enjoy Elle Strauss' spin on Casey's form of "tripping" into the past.
Being a fan of history, I had a very keen interest in the past travels of Casey. The encounters with the townspeople, the blending into society, the remembrance of Willie, Samuel, and Sara. The only think that I had trouble with was differentiating the past with the present because of conversation between Casey and those around her during the "trip" but other than that I enjoyed the whole experience. Even the remake of the cover is a nice installment, I enjoyed the color and pocket watches happen to be my thing C;Casey as a character was tough for me to relate to, to really feel for her. If the beginning I felt detached because I didn't understand her feelings, or really why, she was attracted to Nate. Yes, he's the most popular and handsome boy at school, but what made her like him so much and have her fall head over heels towards him particularly, even when he was already in another relationship. The more Casey started to diverge into the "trips" and the farther in I was able to watch her develop and see her struggle while two worlds began to blur together. With that I wished that she would have given up on Nate, she had so much more potential that stalk after him. I just feel like the unobtainable jock seems to be a played out motif within YA genres and I just wish that there could have been a different set up, or maybe no bitchy cheerleaders, or just something out of the ordinary. With humor, wit, and adorable character that grew on me, I did enjoy Clockwise even with the kinks. Definitely am looking forward to start Clockwiser. 
First Line: 
"It's Nate," Lucinda whispered.
Story:
A
Cover:
S
***Anyone who is interested in reading Clockwiser just leave your email in the comment section below and I will give you the code. I hope you enjoyed the review, are enjoying the blog tour, and have a wonderful day!***