Have You Reached Your Blog Burnout Point Yet?
Blog Burnout – Do you feel burnout from blogging and spending time on social media? After 334 posts I started to feel it. BURNOUT! Maybe because it's mid summer and I wanted to spend more time outdoors or having family in from out of town. I just felt there wasn't enough time to blog or be on social media as often. My lunch hours were almost non existent with a co-worker out last week so that left me even little less time during that time of day. Or maybe it's the 334 posts. I did have this feeling back in January 2012.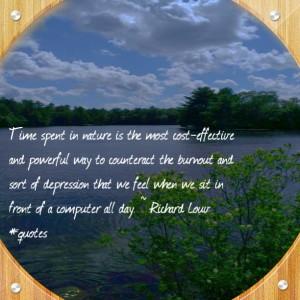 5 Ways How to Cope With Blog Burnout
First to cope with anything you must recognize it! Right? You can't cope or change something if you don't know it's not wrong. You may not know you have blog burnout in the beginning but then a day goes by and your can't think of anything to post. Another day comes and goes and nothing inspires you to post. You read other posts and think they all start to look alike and they read the same. That is how blog burnout starts. 
Accept it! Then you must move on. Don't feel guilty. Do not post just to post. You will turn away readers as your post will most likely suck! 
Do something different. Last weekend I went fishing! I'm not a big fishing fan but to be outdoors was wonderful. You can view my fishing pictures here. Thanks to Kim for introducing me to Textagram for the above image.
Take a few days off of reading posts and stop thinking about your next post. Once you relax things will begin to change. Do NOT panic! 
Don't cancel your hosting or begin another blog out of boredom. Give yourself time to relax and really think if your blog is the topic you are passionate about. If it is your writing will come back and your blog burnout will lift.
Social Media Burnout Too
If you know me well you know I love Twitter. Even there I felt a little burnout.  I manage several accounts and just wasn't feeling it on Twitter. I took a Friday off from the Follow Friday routine and it was nice to see someone take over where I left off on Fridays. Thank you John!
It's friday in #RI, you should follow @iheartrhody @TheRhodeIsland @RIprobz @ouRIsland401 @Lisapatb @c_abatecola #FollowFriday #FF

— John (@HkyDad30) August 9, 2013
Now I also was a bit tired and messed up the one Follow Friday tweet I tweeted out earlier to Robert Caruso of Bundle Post.
Here is a reason why NOT to TWEET when you are Tired!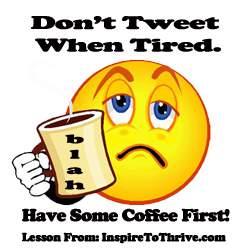 @lisapatb SEO? Well happy Friday to you Lisa

— Robert Caruso (@fondalo) August 9, 2013
SEO should have been SOCIAL. A little tired right?
@lisapatb not in my book, but yes on the coffee!!!!!!

— Robert Caruso (@fondalo) August 9, 2013
I was too tired to debate or agree with him. I'm pretty sure I'm in agreement with him. I don't think social has become 100% SEO by any means or stretch of the imagination. The social signals are getting stronger though. I think he would agree on that, right Robert? This debate could make for another post coming soon. Now I am feeling pumped! Thank you Robert!
The Other Social Network That Can Burn You Out
According to Pew  Research nearly 2/3 of Americans on Facebook have taken an extended break and some left all together. The reasons?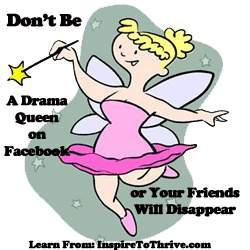 Not enough time to be on Facebook.
Was not interested in it.
Content was not relevant to them.
Too much drama.
Privacy concerns. You can Adrienne's last post on what happens when you like something on Facebook.
You may be surprised to know that the users that left Facebook were the younger ones. They lost interest in the social network. The are looking for the next big thing to come along. Only 17% of those over 50 said they plan to spend less time there in the coming year. You can read more on it via The Register's Facebook Churn Story.
"Time spent in nature is the most cost-effective and powerful way to counteract the burnout and depression that we feel when we sit in front of a computer all day." – Richard Law
Have you been gotten blog burnout after blogging a while? Or  have you gotten social media burnout quicker? Does spending time with nature help you go overcome your burnout?