Thanksgiving weekend tends to be a big deal in my house. It's Thanksgiving, ShaiAnne's birthday and also the weekend when we dust off the Christmas decorations. Who needs a calendar when our mini drill sergeants are on the case, asking "when Mom, when Dad?" They absolutely love it and squeal in excitement when it's time.  They rarely complain about the time and effort it takes to decorate the tree, the house and the front lawn. They are into it! Wish I could bottle that for all household chores.
We all have a must. ShaiAnne must put the first ornament on. Deric gets to eat at least one candy cane. Jesse doesn't have a must yet, (he actually slept through the commotion this year) but it's a matter of time I imagine. Listening to Christmas carols is my must. And then here's my husbands, below. Among the spectacular red, white and silver theme – this splash of color: his Dallas Cowboys ornament. His New York Giants ornament grew legs.  I'm innocent, I swear!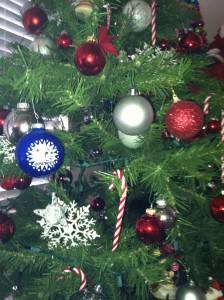 Hubby doesn't ask for much, so when he does, it's hard not to oblige. His football ornaments and sports in HD, those are his musts. I once made the mistake of DVR'n a game on a regular channel. You would have thought I dubbed an entire year of Lifetime movies, oh the tantrum! What is it with guys and HD? "You gotta see the sweat babe," that's what he tells me. I don't get the fascination but he does, so that's all that matters. Now I need to get a NY Giants ornament ASAP.  At least it has a splash of red!
Playlist:
All I Want For Christmas Is You: Mariah Carey
Silent Night: Boys II Men
Santa Baby: Earth Kitt