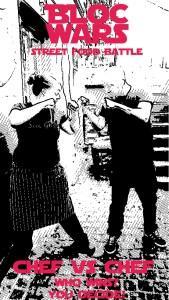 Bloc Wars kicks off this January
Over 2 weekends, Mad Chef, Danny McLaren will be going head-to-head with new Bloc Chef Sue. They will be each cooking a 3 course menu of Street Food feasts for £12 each.
The Mad Chef will cook first on 30th/31st January (The first battle is vegan only)

Chef Sue will cook 6th/7th February.
Their menus will be announced the Monday before they cook,  Mad Chef's will be revealed 25th January and Chef Sue's announced 1st February.
Booking your place then please reserve your place via www.bloc.ru/food and enter'Bloc Wars' in the comments.
Saturday 30th January – Sunday 31st January (12pm – 9pm) = Mad Chef Menu 
Saturday 6th February – Sunday 7th February = Chef Sue