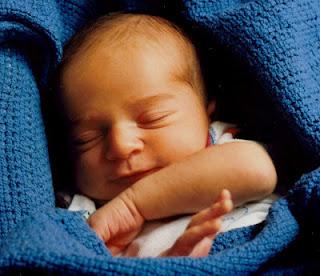 When I pregnant with our oldest, Dom and I decided that we wanted to know the gender of the baby (which was good thing because otherwise we wouldn't have been able to bring the video of the ultrasound home with us!) I even remember the exact date (December 5, 1993) that I learned that I was carrying a baby boy. I also remember the hormonal meltdown that came shortly thereafter. How could I possibly be a good mother to a little boy? I had no brothers and knew nothing of cars, sports, or dinosaurs. Dom's reassuring "you'll learn" did nothing to quell the torrent.
But, he was right; I became an expert on pre-historic creatures of the Mesozaic era, became proficient (relatively speaking) in the nuances of football and have come to terms with the fact that I will never master the world of automotive identification, mechanics, or (according to Dom) operation (which was the source of much amusement for the clerks at Pep Boys the last time I went in to purchase replacement parts.)
Don't get me wrong, I absolutely love being a "Boy Mom," and would not trade for anything. I have become accustomed to low maintenance haircuts (C'mon Mom, it's time to GO!), being called "dude," testosterone-induced horse play and smelly athletic socks, but there are times when a gal needs some frilly, pink indulgences like a relaxing bubble bath, a tiny fuzzy kitten or a gorgeous, fragrant bouquet of star-gazer lilies.
The day after tomorrow represents the one day of the year when we Mom's get to indulge our girly-sides and enjoy being a bit spoiled by our progeny. With that in mind, here is the perfect kid-friendly, no-cook recipe for spoiling Mom on her special day.
Cold Banana Bisque: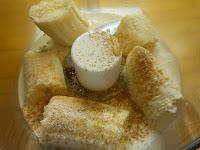 While the term "bisque" commonly refers to smooth, creamy, highly-seasoned soups made of crustaceans, it is also used to describe cream-based soups that do not contain seafood, in which pre-cooked ingredients are pureed.
2 medium bananas, peeled and sliced
1 cup half and half
½ teaspoon sugar
Pinch of cinnamon
Combine peeled and sliced bananas, milk, and light cream and blend them thoroughly in a blender. Add sugar and a dash of cinnamon and blend the mixture again.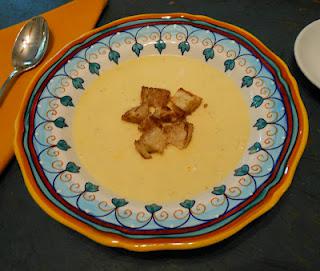 Chill the soup until ready to serve and garish with cinnamon croutons before surprising Mom with this special treat.
Simple Cinnamon Croutons:
Cut the crust off of several ½" slices of bread and toast in a toaster until golden brown. Brush lightly with melted butter and cut the toast into cubes. Place the toasted, buttered cubes in a mixing bowls and dust with cinnamon sugar. Toss cubes to fully coat and then add to the prepared banana bisque.