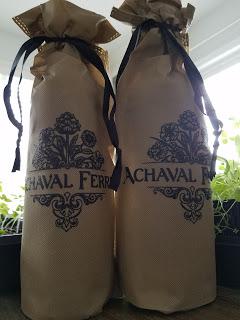 During Winestudio in May we had a blind tasting. #Winestudio is an educational program I participate in via twitter 9pm on Tuesday evenings.  Wow this is going to be interesting I thought and two bottles arrived at my door in an Achaval-Ferrer bag. I thought, do I look inside the bag?  How will we know which wine to try first? How on earth are we going to do this. This is really going to test my taste buds. By the way, I didn't have to peek, Paul did that and saw that the bottles were wrapped.
I've never participated in a blind tasting.  The closest I've come is to judge a wine competition. Wine competitions are done blind tasting but you usually know what grape you are tasting or if it's a blend. You are looking to see if there are any faults. Here we only knew that it was from Achaval-Ferrer, it was red and from Argentina. The rest was up to us to identify, this was no competition, we had to guess what is in the bottle. We were given tools, the WSET Level 3 Systematic Approach to Wine Tasting Grid and told once we opened the bottles, the corks will identify the wines by the year stamped on them.
I invited my friend Jen over so she could experience a blind wine tasting with me, after all it's no fun to drink alone. I'm really not drinking alone, but with all my friends on twitter, but it's nice to have in person company. Before I go into my findings of the blind tasting, I thought I'd share with you some of my fellow wine friends comments during this blind tasting just to give you an idea what chatter that takes place on twitter. I consider all these people my dear friends, even though some of them I have yet to meet.
The one thing we were told is that the corks will identify what to try first.  One cork was vintage 2012 and the other vintage 2013.
Kathy-Virginia_Made @Virginia_Made
My exact thought. I got the fragrance of lavender. Immediately called out Cab Franc to me. A blend?
Vino-Sphere @vino_sphere
Wife removed the corks so I'm fully blind
William Pollard Jr @wild4wawine
12 Drink or hold, with potential to improve in cellar #winestudio 13 hold, still developing
Lori & Michael @Dracaenawines
@winestudioTINA @AchavalFerrerUS I'm going with a blend- yeah, I know that is going out on a limb. Still leaning toward a CS
Dezel Quillen @myvinespot
Not sure what '13 is (would say Malbec); we think the '12 is Quimera -- we've had it numerous times in the past
Here are our findings with the 2012 bottle:
Color: Dark almost black in color. Very deep purple.
Nose: clean and aromatic, pronounced
Palate: dry, medium acidity,  medium + tannins, medium+ alcohol, medium body, medium flavor intensity and a long finish.
Conclusion: Can drink now but has potential for ageing
Flavor profile describing the aroma and flavors
Nose: Black currant, licorice, black raspberry, floral - frezia
Palate: black current, black plum, fig, bold tannins, long finish black pepper
2013 Bottle:
Color: Ruby with magenta hues, medium intensity
Nose: clean with medium intensity
Plate: dry, medium acidity, medium+ acidity, medium alcohol, medium body, medium+ flavor intensity with a medium+ finish
Conclusion: Can drink now but will age
Flavor profile describing the aroma and flavors
Nose: black currant, earth eucalyptus, black cherry, black berry
Palate: black cherry, cola, woodsy, very juicy, black peppercorns, with a nice black pepper finish
What is in the bottles?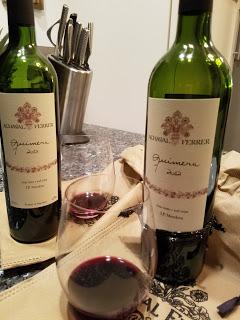 Drum roll please! 2012 Quimera and 2013 Quimera both of which are blends of Malbec, Cabernet Sauvignon, Cabernet Franc, Merlot and Petit Verdot.  Both vintages were made with the exact same percentages 50% Malbec, 24% Cabernet Franc, 16% Merlot, 8% Cabernet Sauvignon and 2% Petit Verdot.  Even though both wines were made with the exact same percentages, the growing season were very different.  The 2013 season was drier and warmer, hence the fruiter taste, while the 2012 was cooler with more rain.
Doing a blind tasting was fun.  Kudos to the PR folks at Gregory White PR who took the time to really wrap those bottles and make it truly a fun event. Corks off to them!
Try your own blind wine tasting at home.  Let me know what you learn. - Cheers