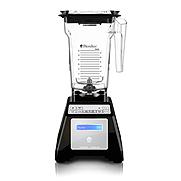 I'll be back very soon, but until then wanted to give you news about a current Blendtec promotion.  I know some of you took advantage of the last Blendtec special, so I wanted to pop back to give you news of this one.  
Blendtec is offering Free Ground Shipping
 to the continental United States (Excludes Alaska and Hawaii) on
all
products purchased from their website
 effective now until
 Sunday May 8
th
If some of you are wondering what I use mine for, you can
search on "Blendtec"
to see some of my posts.  I use it daily for monster green smoothies (it shows no mercy for frozen fruit and greens!), making sauces, dips and dressings, especially using nuts and seeds (like my
'Vegveeta Dip
', and sauce for
"Mac-Oh Geez"
), desserts like raw cheesecakes and also
ice cream bases
.  Also, I grind grains like steel-cut oats into a coarse flour (as in my
"Instant Steel Cut Oats"
).  Yep, Blendtec is my most-beloved appliance, use it at least once a day, sometimes 3-4x/day! It's far more than a blender, you quickly realize once you start experimenting with it.
This is a Mother's Day special, you have until May 8th to order and receive free shipping.  Vrrrooom!  Get to Blendtec to order!