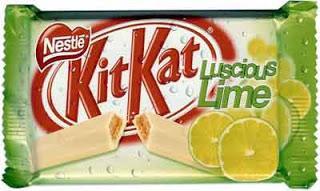 In the early-mid 2000's, Nestle UK went a bit mad and tried lots of different Kitkat flavours and varieties. I thought it'd be fun to compile a list to remember them by here. I plan on doing more features such as this in future as I love to reminisce over snacks that are long gone!
These Kitkats were all released over a period between around 2003/2004 until about 2006.
Kitkat Blood Orange (Halloween Limited Edition):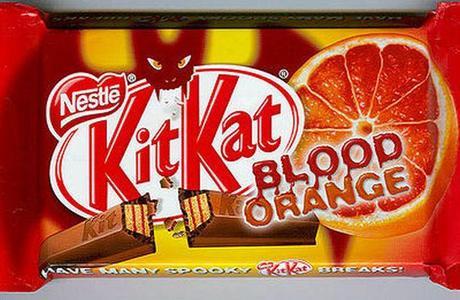 This had a blood orange flavor cream in-between the wafers. I don't remember it tasting anything special. The tagline was "Have many spooky breaks".
Kitkat Christmas Pudding (Christmas Limited Edition):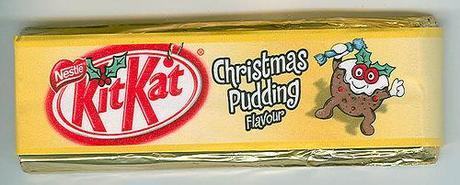 These were only available in multipacks and tasted horrible. The "christmas pudding" flavor was achieved through the use of artificial flavours and was very unpleasant.
Kitkat White Lemon and Yoghurt: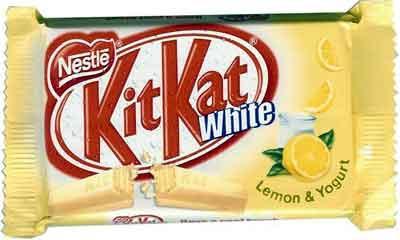 This was the first new Kitkat variety launched in the early 2000's and was expected to boost flagging sales of Kitkat, however it didn't seem to sell very well. The lemon and yoghurt filling was very nice as I recall, and had an almost "cheesecakey" sort of taste. It was very refreshing and light.
Kitkat Luscious Lime - available in 2004, I believe: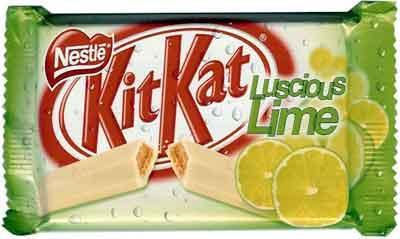 This one was quite tasty - a white chocolate coated Kitkat with lime flavor cream in-between the wafers. This was available at the same time as Lemon & Yoghurt which always struck me as a bit odd.
Kitkat Caramac: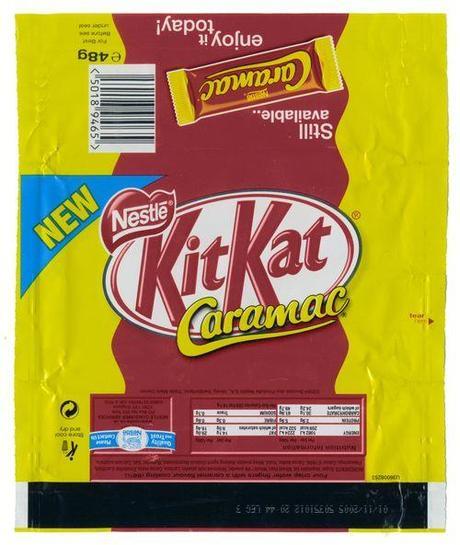 This was one of the best limited edition Kitkat varieties Nestlé ever made. It was coated in a lovely butterscotch Caramac flavoured coating, quite different to a regular Caramac and actually much tastier. They were very moreish and I'm surprised they were discontinued!
Kitkat Editions Tiramisu: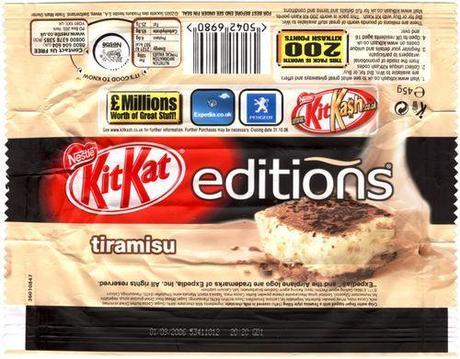 Kitkat Editions contained a layer of gooey filling above the wafer, and this as one of my favorite varieties they did. It actually contained a small amount of marsala wine and mascarpone cream in the filling. Sadly it didn't last very long on shelves.
Kitkat Editions Mango & Passionfruit: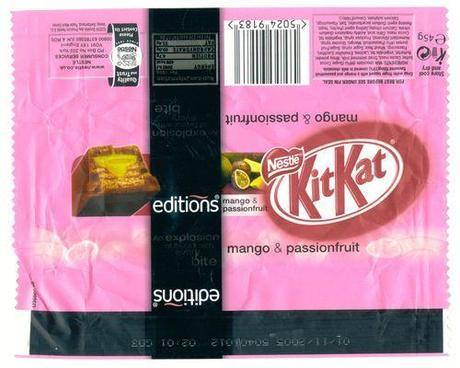 This was one of the more odder Editions flavours - the flavours didn't really go well with the chocolate at all, although I still liked this bar for its unique fruitiness.
Kitkat Editions Red Berry: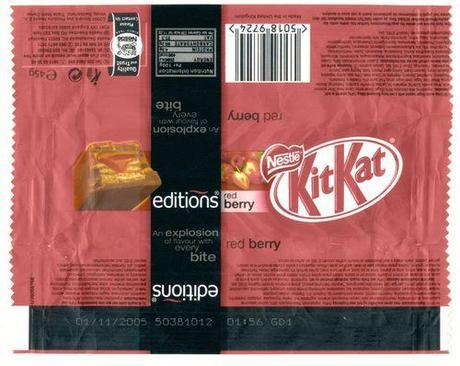 This contained a strawberry and raspberry flavor filling above the wafer. I don't remember it being all that special.

Kitkat Editions Seville Orange: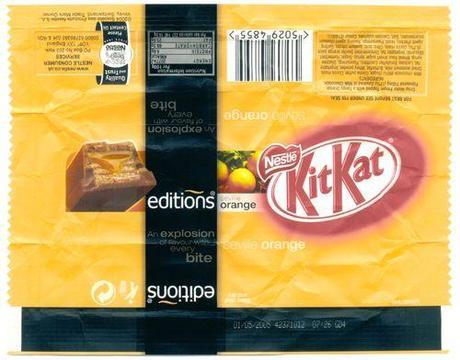 This contained a layer of sour-tasting seville orange, and I remember a lot of people at the time didn't like it much due to the bitterness. It tasted more like marmalade than sweet orange, but personally I loved it!
Kitkat Editions Golden Caramel: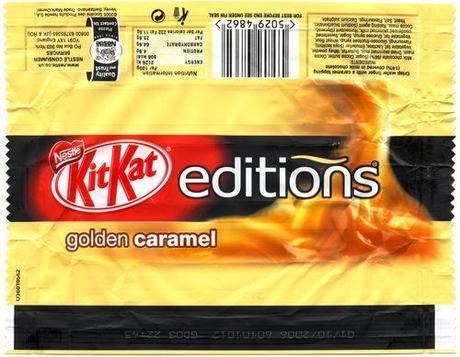 This was a real treat indeed - a layer of gooey golden caramel sat above crunchy wafer. Nestle have never made one of these since, but they did release a Kitkat Chunky Caramel that contained a caramel flavor "paste" instead. It was nothing compared to this though - they should seriously bring these back!
Nestle even tried a Low-carb Kitkat during the Atkins diet craze!: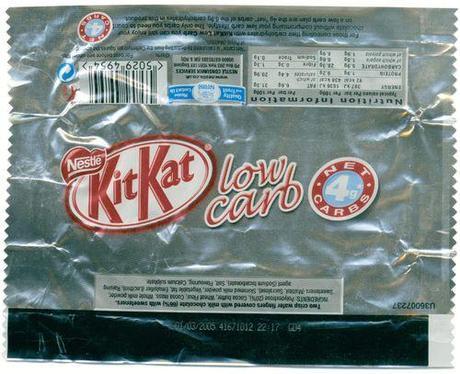 As well as all the above Kitkat varieties, Nestle brought out Kitkat Kubes, which were cube-shaped bite-size pieces of Kitkat. Despite them not selling very well they came in an array of different flavours. Nowadays we get Kitkat Pop Choc, which are a similar sort of thing.
Kitkat Kubes Cappuccino: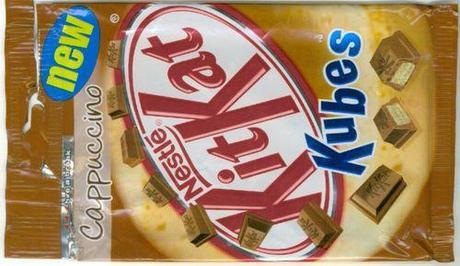 Kitkat Kubes Orange: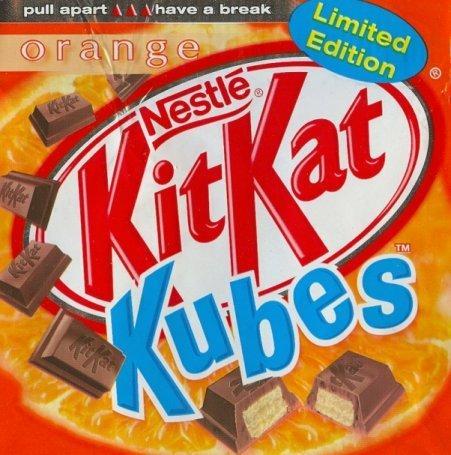 Kitkat Kubes Mint: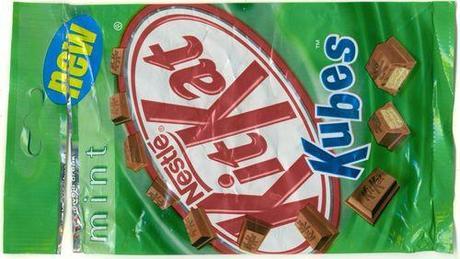 Regular Kitkat Kubes: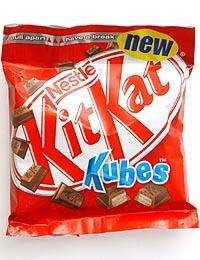 Well, that's enough nostalgia for one day! I hope you've enjoyed this little foray into Nestle's Kitkat Madness. Stay tuned for another Blast From The Past featuring other limited edition products Nestle have released in the past, including Irish Cream Rolos and Lemon Sorbet After Eights!
Can you remember any of these Kitkats? Did you try any? If so I'd love to hear your comments!