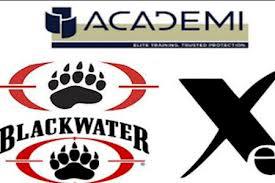 Yahoo News reports
The security firm formerly known as Blackwater has agreed to pay a fine of $7.5 million to avoid US prosecution for smuggling arms, the Justice Department said in a statement Tuesday.


The company

, now known as Academi, will pay the fine in addition to a previously agreed $42 million settlement with the

State Department

over violations of the

Arms Export Control Act

, the Justice Department said.
Under the agreement, the company previously known as Blackwater Worldwide and as Xe Services "admits certain facts" following a five-year, multi-agency federal investigation, said

Thomas Walker

, a prosecutor in North Carolina.
The probe "covered an array of criminal allegations," some "involving the manufacture and shipment of short-barreled rifles, fully automatic weapons, armored helicopters, armored personnel carriers," said the statement.
These guys change their name more often than
crooked FFL dealers
.
What's your opinion?  Are these private contractors a necessary part of our foreign policy? Or is this  just another example of crooked government spending policy?
Please leave a comment.