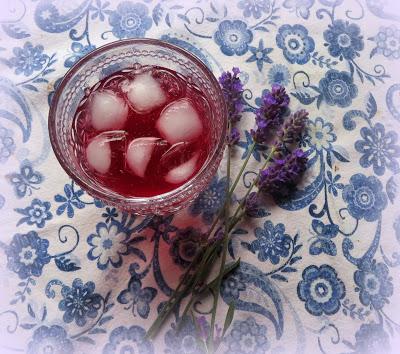 Our blackcurrants are coming fast and furious now.  In all truth in about a week, they will be all done, and what's left on our bush will be left to the birds to enjoy. They don't mind one iota, and neither do I.  Give nature back a bit of what it gifts you with is my motto.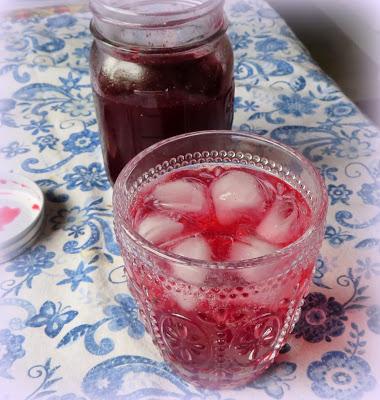 I love to make fruit cordials in the summer with some of our soft fruits. I do freeze a lot, and I even freeze some of the cordials for the winter. If you pop them into an ice cube tray, you can just pop them out once frozen into a baggie and you have single servings of cordial  to enjoy all winter long. You can't beat the taste of a homemade fruit cordial made with real fruit!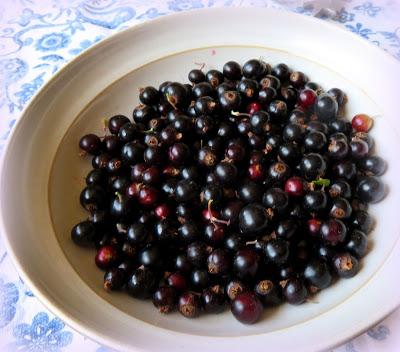 I have always loved the flavor of blackcurrants.  Back home my favorite Halls cough drops were the Blackcurrant ones.  Cordials are really easy to make.  You just mix fruit, sugar, water  . . .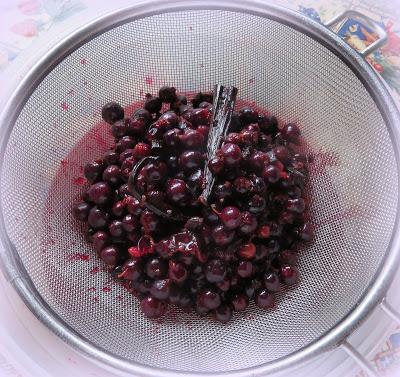 Cook to extract the juice, and thicken it, then strain.  This time I added a vanilla bean to infuse it with some delicious vanilla flavor. You can leave it out if you want, but I really like the special touch it adds to the finished cordial, both scent and taste . . .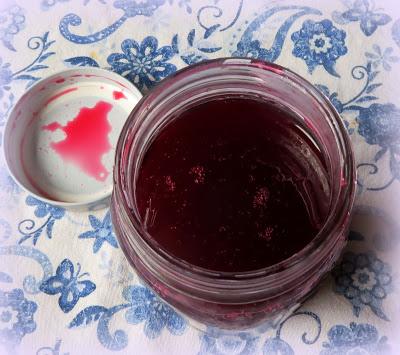 You end up with a really thick strong fruity syrup, which makes a wonderfully refreshing drink when diluted!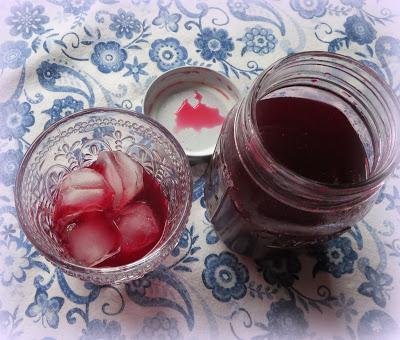 When diluting I use a ration of one part cordial to 3 parts of whatever I am mixing it with. You can use sparkling water, regular water, fizzy lemonade, etc.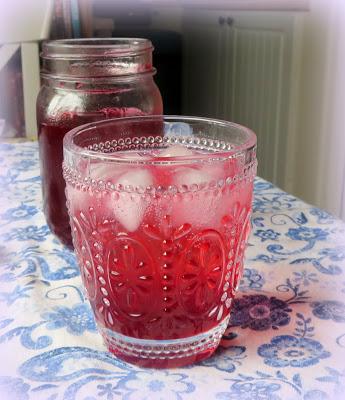 It makes a really refreshing and delicious drink poured over ice.  I like it mixed with a fizzy drink like 7-up or Sprite . . .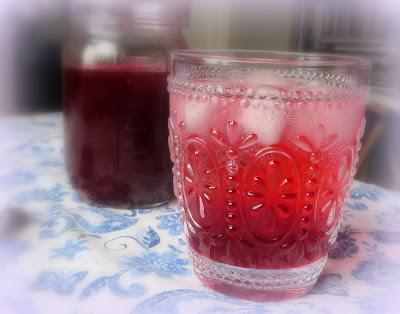 You can spoon the syrup over ice cream if you wish . . .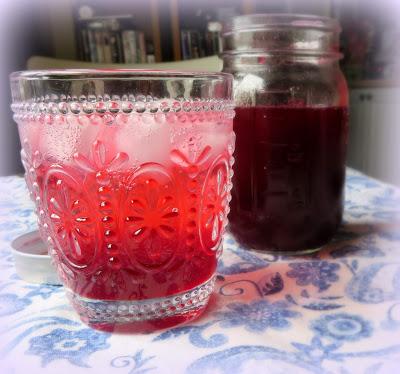 Add it to vanilla ice cream and milk to make fruity milk shakes . . .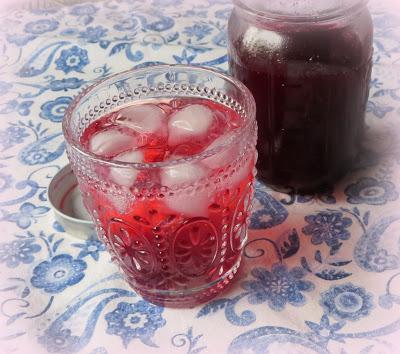 Its pretty wonderful no matter how you choose to enjoy it!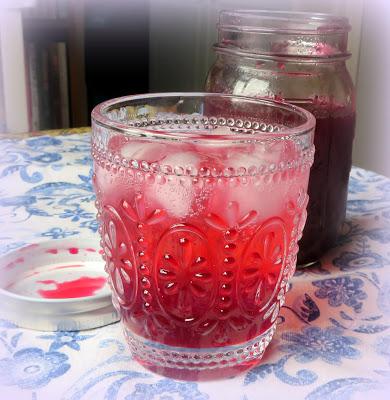 You can use just about any berry in the same quantities to make a cordial, or a mix of berries, always delicious!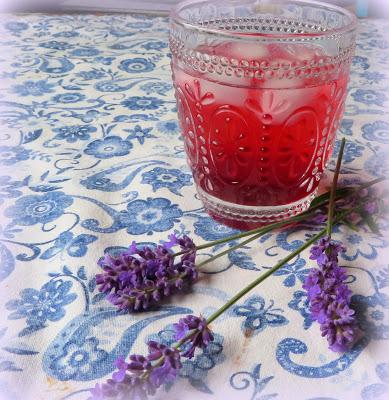 Whenever I am making cordial I always think of Anne Shirley and her friend Diana getting drunk on Cordial that had fermented and turned alcoholic.  Don't you just love the story of Anne of Green Gables?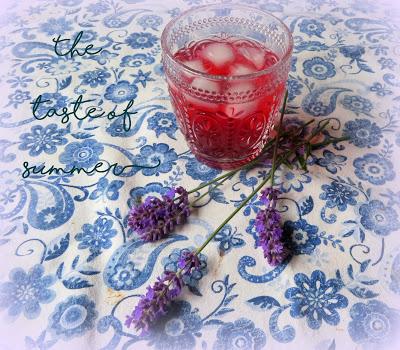 Its one of my favorite stories.  A simpler time with  simple pleasures.  Just like this simple homemade cordial . . .
Yield:
450ml or scant 2 cups
Author:
Marie Rayner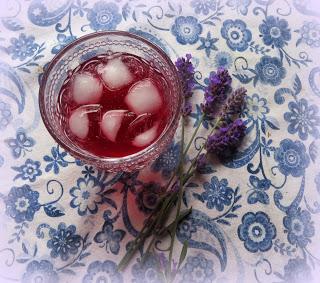 Black Currant & Vanilla Cordial
Sweet and fruity. Mix 1 part cordial with 3 parts water, sparkling water, sparkling lemonade, etc. for a deliciously refreshing summer drink. You can actually use any berry to make this, or a mix of berries.
ingredients:
300g Black currants or other berries (3 cups)
160g sugar (1/2 cup plus 5 TBS)
3250 ml cold water (1 1/3 cups)
1 large vanilla pod, split and caviar scraped out
instructions:
How to cook Black Currant & Vanilla Cordial
Pick over and clean your currants.  Place into a saucepan.  Add the vanilla pod and its caviar.  Sprinkle the sugar over top. Pour in the water.  Bring to a simmer over moderate heat.  Mash the fruit as it cooks with the back of a wooden spoon. Cook, stirring occasionally over low heat until the fruit has cooked and the sugar is dissolved. It won't take long.  Remove from the heat and allow to cool completely.  Strain through a fine mesh sieve.  Strain again and then pour into a glass bottle or jar with a lid. You can keep this in the refrigerator for up to one month or freeze for longer. (If freezing it is more practical to freeze in smaller amounts so that you can thaw out only what you need. I like to freeze it in ice cube trays and then once frozen, pop them into a zip lock baggie.  Presto, individual servings!)
Created using
The Recipes Generator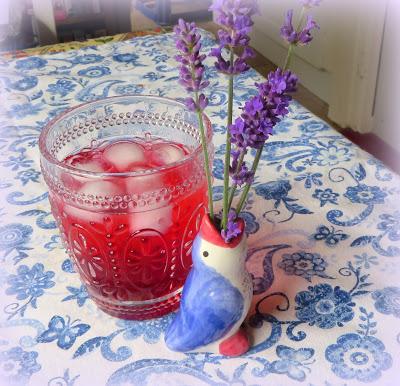 At any rate, I hope you will give this delicious fruit cordial a go and that you will enjoy it.  Such a simple thing, and so very wonderful . . .