This quick and easy Blackberry Crisp Tart has an oatmeal crust and fresh blackberries! This recipe is gluten-free, refined sugar-free and vegan.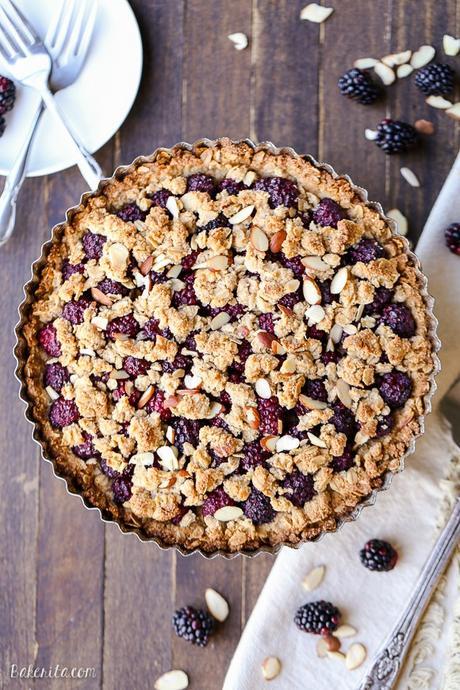 Since I started working for myself, I've started spending a lot of time in coffee shops. Despite that I stopped drinking coffee for the most part late last year, I've spent a good portion of each week this past year mooching off of free WiFi and becoming a regular at a few favorite coffee shops on my street.
When I've been with myself a little too long, I pull myself out of my flour-covered pajamas and head to the small coffee shop a block down from my apartment, or the Starbucks a half a mile down the road. Let's be honest, my choice usually depends on how hard it's raining – the harder it's raining, the more likely I'm taking the shorter walk. Armed with my green tea or coconut milk green tea latte (respectively), I can find new inspiration.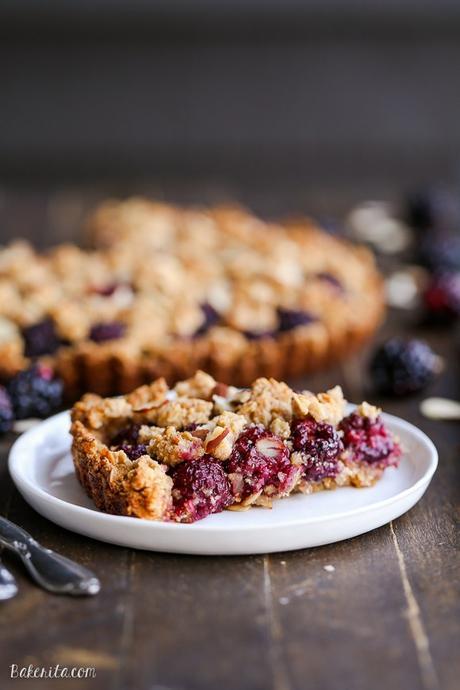 By far, my most productive hours are while sitting in the company of the fellow self-employed, all of us hunched over our laptops in a weird sort of solitary unity. Some days, I'll spend hours sitting there with my podcast queue streaming, and when I'm done photo editing, writing, and scheduling, it's dark and the baristas have all changed shift.
In fact, I'm on one of those stretches as I write this. My green tea latte is almost gone, and I couldn't tell you how long I've been sitting here, just how many items I've checked off my to-do list. The final check for the day? To tell you guys about this delicious Blackberry Crisp Tart!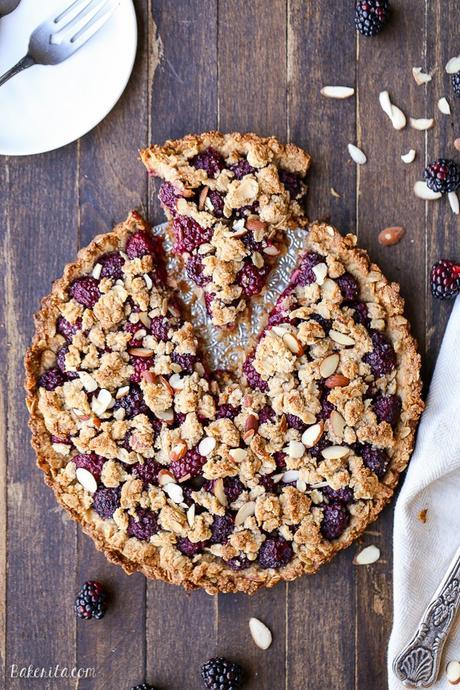 Doesn't it look delicious? Maybe I'm partial – I love blackberries. They're one of my favorite fruits to eat and bake with because I can't get enough of their bright flavor and tartness! When they're baked, they soften up and sweeten a bit, especially when they're tossed with a hint of maple syrup and vanilla extract.
The crust doubles as the crust and the crispy crumble topping – who wants to have to make two different doughs? Definitely not me. Because the dough does double duty, this tart can be in the oven in about fifteen minutes or less.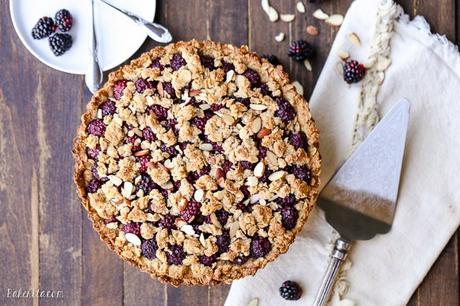 This tart is made with almond flour and rolled oats – be sure to use gluten-free certified oats to ensure you keep the recipe totally gluten-free if necessary! It's also refined sugar-free, as both the filling and the crust are sweetened with maple syrup, and it's totally vegan. If you need a dessert to serve to a group of friends with a bunch of dietary restrictions, this one definitely checks all the boxes.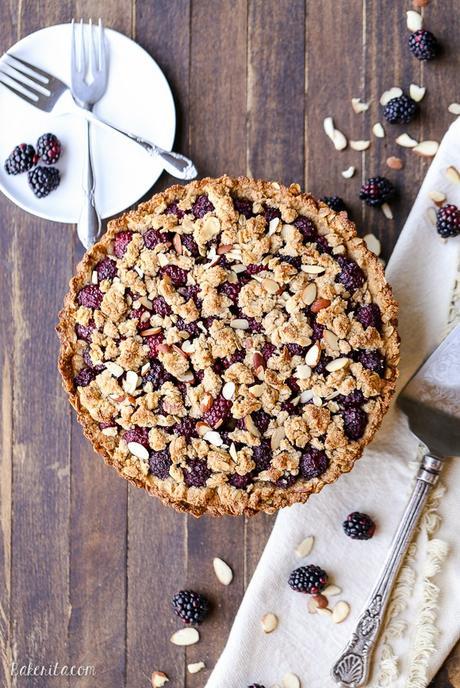 Grab some berries and get baking – I know you'll love this delicious sweet & fruity tart! Enjoy :)
Remember to #bakerita if you try the recipe!
Blackberry Crisp Tart (GF + Vegan)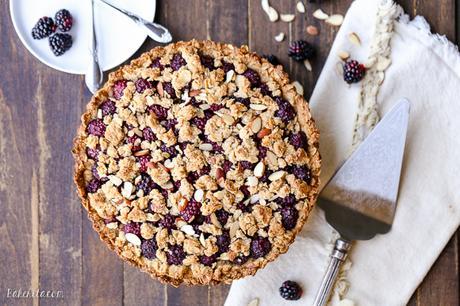 Save
Print
Prep time 15 mins Cook time 45 mins Total time 1 hour   Author:
Rachel Conners
Serves:
8 slices
Ingredients For the filling
For the crust
1 cup (4 oz) blanched almond flour
¾ cup (2½ oz) gluten-free rolled oats
¼ cup (3 oz) maple syrup
1 teaspoon baking powder
½ teaspoon cinnamon
½ teaspoon salt
5 tablespoons coconut oil, solid
2 tablespoons sliced almonds
Directions
Preheat the oven to 350ºF.
Add blackberries, maple syrup, and tapioca starch to a medium bowl and toss until coated. Set the blackberries aside while you make the crust.
Add the almond flour, oats, maple syrup, baking powder, and salt to a different bowl and whisk until combined. Add the coconut oil and use your fingers to work it in until coarse crumbs form and the mixture holds together when pressed.
Remove a heaping ½ cup of the crumbs for the topping and pour the remaining crumbs into the bottom of a 9.5-inch tart pan with a removable bottom. Press the dough evenly into the pan. Pour the blackberries over the prepared crust.
Add the sliced almonds to the remaining crumble and sprinkle evenly over the top of the berries.
Bake for 40-45 minutes or until the filling is bubbling and the crust is lightly brown. At around 20 minutes, tent the tart with foil to prevent it from getting too brown. Let cool completely before slicing and serving.
Notes Honey can be substituted for the maple syrup if you're not vegan. 3.5.3208

There's more where that came from!
Blueberry Crisp Tart with Oatmeal Crust (GF, Vegan)
Raspberry Coconut Crumble Tart (Paleo, GF + Vegan)
Spiced Apple Tart (GF + Vegan)
Small Serving Apple Crisp (GF, Vegan)
Strawberry Rhubarb Crisp (Paleo, GF + Vegan)
Chocolate Berry Tart (GF, Paleo, Vegan)