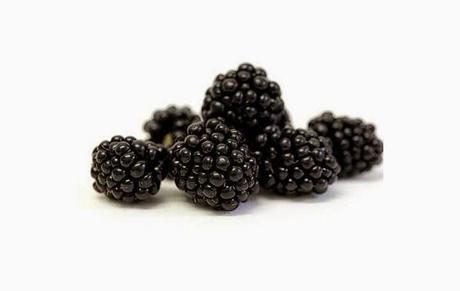 One of our favorite things to eat here in the UK at this time of year are blackberries and they are pretty much free for the asking, as they grow  wild in the hedgerows all across the country.  They are quite prolific and need little or no care really, which is probably why they can be found in such abundance.  They can be somewhat of a nuisance to home gardeners whose aim is to have a very manicured garden, as they do have a habit of popping up in the most diverse of places, their canes traveling beneath the ground.  I, for one, don't really mind.  We love blackberries and cannot get enough of them when they are at their best, eating them fresh as often as possible . . .  and I  try to freeze as many as I can as well, for winter time treats.   We grown our own in our garden . . .  well, I say that.  We actually planted tayberries, but they've become blackberries for the most part.  The blackberries which grow in the hedgerow bordering our property have taken over somewhat and intermingled with them, so what we have now is a happy mixture of them both.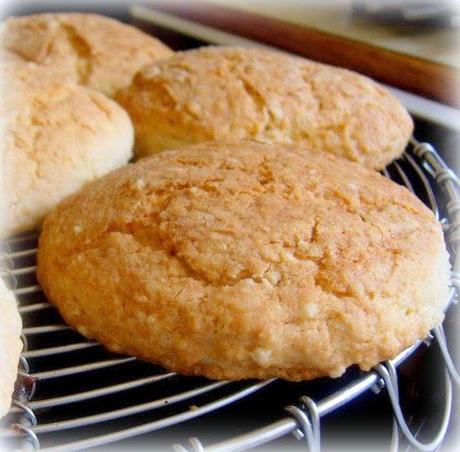 When I lived on the banks of the Georgian Bay in Ontario, Canada, in the small farming community of Meaford the hillsides leading down to the bay on the Westward side were filled with wild blackberry canes.  I have lovely memories of afternoon's spent picking these lovely berries with my sister.   They are ferocious berries to pick in many ways, as they come adorned with thorny branches, but when you arm yourself with gloves and long sleeves you are always more than rewarded with lovely beautiful delicious berries.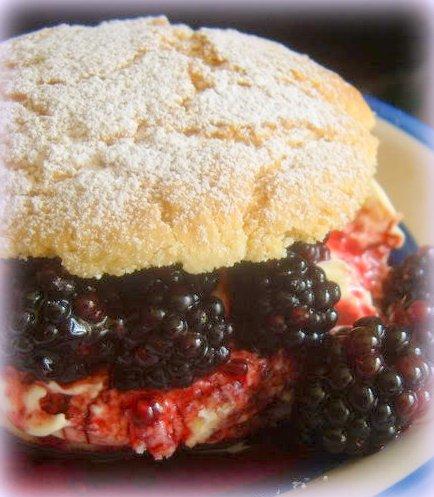 It won't be long now before they are finished and so I took advantage of the last of our fresh ones to make us some delicious Blackberry and Clotted Cream Shortcakes.  This lovely dessert makes the most of some of our favorite things here in the UK  . . .  lovely short and buttery scones . . .  beautiful sweet and tart berries . . .  and rich and delicious clotted cream.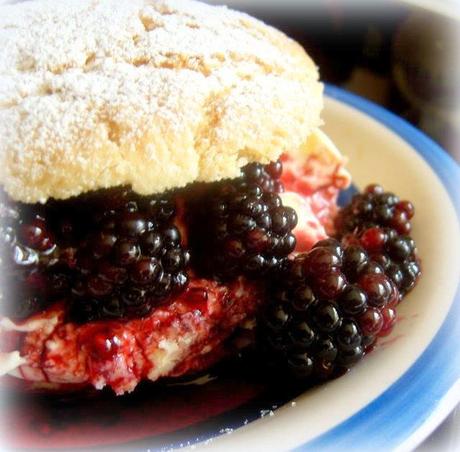 Clotted cream is a product which is found here in the UK and can be very difficult and in fact impossible to replicate anywhere else in North America because of the laws in North America which forbid the use of unpasturized milk in their dairy products . . .  but you can use full fat creme fraiche or mascarpone cheese and these will be almost as delicious . . .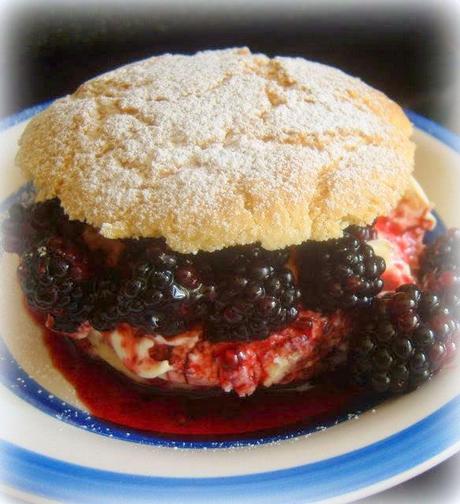 *Blackberry and Clotted Cream Shortcakes*
Makes 8
Printable Recipe
Imagine a crumbly, buttery shortcake biscuit stogged full of lovely rich clotted cream and sweet blackberries . . . this is a little bit of heaven on a sunny autumn day.
300g self rising flour (about 2 1/4 cups)
1 tsp baking powder
a pinch of salt
140g cold butter, cut into bits (10 TBS)
100g sugar (1/2 cup)
75ml buttermilk (5 TBS)
1 large free range egg, beaten
For the filling:
500g fresh blackberries (a generous pound)
3 TBS sugar
275 pot of clotted cream (about a cup, can use softly whipped double cream if you cannot get clotted cream.)
Icing Sugar for dusting over the tops
Pre-heat the oven to 190*C/375*Fgas mark 5. Line a baking sheet with some parchment paper, or lightly grease it and dust with flour. Set aside.
Measure the flour into a bowl along with the baking powder and a pinch of salt. Whisk it all together and then tip in the cold butter. Working with the tips of your fingers, quickly rub the butter into the flour mixture until the mixture resembles fine crumbs. Stir in the sugar.
Beat the egg and buttermilk together. Make a well in the center of the flour mixture and tip in the wet. Gently work it all together with a fork until it forms a soft, sticky dough.
Tip it out onto a floured surface and knead the mixture a couple of times. (it will be quite sticky) Pat out, about an inch thick and then using a sharp cutter (3 inch round) dipped in flour cut out 8 rounds and place each one on the prepared baking sheet at least 2 inches apart. (Alternately you can just shape the dough into one large round about 8 inches in diameter and place it onto the prepared baking sheet.)
Place into the heated oven and bake for 30 to 35 minutes until nicely risen and golden brown and a skewer comes out clean when inserted in the middle. Remove from the oven and let cool on a wire rack until needed.
To make the filling, lightly mash the blackberries together with the sugar. Split the shortcakes in two through the middle. Place the bottom halves onto dessert plates and spread with some clotted cream. Spoon some of the mashed berries over each and then top with the tops of the shortcakes. Dust with icing sugar and serve. (if you are using one large cake, do the same except with the whole cake on a larger serving plate. Cut into slices to serve.)