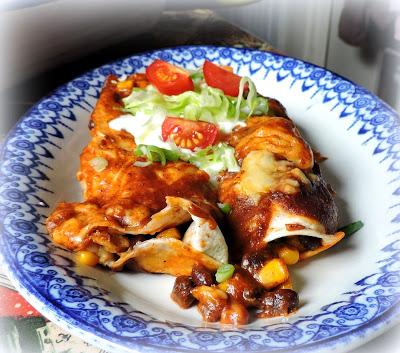 Mexican food was not something I ever had when I was a child, and I dare say, unless you lives in the American South West or California, it wasn't something you had either.  It was just not very common at all.  I think this was largely due to the fact that none of us really traveled very far from where we lived. We lived in a much much smaller world. When I was a girl, Chinese food was about as exotic as it got! And maybe Spaghetti or pizza. We are all very well traveled these days and most of us have been on foreign holidays and tasted the world. I think that is a wonderful thing!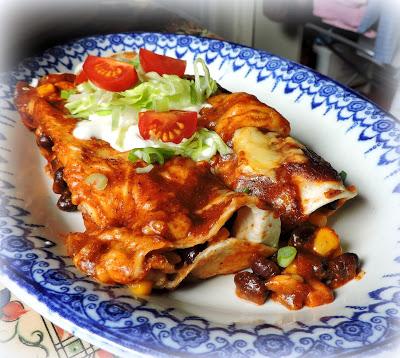 I was sitting here trying to think what my first experience with Mexican or Tex Mex food might have been, and I think it was when I got this Sunset Cookbook magazine back in the late 1970's. There was a recipe in it for Chicken Enchiladas (that I still make and love) and I made them after Thanksgiving one year, using some of our leftover turkey.  I think we were living in London Ontario at the time. They were really, really good.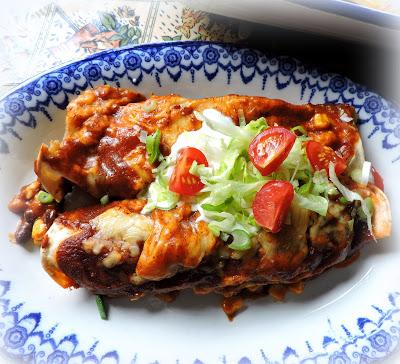 Not too long after that, they opened a Mexican Restaurant Chain in London, Ontario called Chi Chi's.  I remember they had beautiful Strawberry Margaritas.  I used to love their Chicken Chimichangas. They would come and sing Happy Birthday to you at your table and they also served Deep Fried Ice Cream.  Oh to think, I was only in my 20's then.  So much water has crossed under the bridge since then!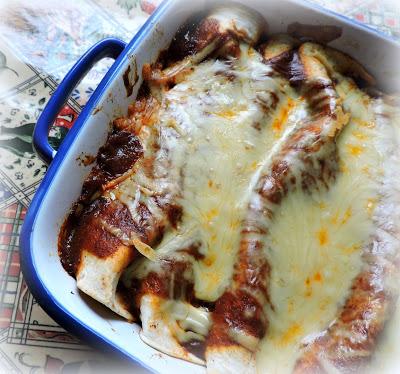 Suffice it to say, I absolutely adore Mexican/Tex Mex flavours. It can be somewhat of a challenge over here to cook them, because not all of the ingredients are available, but somehow I cope. For instance you cannot get green enchilada sauce, masa harina, tamale fixings, tomatillas or the canned green chillies . . . although they do have mexi-corn.  (Go figure!)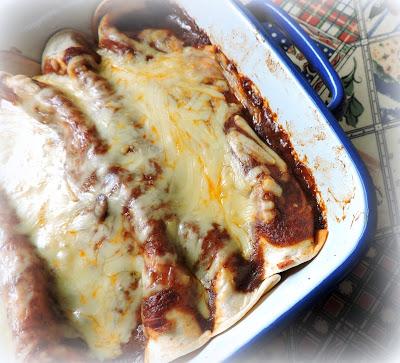 I can usually get by somewhat however, by adapting things a bit. For instance, I tend now to buy green jalapenos and roast my own, which works fine, or in a recipe like this one today, I just finely mince them and throw them in raw, with no problem.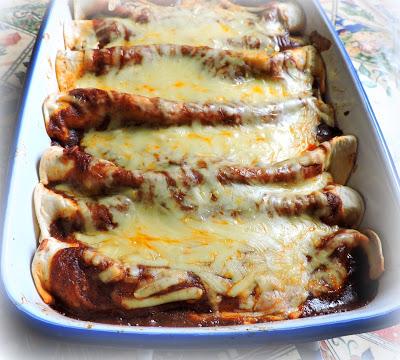 Tortillas are a very common ingredient here, they use them a lot for wraps.  You can get wheat and corn ones and there is a variety that is a coconut and black pepper type, which are very nice. I like the corn ones. You can also buy jarred enchilada sauce, but I like to make my own. I have a great recipe that works out very well and is delicious. I have included this below also.  Its very easy, and you can use whole wheat flour in it, which is much better for you than the plain flour. More protein, and in a vegetarian dish like this, a bit more protein is a very good thing.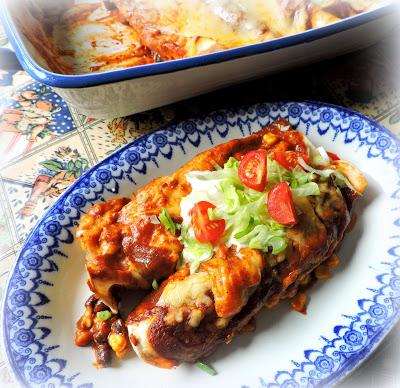 These are delicious.  The filling is very simple, just corn and beans, cheese and enchilada sauce . . . not much of a fiddle faddle.  They go together in a jiffy, even the sauce.  I think you are going to love them. I know we do.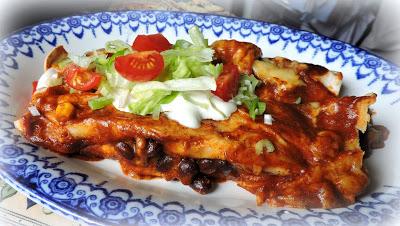 *Black Bean & Corn Enchiladas*Makes 4 servingsPrintable Recipe  
 A delicious vegetarian option to the meat filled alternative.
1 (400g) tin of black beans, drained and rinsed (15 oz tin)1 (198g) tin of sweet corn with onions and peppers, drained (11 oz tin)1 green chili, trimmed and finely chopped240g grated Monterey Jack cheese (2 cups)480ml enchilada sauce (2 cups)8 flour tortillas (6 to 7 inches)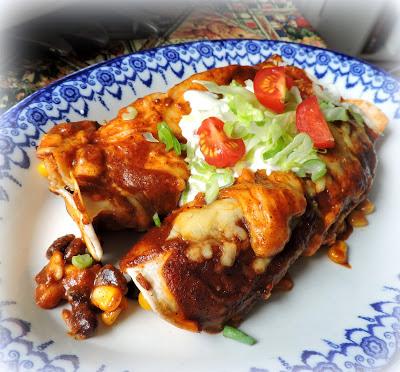 Preheat the oven to 180*C/350*F/ gas mark 4.  Have ready a 13 by 9 inch glass baking dish which you have lightly buttered. Pour 120ml (1/2 cup) of the enchilada sauce onto the bottom of the dish and spread it out.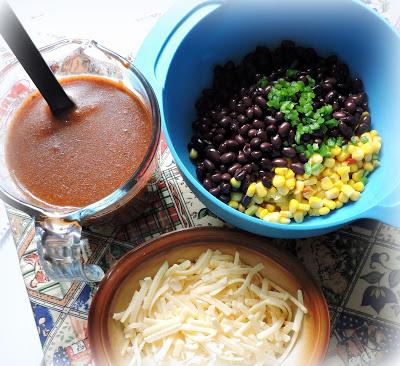 Mix together the beans, corn, green chili, 120g of the cheese (1 cup) and 60ml (1/4 cup) of the enchilada sauce in a bowl.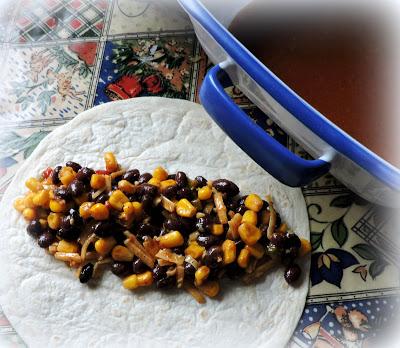 Spoon 1/8th (1/2 cup) of the bean mixture down the center of each tortilla. Roll up tightly and place, seam-side down into the dish.  Spoon the remaining enchilada sauce over top and sprinkle the remaining cheese over all.  Butter a sheet of aluminum foil and cover the dish (butter side down) with this, sealing it tightly.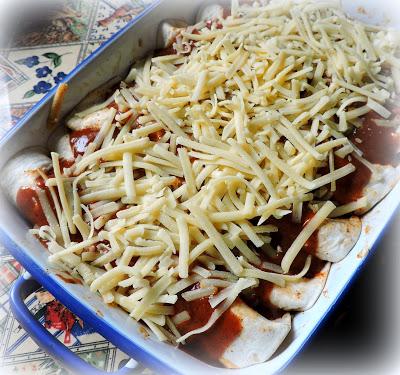 Bake for 30 to 35 minutes until heated through completely and the cheese in the filling has melted thorougly.   Let stand a few minutes prior to serving.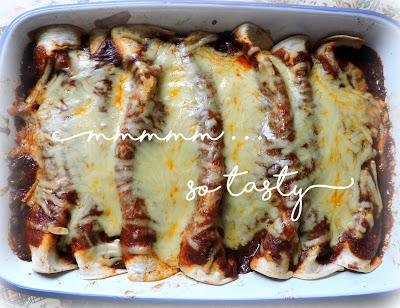 Serve garnished with lettuce, tomatoes, avocado, sour cream, spring onions or salsa if desired.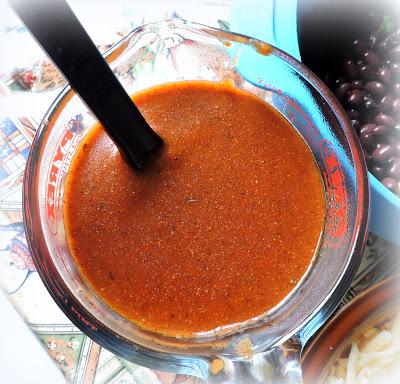 *Enchilada Sauce*Makes 480ml (2 cups)Printable Recipe 
This is a delicious enchilada sauce. You will never want to use storebought again. You can double the recipe and freeze it for future use if you wish. Make sure you have all the ingredients assembled prior to making and it goes together really quickly 
3 TBS light olive oil3 TBS flour (whole wheat works well, as does a gluten free flour blend)1 TBS ground mild chili powder (North American style)1 tsp ground cumin1/2 tsp garlic powder1/4 tsp dried oregano, rubbed1/4 tsp saltpinch ground cinnamon2 TBS tomato puree (tomato paste)480ml hot vegetable stock1 tsp apple cider vinegarfreshly ground black pepper to taste 
Whisk together the dry ingredients until well combined.  Heat the olive oil in a saucepan.  Whisk in the dry ingredients. Cook, stirring, for several minutes, until quite fragrant and deep in color.  Whisk in the tomato puree and then slowly whisk in the vegetable stock.  Bring to the boil, whisking constantly.  Reduce to low and simmer for about 7 or 8 minutes, whisking occasionally. Whisk in the vinegar.  Taste and adjust seasoning with salt and freshly ground black pepper to taste.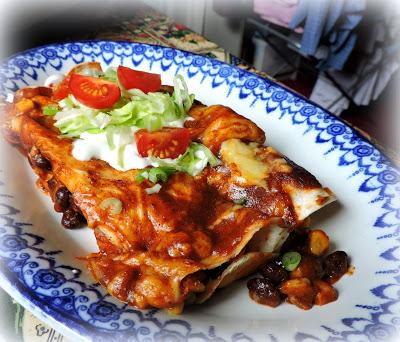 By the way, May the Fourth be with you!  haha.  Yes.  I did wait 364 days just to be able to say that.  Bon Appetit!