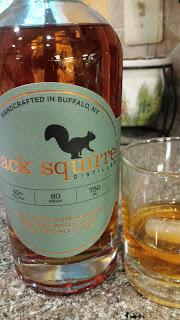 New York state provides very liberal regulations for farm wineries, breweries, and distilleries provided they utilize New York grown agricultural products. As a result, the number of establishments within each of these categories are growing, with over 50 distillers of grain and fruit. You won't find much rum within this group from the obvious fact that sugarcane doesn't fare well in the Empire state. And thus NY distillery's that produce rum from imported molasses or sugarcane, such as The Noble Experiment NYC and The Albany Distilling Company, do not operate with a farm distillery license.
Enter Buffalo based Black Squirrel Distillery. This operation creates two rum products using a New England staple, maple syrup, Black Squirrel and Mapleshine™.   Bother are produced from New York harvested maple sap which, if you think of it, has the same texture as molasses and both are composed primarily of sucrose. And according to Jason Schwinger, maple syrup "adds some truly unique character that cane and molasses rums could only dream of". That being said, the Mapleshine™ is produced by fermenting and distilling this syrup; whereas the Black Squirrel is then aged in re-coopered French oak barrels and American oak.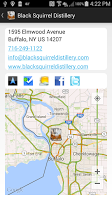 Seems like a nice rum product right? Nope. The Alcohol and Tobacco Tax and Trade Bureau (TTP) which regulates the labeling of alcoholic products at the federal level will not classify this product as Rum. To the bureaucrats, rum is a "spirit distilled from fermented juice of sugar cane, sugar cane syrup, sugar cane molasses, or other sugar can by-products" -- not from maple syrup. Otherwise, as an uninformed  consumer you'd be confused.
Last month the distillery sent me a sample bottle of Black Squirrel and the first thought is there is only a slight hint that maple syrup was the spirit's primary ingredient. The nose exudes a honeyed nut aroma, with the flavor profile sweet caramel. Whether neat or with a drop of water, there is little noticeable burn - just a long smooth honeyed caramel finish. I also mixed as a base for my favorite rum cocktails like Hemingway's Josie Russell. Works perfectly, just like a classified rum spirit. Cheers.