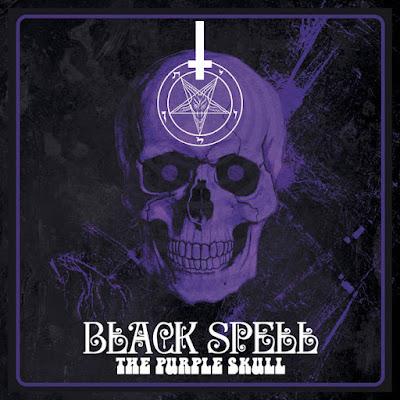 North-East Italy must be a very dark, foggy place, with smoke billowing around weather-beaten tombs - like a scene out of a 70's horror movie - there's no other way to explain the Sound of BLACK SPELL.
Fuzz-laden, low and slow-drippin' doom with an occult stoner and psych twist.
"Rebirth" sets the mood for what's to come with doomy organ sounds right at the beginning, before "Dark Priest of Hell" booms out of the speakers with abysmally tuned guitars and a distorted voice.
The instrumental "Feast of the grand Whore" and "Black Alchemist" stand out with their strong Sabbath vibes - but Walpurgis Night's interplay of organ and heavy riffing one of the highlights of the album.
"Il Teschio Viola" which sounds like the credits after a psychedelic occult acid trip ends the album after 10 songs and a little over 40 minutes.
This one follows on seamlessly from the damn good self-titled previous album and is a must-have for everyone who likes bands like 1782, Black Sabbath, Sonic Demon, Aiwass or the mighty Uncle Acid.
-Helge Neumann
Cloudy Transparent Purple Vinyl via Electric Valley Records
Artwork By ShaneHorror
Black Spell is:
Alastair Skull - Guitars, Organ, Vocals
Pierre Skull - Bass
Johan Skull - Drums, Synthesizer