Black sesame has many good benefits.  For my age this is good for burning fats as well as b
alance my hormone
These days, I also presoak all my beans and just store it in the freezer.  I can easily whip out a jar whenever I wanted to have soy milk.  
So today, I shall brew a pot of Black sesame soy milk.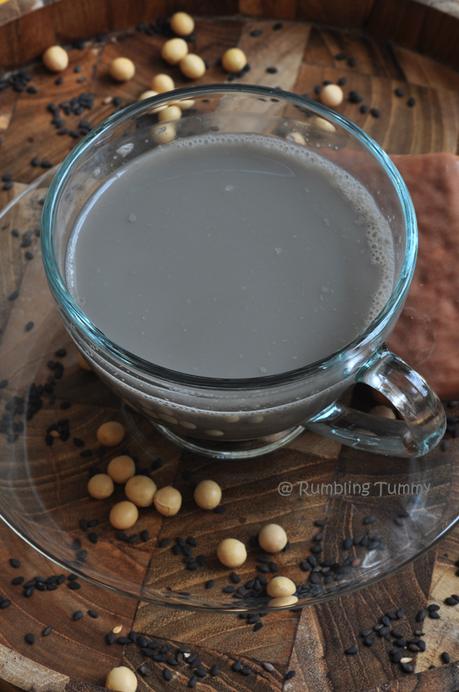 What you need:
200g soy bean (pre-soak overnight )
60g black sesame, washed and toasted
1200g water
4 pandan leaves
60g raw sugar (to taste)
Method:
Put soaked beans and black sesame into a blender with 600g water.  Blend until smooth.
(Put soaked soy beans and black sesame into TM bowl with 600g water and pulverize for 1min/Sp 9)
Add remaining water and blend again.
(Add remaining water, mix for 10sec/Sp 4)
Strain through a muslin bag and pour into a clean pot together with the pandan leaves.  Add sugar and bring to a boil, lower heat and simmer for 10 mins.  (be careful of over flow)
(Strain through a muslin bag and pour back into TM bowl and add in sugar and pandan to boil for 15mins /100°C/Sp 2, add a varoma)
If you have enjoyed this post by
Rumbling Tummy
, be sure to follow this Rumbling Tummy on
Facebook
, Instagram, Pinterest, Twitter and
Google+
.