Am trying to tidy up my kitchen and thus been eating out almost everyday.  As you age, you tend to have less energy to multi task.  Since my girl is joining us for dinner, which is a rare occasion now, I wanted to provide home cook meal for her.
Usually I don't cook in my Thermomix but after trying Black Pepper Chicken at a demo, I decided to attempt it at home as I feel that the taste can be enhanced further with some marination before hand.
Guess this will be a good alternative method without clean up much.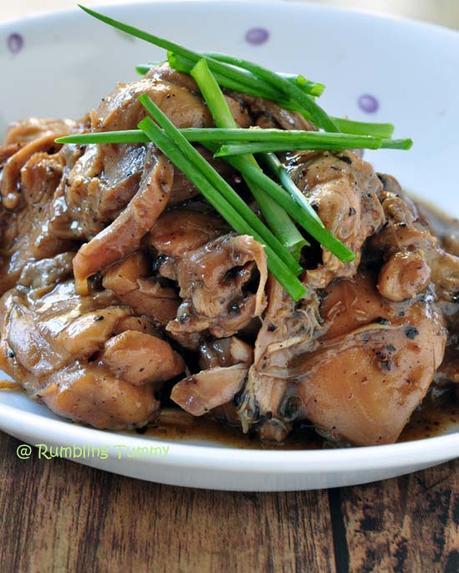 What you need:
600g chicken parts 
1.5 tbsp soya sauce
1 tbsp dark soya sauce
1 tsbp oyster sauce
2 tbsp shaoxing wine
1 tbsp sesame oil
20g black peppercorns
10g rock sugar
2 tsp cornflour with a little water
60g yellow onions, cut into slices
Method:
Marinate chicken with soya sauce, dark soya sauce, oyster sauce, sesame oil and shao xing wine.  Set aside.
Rinsed black peppercorns and dry it, then put it into the Thermomix vessel, toast at 3 min 30 sec, Varoma and speed 1
Add in rock sugar and grind at turbo for 2 sec 4 times
Add in chicken and marination, cook for 12 mins Varoma at reverse mode speed 1.  
Mix corn flour with a little bowl.
Add in sliced onion and corn flour mixture, cook 3 mins at Varoma, reverse speed 1
Serve hot with Jasmine rice.
Enjoy!
If you have enjoyed this post by
Rumbling Tummy
, be sure to follow this Rumbling Tummy on
Facebook
, Instagram, Pinterest, Twitter and
Google+
.