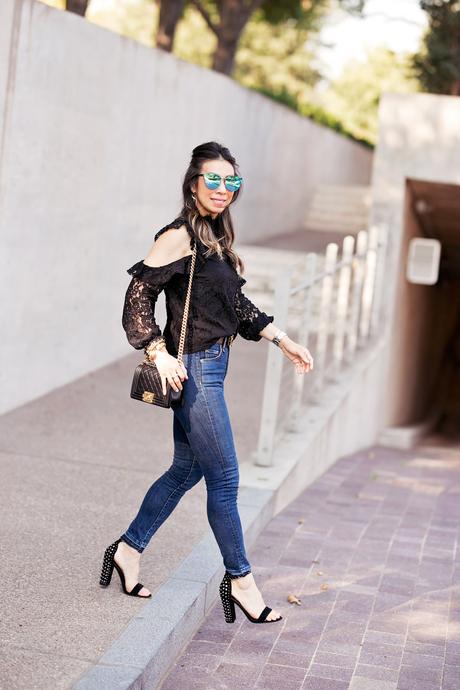 Happy Friday Friends! Sorry for the late post! We got home very late last night, and I was exhausted! Anyhow, it's almost become a tradition for me to be wearing some black for Black Friday! :) I had to show y'all this fun cold shoulder ruffle lace top (can you guess where it's from?!) and my new favorite button-front jeans from Veronica Beard!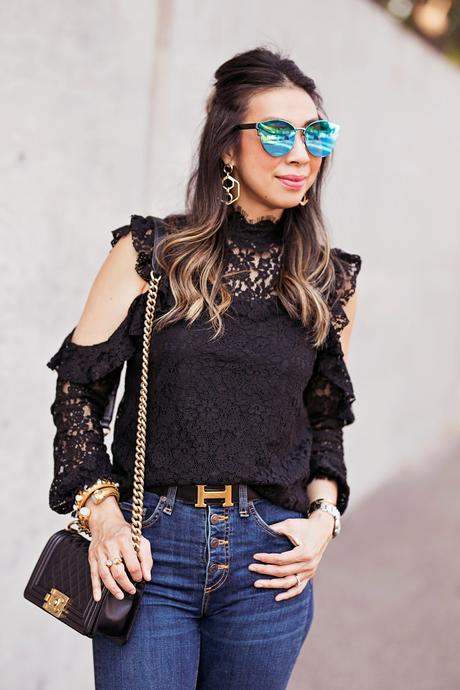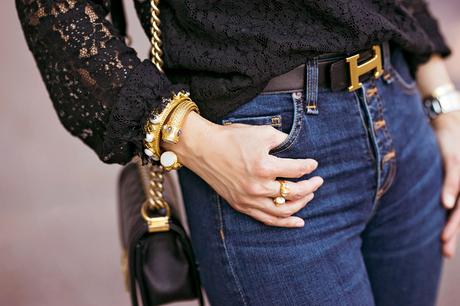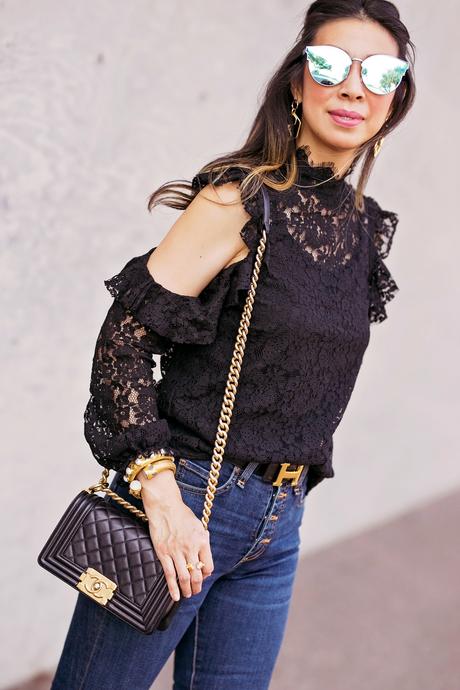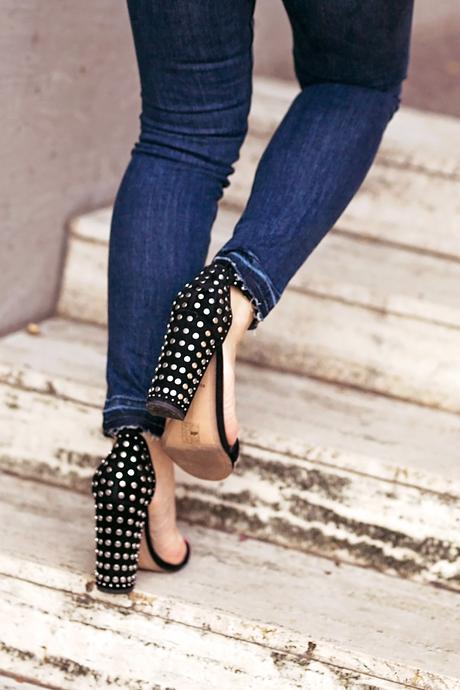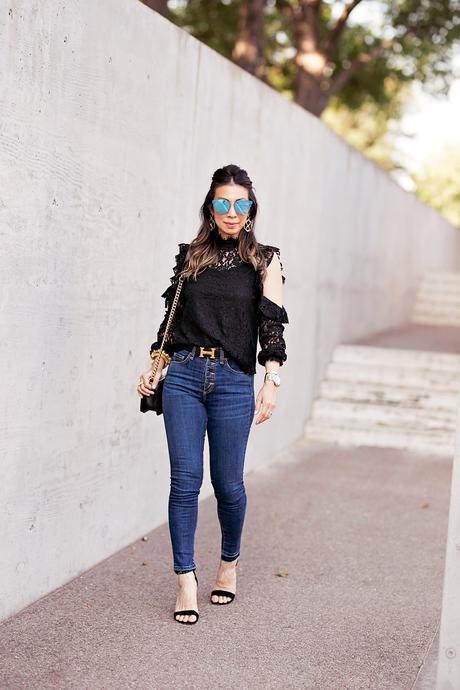 // Photography by Angie Garcia //
I wore this outfit for a Girls' Night Out (possibly to celebrate my birthday last month but my memory is the pits)! Of course, the girls were surprised when I told them the lace top was from Target, aka Tarjay, one of my fave places. My friends are always giving me a hard time because they don't understand the dichotomy of my wardrobe - it's Target and something like Isabel Marant or Valentino. WTH!! LOL! Anyhow, I like so many different things, and they don't always have to be a designer brand. That's the beauty of fashion. It's FUN! BTW, that's part of my Manifesto here.
Next, you MUST know about these Veronica Beard jeans. The Veronicas recently launched their jeans collection this Fall, and they are so good! I discovered them when Cathy, Heather, and I were hosting a Veronica Beard event at The Shak. OMG, this pair is amazing. I say this because they ABSOLUTELY keep their shape (even after bending, twisting, crawling, etc. with the kids) and suck me in like I don't have a muffin top! Haha! I did try the other styles (like the regular skinnies and cropped tuxedo jeans) but like this one the most because of the button-front detail, high-rise waist, and raw hem.
THE STYLE Rx: Take a cue from history and grab a pair of button-front jeans. They are a seasonless staple with added chic factor and sophistication.
What is your favorite pair of jeans? And what is your go-to black piece?

Hope everyone had a beautiful Thanksgiving or Thursday (if you don't celebrate)! We were at my friend's family farm for the most memorable Thanksgiving ever! Besides getting to be with my best friends from middle school/high school and their family, my favorite part was the blessing of the food. We each had to share what we were thankful for this season. I want to copy that tradition!
Okay Shopping Loving Friends, here's the part about sales! As usual, there are some major sales going on today! I'll probably shop tonight after the kids are asleep! Hope you get to take advantage! Here are FIVE of my favorite retailers:
*****
Save an extra 20% off sale items and 40% off designer items.


NEIMAN MARCUS // Save an extra 33% off (up to 60% off) sale items.


Mentioned previously here! You can save up to 75% on sale items or buy more and save more (up to 30%) with code MORE17!


FREE PEOPLE // Save 50% off selected items and an extra 25% off sale items. BTW, I purchased this sequin jumpsuit for a holiday party or NYE, and now it would only be $54! It' so cute and can bit a bit sexy depending on how you wear it. I"m going to wear a black lace bralette under it.


MODA OPERANDI // Save an extra 30% off (up to 65% off) the Fall/ Winter Collection using code 30EXTRA.