Black Hat and White Hat SEO Practices Have Gray Areas  - Especially when searching for an SEO service provider, it is not uncommon to be bombarded with the idea of black hat and white hat search engine optimization techniques. The service will often claim to only use white hat methods because those are considered the ultimate effective and ethical choices.
For far too long, we have grouped SEO methods into these two groups without really taking the time to truly evaluate the risks and benefits of the actual methods themselves. Once a practice receives a black or white hat label, we tend to make far-reaching assumptions that may not actually pan out. Let's take a look at how you should really go about evaluating and choosing SEO services and procedures.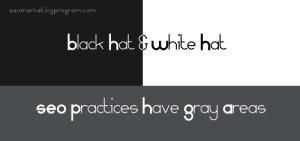 How Much Value Are You Providing the Visitor?
SEO techniques that do not provide much value to the customer are often labeled black hat. These techniques would include methods such as including long lists of targeted keywords on a site without quality content, using invisible text or hidden doorway pages in order to stuff more keywords into the site that the visitor will never see, or loading website footers with links.
These techniques are often utilized as quick, easy, and inexpensive ways to boost search engine rankings. Some of them are arguably more ethical than others. The problem is that Google, and other major search engines, are learning how to spot these methods. Search engines want to deliver relevant pages of quality to the reader, so they will often devalue the websites using these methods or even apply harsher penalties. Because the websites that use these tactics have not provided any content of value that would keep visitors returning to the website after the penalties, they will see traffic come to a near standstill once Google catches on.
 Measuring the Risks Associated with SEO Strategies
 It is crucial to weigh the risks when utilizing any SEO tactic. If the method seems to be too good to be true, there is a good chance that it is. As mentioned before, with algorithm updates like Penguin and Panda, Google has shown that it is strongly committed to quality content. Even tactics that straddle the line of black and white hat are being penalized much more harshly.
For example, in the past, it may have been possible to see decent increases by spinning multiple location pages for a small business, and including long-tail keywords, but now these pages may be ignored or even penalized by Google. Before embarking on an SEO strategy that carries a significant risk factor, it is crucial to consider how much loss will be experienced, and how much effort will be needed to fix the problem, in the event that the website is penalized.
Diversifying an SEO Campaign
In order to see long-term SEO gains, it is necessary to build a search engine optimization campaign the way that you would build an investment portfolio: by diversifying. That campaign should include varying tactics that are expected to provide long-term value and minimal risk. Examples of these tactics would include creating excellent content and coding for the website, publishing original and relevant blog posts, and using innovative premium WordPress themes.
Once these SEO strategies are in place, it is then time to determine if implementing a few riskier tactics is worth generating a short-term increase in search engine rankings. There is a risk that the search engines may penalize the website, which is why it is crucial to have the stronger SEO practices in place as a safety net of sorts. Of course, many businesses see that once they have put in the effort to establish content and quality oriented SEO tactics, they no longer need to rely on the high-risk and low value strategies to drive traffic.
5

/

5

stars