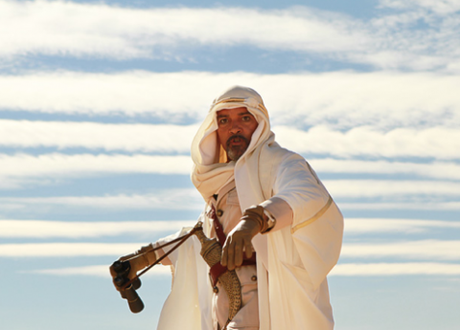 Antonion Banderas in Black Gold.
One might have hoped in this era of turmoil in the Middle East that even the people who make mainstream cinema would think twice before putting a Koran in the hands of Antonio Banderas and casting him as an Islamic emir. But Black Gold, directed by Jean-Jacques Annaud, is burdened by no such inhibitions.
Not only does the film invite the actor best known for playing Zorro to offer a turn as a devout, purse-lipped Muslim leader (who is also a warlord), but another character also mutters the line: "All…those…virgins…" during death throes. The actor on this occasion is Riz Ahmed, last seen as a bungling jihadi in Chris Morris's Four Lions. The casting decisions are casual to say the least, as are interpretations of scripture.
Based on Hans Ruesch's novel South of the Heart: A Novel of Modern Arabia, Black Gold depicts the moment in the 1920s when the first Texas oilmen arrived in an unnamed Arabian state, intent on plundering the reserves beneath the vast expanse of desert. (The film was shot in Tunisia and Qatar, but the on-screen legend offers only: "Somewhere in Arabia".)
Mercifully the Americans in Black Gold are largely uncomplicated and well-behaved, vanishing into the derrick-peppered backdrop after a whooping shower in billowing black stuff. We are at least spared a clumsy allegory of recent invasions, but war remains the central concern.
Two towns, one ruled by Emir Nesib (Banderas), the other by Sultan Amar (Mark Strong), have previously battled over the land that divides them – the so called "yellow belt" beneath which an ocean of oil has lain undiscovered for centuries. But as soon as the Texans have unearthed the secret, the uneasy truce between the rulers – and all tribes in the region – is strained. The thirst for disgusting wealth must be tempered by the breaking of ancient oaths. There will be sons offered in insurance pacts; sons murdered; sons married against daughters' wishes; and betrayed sons leading armies swarming across the sands.
None of this is especially exciting. Indeed Black Gold tends to snooze along with only its jarring tonal shifts to alleviate the torpor. There certainly are lines played for laughs, but there are also clear attempts to make sweeping political, religious and humanitarian statements, and also to conjure a Lawrence of Arabia sense of epic. But it is all undermined by a body count to rival any cheap action flick and a plodding sense of earnestness, even after complicated issues have been simplified for the multiplex. Utterances like: "God hates what we do to each other in his name," is about as profound as it gets.
Banderas and Strong are required to spend long scenes peering pensively from beneath headscarves and sermonising on sand-dunes, neither particularly convincingly. The film was bankrolled by Arabian money and co-produced by the Doha Film Institute, yet it lacks any real authenticity; for long periods Black Gold feels like a film that has been badly dubbed into English. Only Tahar Ramin, brilliant in 2009's A Prophet, emerges with much credit and even he is put in the perplexing role of a peacekeeper leading a violent army.
Meanwhile the less said the better about the romantic sub-plot he shares with Freida Pinto. Suffice to say, western understanding of issues affecting women in Islam is not furthered.