Black fungus is very good for health and we have been eating it regularly.    Black Fungus with brown sugar Dessert 黑糖黑木耳露 as a dessert is new to me and I was curious.
I served this for a recent party and was glad that it was well received.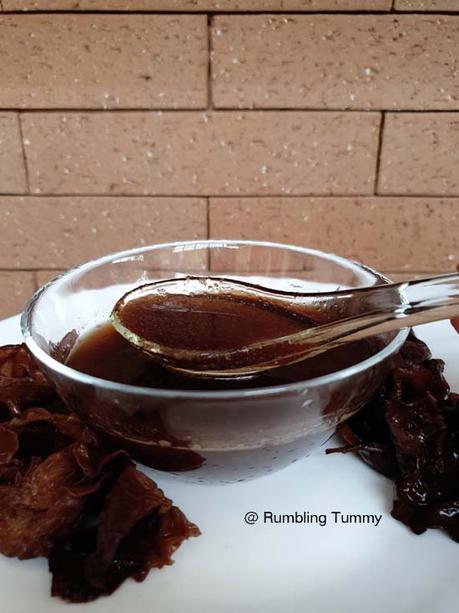 Learnings: Sieved through if you wanted a really smooth texture but I prefers some bits to it. 
I added in more ginger as I prefer a stronger ginger taste.
Remember to chill for any leftover.


Adapted


What you need:
40g dried black fungus
500g - 800g water (adjust to your preference, as I prefer thicker)
30g ginger, remove skin and slice
80g brown sugar
4 stalks pandan leaves
500g water
Method:
Soak black fungus until it bloom and soft.  Remove the hard stem.
First cook the ginger syrup, bring to boil ginger, brown sugar, pandan leaves and water.  Lower heat and simmer for 10 mins.  Set aside
Blend the black fungus with water until fine.  (I used Thermomix at 1min/sp10).
Boil for 15 mins/100 deg/Sp 1.
Add in the brown sugar syrup and continue to boil for another 10 mins.
Serve hot or cold.
Enjoy!


If you have enjoyed this post by Rumbling Tummy, be sure to follow her on Facebook, Instagram, Pinterest, Twitter and Google+ .